One 'Yellowstone' Star Has a Surprising Connection to 'Little House on the Prairie'
Yellowstone shook up the bunkhouse in season 3 with the addition of ranch hand Teeter, played by Jennifer Landon. After a career filled with soap opera roles and Daytime Emmy Awards, Landon is now a series regular on the Paramount western.
Which makes perfect sense, considering her surprising connection to Little House on the Prairie.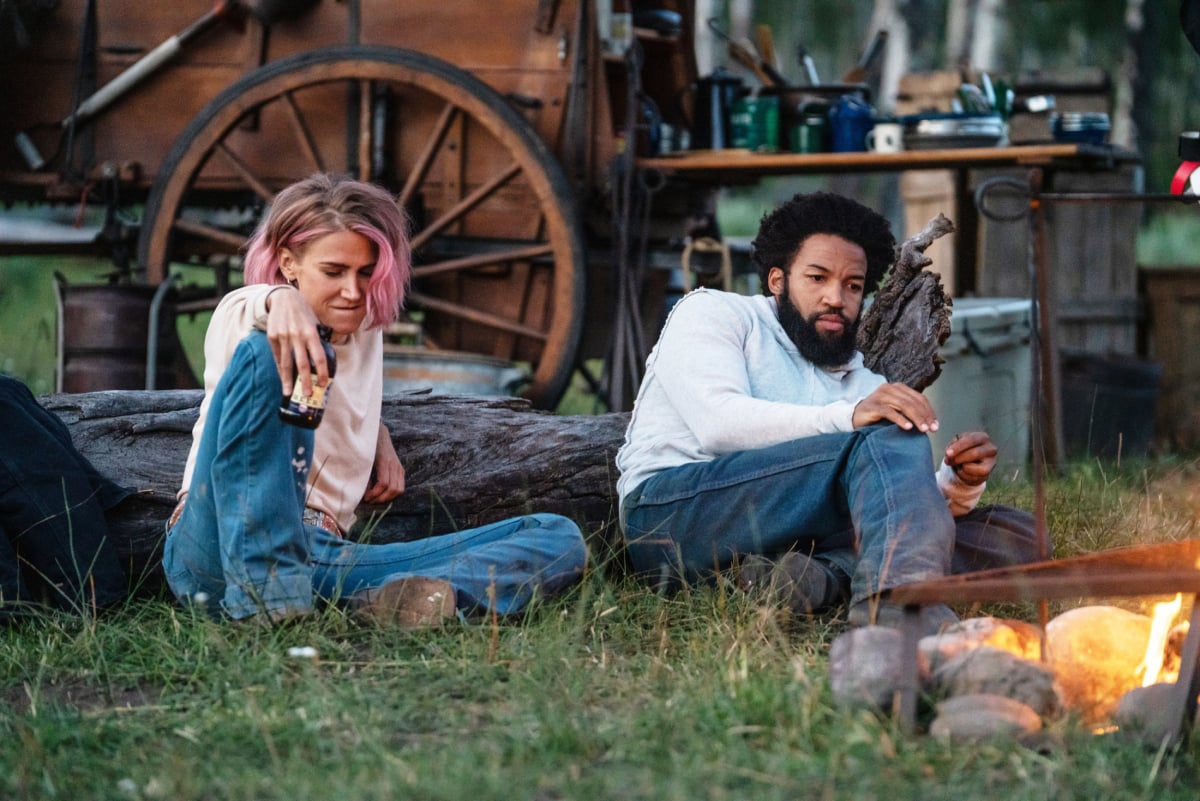 The 'Yellowstone' star studied at NYU
Landon grew up in the prestigious Brentwood neighborhood in Los Angeles before moving across the country to study at New York University. Landon then went back to California to try to make a name for herself in Hollywood. That's when she landed the role of Gwen Norbeck Munson on the CBS soap As The World Turns.
That role scored Landon three consecutive Daytime Emmy Awards for Outstanding Younger Actress in a Drama Series. Later, she went on to play Heather Stevens on The Young and the Restless.
The other acting credits on Landon's resume include House, Chicago Med, Days of Our Lives, Banshee, and Animal Kingdom.
Jennifer Landon is a 'lunchbox actor'
The moment Landon appeared on screen for the first time in Yellowstone as Teeter, she became a fan favorite. The actor loves the character just as much as fans do. And she's not sure she'll ever play a part as "cool" for the rest of her life.
"Yellowstone's amazing," Landon told Decider. "I'm a lunchbox actor. Each job is a job fought for and a job got. So after all that hard work, to get something like Yellowstone and to get to work with Taylor Sheridan – who I have tremendous respect for – and with actors of this caliber, it's a no-brainer. Plus, I don't know if I'll ever audition for a part as cool as Teeter for the rest of my life. And I'm kind of okay with that."
The 'Yellowstone' star is the daughter of Michael Landon
Working as Teeter on the Dutton family ranch is the perfect acting gig for Landon. After all, her father was Michael Landon, the star of two of the most-loved westerns in TV history –  Bonanza and Little House on the Prairie.
She even landed her first acting gig at the age of five on his 1980s NBC drama Highway to Heaven. Sadly, Michael Landon died of cancer when Jennifer was just seven years old. But he still inspires her to this day.
"Little House was on in the morning so I used to watch it before school," Landon told Vegas Film Critic and host, Jeffrey K Howard. "I had never seen the pilot of that show and right before I started working on Yellowstone I was like 'I should make sure I watch all of Little House on the Prairie.'"
She missed out on cowboy camp
Landon says she put on a baseball cap and used chewing gum as dipping tobacco when she auditioned for the role of Teeter. She explained that the dip wasn't in the character description, but they liked what Landon did during her audition and kept the habit when the character joined the series.
Unfortunately, since she didn't join the show until episode two, Landon missed out on going to "cowboy camp" with the rest of the cast. But, creator Taylor Sheridan made sure she got proper training with horses and cows.
'Yellowstone' creator Taylor Sheridan hooked her up with 'his horse guy'
Despite missing out on cowboy camp, Landon says she learned the ropes because Sheridan "hooked [her] up with his horse guy" out in Los Angeles.
"Then, when I got out to set, I worked with one of our wranglers, and she got me somewhat comfortable on a horse," Landon explained.
"I was on a real roping horse! It was a quick learning curve, but the days that I learned the most oddly were the days that you're on set and they yell 'Action,' and you just have to go and there's no thinking about it anymore. You're like, 'I need to keep this job,' and so you just go."
Yellowstone seasons 1 through 3 and all nine seasons of Little House on the Prairie are available on Peacock.
Season 4 of Yellowstone will premiere this fall on Paramount Network.