You Can Thank Jodie Comer's Mom For One of Villanelle's Best Traits on 'Killing Eve'
Just as Killing Eve is nothing without Villanelle, Villanelle is nothing without her personality and memorable facial expressions. She's not just a serial killer with psychopathic tendencies. No, she has style and a wicked sense of humor. Between amazing one-liners and an incredible ability to think quickly, there are so many reasons why Villanelle is one of the best at her job. And why the show is just so entertaining. When it comes to her faces, we can all thank her in-real-life mother for that. [Spoiler alert: Spoilers for Season 3 of Killing Eve ahead].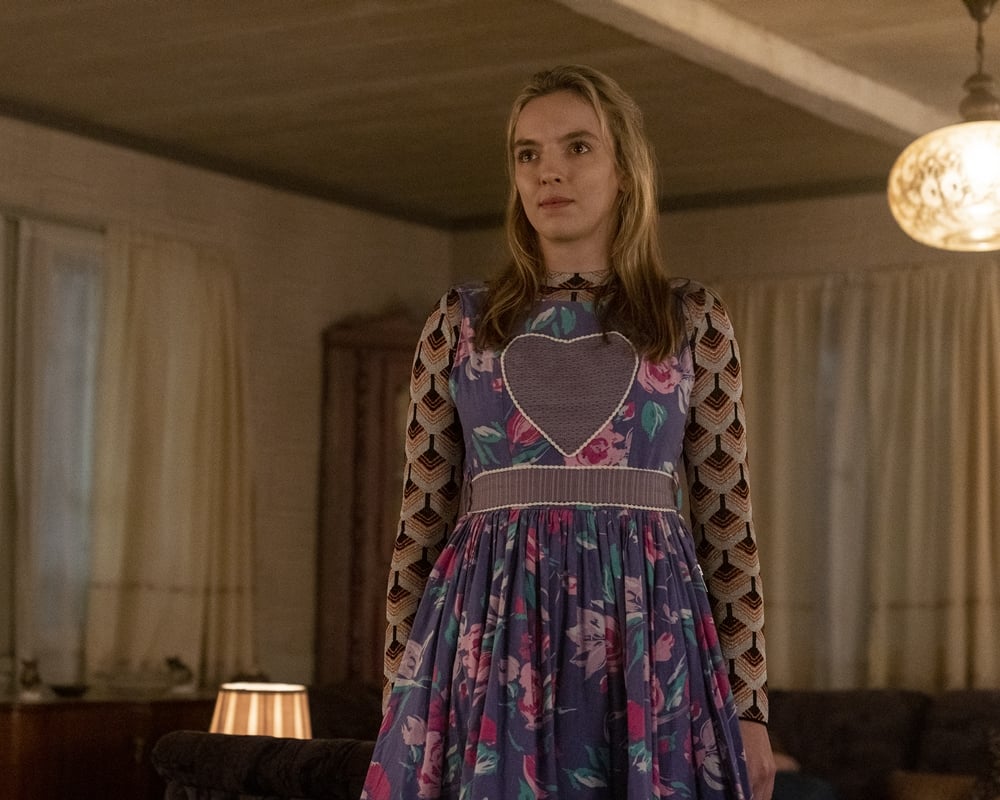 RELATED: Villanelle Isn't a Psychopathic Killer and Her Final 'Killing Eve' Season 3 Scene Proved It
Who is Villanelle, Jodie Comer's character in 'Killing Eve'?
In the BBC America show Killing Eve, Jodie Comer plays the lovable Villanelle who, at first, is playing a cat-and-mouse game with MI6 agent Eve Polastri, portrayed by Sandra Oh. In Season 1, they each had a mutual obsession with each other, but the infatuation was from afar. Then in Season 2, after Eve stabbed Villanelle nearly to death, the two worked pretty closely together to catch the dirty deeds of a rich tech CEO. 
Now, in Season 3, the two spent more time apart, again, but their bond grew stronger regardless. As they were apart, Villanelle discovered more about herself too. She went and found her family and realized that all of the killings she does is really weighing on her. It's not something she wants to do anymore. By the end of the season, she seems to really care for Eve. Outside of purely selfish or lustful reasons. 
Villanelle is known for her facial expressions, which Comer pulls from her mother
RELATED: 'Change Is Possible' on 'Killing Eve,' But Does That Include Villanelle?
There's certainly a reason why Comer won a BAFTA and Emmy for her portrayal of Villanelle on the show. Again, as stated before, Villanelle is stylish beyond belief. Not just in her outfits — because there's that too — but also in the way she goes about killing her targets. And in everything she does, she has the best facial expressions. Whether during a kill or making Konstantin's life a living hell, they're fabulous. 
In an interview with The Mirror on May 16, she explained where she got them from. 
"Some of the faces I pull are outrageous but my mum is like, 'Definitely seen that one before,'" she said. "But I am also like, 'Mum, I get half of them from you.'"
The Mirror especially noted the "bloodthirsty" ones, so maybe intense expressions run in the family. Granted, her mother's not kicking anyone onto train tracks in the Tube, but maybe in an intense argument. 
However, her on-screen mother is far less pleasant
As noted before, Villanelle reunited with her family in Mother Russia this season, but her on-screen mom is definitely a bad woman, whereas her real-life mom doesn't seem like she is. When it comes to what Comer knew before Season 3, it wasn't much.  
RELATED: 'Killing Eve' Executive Producer Said You Should Never Trust [SPOILER], 'Ever,' After That Finale
"I knew her past would be explored at some stage, but how we were going to do that, I was never sure of," Comer told the Toronto Sun on May 29. Turns out that Villanelle is the way she is because of her mummy dearest. She dropped her off at an orphanage when she was a child because of a "darkness" she saw in Villanelle. And she verbally abuses Villanelle's little half-brother Bor'ka. 
"All of it [has been a surprise]," Comer said again. "I think showing her mother was a very daring move. Some people may say the more we know of Villanelle the less mysterious she is. However, playing her, I find the more we unearth, the more surprises we find."
RELATED: What's Up Next For 'Killing Eve' Star Jodie Comer After Season 3?