'You' Season 3: Everything We Know About Joe's New Neighbor
You Season 2 ended on a cliffhanger, with Joe spotting a new object to obsess over. Joe's new obsession is his neighbor, but at the end of season 2, fans knew very little about this mysterious woman. As the release date for You Season 3 on Netflix approaches, more and more information about Joe's neighbor has been revealed. Here's everything we know so far about her.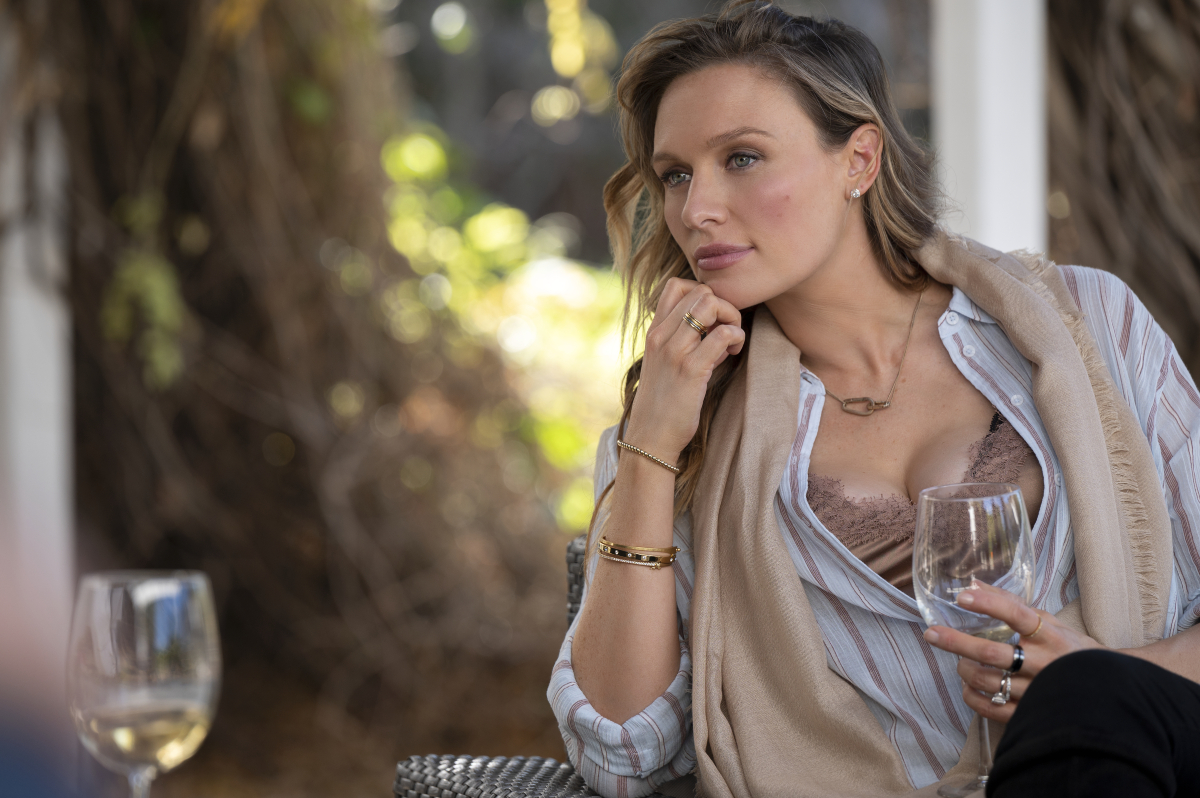 Michaela McManus plays Joe's new neighbor
The end of season 2 only showed a glimpse of Joe's neighbor. This led fans to speculate wildly about who she might be. Some fans thought the woman could be Joe's mother. Others theorized that she was Guinevere Beck.
However, the official trailer for You Season 3 revealed that Joe's neighbor is a woman he has never met before. Her name is Natalie Engler and she is played by Michaela McManus. McManus is a 38-year-old actor known for her roles in One Tree Hill, The Village, and Aquarius.
Who is Joe's neighbor in 'You'?
According to Variety, Natalie is "a professional and social success. But she sees through the shallow, Stepford-Esque vibe that surrounds her, and beneath her wry exterior, she leads a secret life. One that Joe is willing to work hard to learn more about."
Natalie is also a married woman. Scott Speedman plays Natalie's husband Matthew, a private man who is a powerful CEO. A photo posted to the official You Instagram and Twitter pages also shows Natalie and Matthew with a young man named Theo. Variety states that Theo "is a college student with a strained relationship with his stepfather."
"Theo is wise and perceptive but vulnerable and troubled, with a propensity to get tangled up in his loved ones' problems and to drown his own in controlled substances and dangerous behavior."
Since the article references a "step-father" it's probably safe to assume that Theo is the biological son of Natalie. If Theo is a college student, then Natalie likely had him at a young age. This adds a different aspect to Natalie's character that Joe will likely dig into.
What else did the 'You' Season 3 trailer reveal?
The official trailer for You Season 3 revealed a few more hidden details about Natalie. The trailer shows Joe beginning to stalk her, which we all knew would happen. However, Joe won't just be watching from afar. He can be seen having a glass of wine with Natalie and returning to his old habits like stealing women's underwear.
Joe also takes to the internet to learn more about his neighbor. When Joe pulls up Natalie's Facebook page, it lists her occupation as a realtor. Natalie also seems to have a thing for plants and gardening. Her cover photo appears to be pictures of various succulents, and the beginning of one of her Facebook posts reads, "Planting and caring for succulents is a favorite activity for me." Joe also watches from his car while Natalie buys flowers.
You Season 3 will drop to Netflix on Oct. 15.
RELATED: 'You' Season 3 Is Changing a Major Element of the Show