'You' Season 3: Penn Badgley and Victoria Pedretti Discuss Filming With a Baby
Filming for You Season 3 was a little different for stars Penn Badgley and Victoria Pedretti. The actors, who play killer couple Joe Goldberg and Love Quinn on the Netflix series, had a baby to fake parent this season. Joe and Love welcome baby Henry into their lives, and things will never be the same.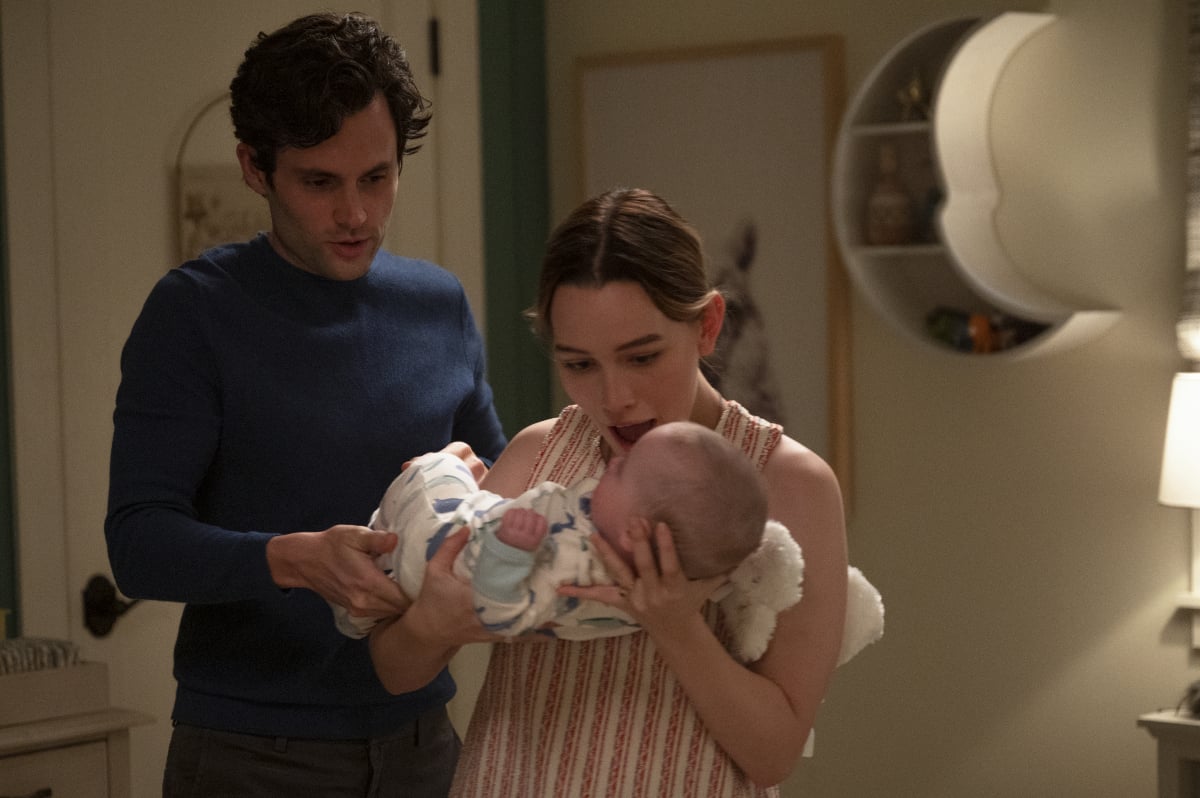 For Badgley and Pedretti, it must have been a little strange to play such violent characters while also acting with an adorable infant. The actors discussed the challenges and joys of filming with a baby.
Joe and Love have a baby in 'You' Season 3
Season 2 of You ended with Joe and Love moving to the suburbs to raise their baby. The teaser trailer for You Season 3 reveals that the couple names the baby Henry. Joe seems genuinely determined to be a good father and provide a good life for his child.
However, that's a little hard to believe considering some of the things seen in the trailer for You Season 3. Namely, one scene shows Joe and Love burying a body while their baby sits in a carrier nearby. Joe and Love have already killed quite a few people, so who knows what they will be like as parents.
Badgley and Pedretti discuss filming with a baby
Filming any kind of TV show or movie with babies and children certainly has its challenges. Badgley and Pedretti sat down in an interview with DC Film Girl to discuss the ups and downs of being on-screen parents. "Well, practically it can be a challenge because the baby is not going to do what the scene calls for necessarily," Badgley said.
"But it's refreshing because it's like, the most real and present thing in the room is the baby," he continued. "I think there were a few scenes where I had to be emotional and look into the baby's eyes and that was great because the baby is like super present. Like there's no falseness there." Badgley, however, did feel bad when the baby would cry.
Badgley and Pedretti shared that they didn't spend enough time with the baby to get overly attached. At times, dolls were used in place of a real baby.
"We have these dolls, these horrific-looking expensive prosthetic dolls and we act with those most of the time," Badgley said. Pedretti agreed that the dolls were "terrifying," which must have made mothering them rather difficult.
Do Penn Badgley and Victoria Pedretti have children?
Interestingly, Badgley and his wife Domino Kirke welcomed their first baby into the world not long before Badgley began filming You Season 3. The couples' son James was born in Oct. 2020. US Weekly reports that Badgley is also a devoted stepfather to Kirke's son Cassius from a previous marriage.
Pedretti is quite a bit younger than her co-star Badgley. The 26-year-old actor is not married and does not have children, so playing a first-time mother must have been an interesting experience.
You Season 3 drops to Netflix on Oct. 15.