You Won't Believe How Many Nicholas Sparks Books Have Become Movies
Author Nicholas Sparks is responsible for writing the stories behind many romantic, or as some might say sappy, movies. He has written more than 20 novels, many of which have gone on to grace the big screen in film adaptions. Ahead, learn just how many of Sparks' books have become movies. 
1. 'Message in a Bottle'
The first of Sparks' novels to become movies came in 1999 with the release of Message in a Bottle In the film starring Robin Wright and Oscar-winners Kevin Costner and Paul Newman, a woman finds a love letter in a bottle while on the beach and tracks down the owner. 
2. 'A Walk to Remember'
Following the success of Message in a Bottle, came A Walk to Remember in 2002. Mandy Moore — who now stars as Rebecca Pearson in NBC's This Is Us — played Jamie Sullivan opposite Shane West's bad boy character named Landon Carter.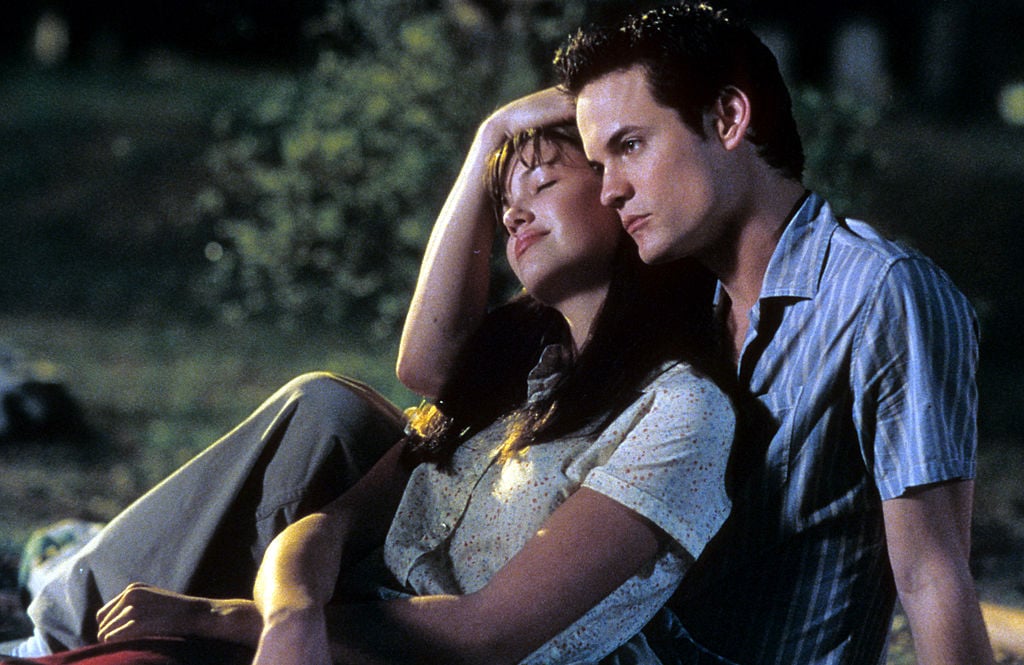 In the opposites-attract love story, Jamie and Landon become inseparable but their romance is cut short — although fans have a theory about Jamie's fate —  when Moore's character dies of cancer.
3. 'The Notebook'
Arguably, Sparks' most popular book-turned-movie is 2004's The Notebook starring Ryan Gosling and Rachel McAdams. Although the two actors hated each other at first — Gosling wanted his costar kicked off the set — they had on-screen chemistry and the two later began dating. Just watch the film's famous boat scene below to see the sparks fly. 
4. 'Nights in Rodanthe'
2008 marked a reunion for Unfaithful actors Diana Lane and Richard Gere. Nights in Rodanthe found them playing a devoted mother (Lane) and a surgeon (Gere) who both end up staying at the same inn separately reflecting on their lives. They meet and a romance ensues. 
5. 'Dear John'
Amanda Seyfried and Channing Tatum starred in Dear John, a 2010 film where soldier John Tyree (Tatum) meets college student Savannah Curtis (Seyfried) while on spring break. They fall in love but their relationship is tested when John is deployed. 
6. 'The Last Song' 
Miley Cyrus and Liam Hemsworth star in 2010's The Last Song — it's where the former husband and wife first met — a film set in a small beachside town telling the story of a teen's relationship with her estranged father (Greg Kinnear) who happens to fall in love with a local boy (Hemsworth) during her visit. 
7. 'The Lucky One'
Zac Efron and Orange Is the New Black's Taylor Schilling star in 2012's The Lucky One. Efron plays a U.S. Marine Sergeant Logan Thibault who has returned home after three tours of duty in Iraq. He carried with him a photograph of a woman (Schilling) he found — which he considers to be his good luck charm — and upon his return sets about finding her. 
8. 'Safe Haven'
Julianne Hough and Josh Duhamel star in 2013's Safe Haven, a film about a mysterious woman (Hough) who starts over in a small town. She begins a relationship with Alex (Duhamel) but her past catches up with her and puts her new life and those in it, in danger. 
9. 'The Best of Me'
Dawson (James Marsden) and Amanda (Michelle Monaghan) are high school sweethearts in 2014's The Best of Me who meet again at a friend's funeral 20 years later. They rekindle their romance but soon remember the problems they had in their relationship as teens still linger today. 
10. 'The Longest Ride'
2015's The Longest Ride stars Britt Robertson and Scott Eastwood as college student Sophia (Robertson) and Luke (Eastwood) a former champion bull rider trying to return to the sport after a serious injury. One day the two characters cross paths with Ira (Alan Alda), who shares with them the story of him and his late wife's romance. 
11. 'The Choice'
Neighbors Travis Shaw (Benjamin Walker) and Gabby Holland (Teresa Palmer) meet as neighbors in 2016's The Choice. They fall in love but there's a catch; Gabby has a boyfriend (Tom Welling). In the midst of the relationship drama, Gabby gets in a life-altering car accident.