Broadway / Celebrity / Movies
A Young Ariana Grande Manifested More Than Just Her 'Wicked' Role, Fans Say
Ariana Grande stars in the 'Wicked' movie musical adaptation. Fans think she basically manifested it. And she's done this before.
Ariana Grande is one of the world's biggest stars — a pint-sized pop diva who is undoubtedly a master at creating some "wicked" opportunities in her life. Grande, who started as an actor, has weathered controversies, thanking her fans when they've helped her get through difficult times. But she's always come out on top. 
These days, she's more popular than ever before. And Grande's dedicated fan base loves to show off her accomplishments wherever possible. In a Twitter post, one of those fans called out her particular skill at "manifesting" experiences and jobs. 
Ariana Grande stars in 'Wicked'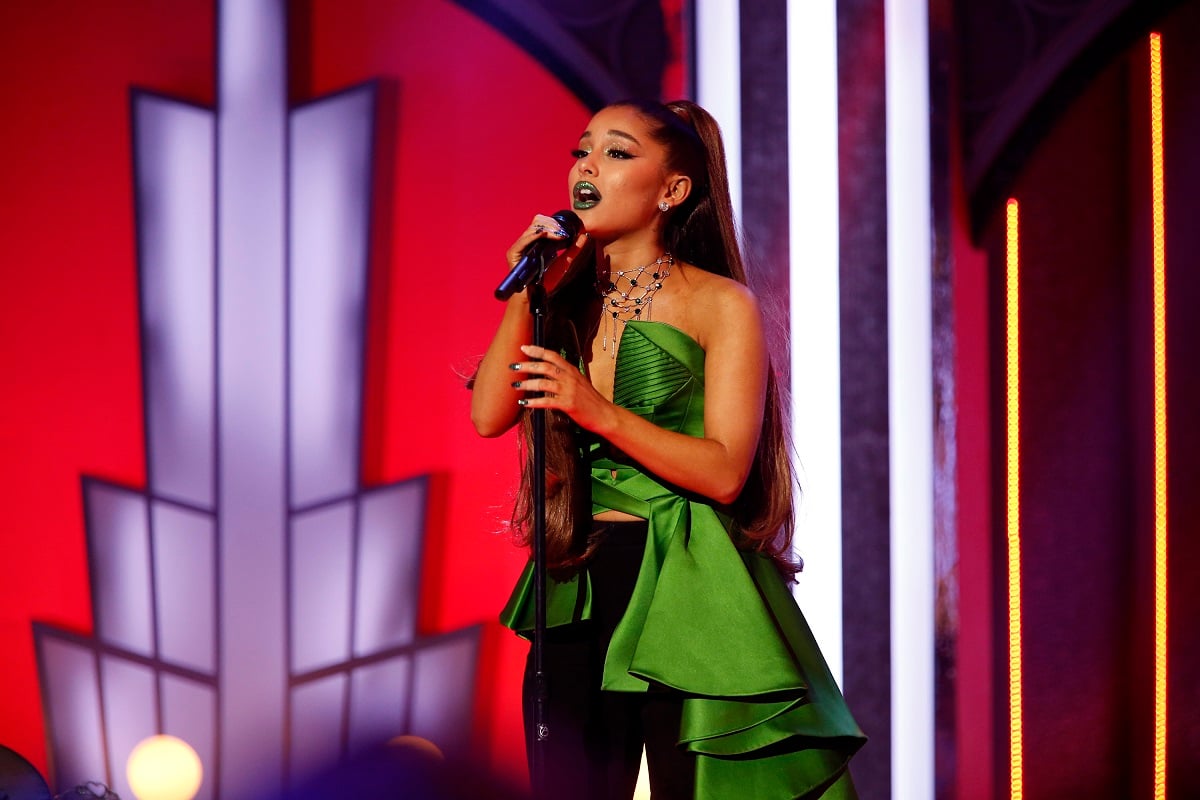 Years after she broke out with the Nickelodeon sitcom Victorious, Grande landed her most prominent acting role yet. In November 2021, media outlets announced Grande's casting in the upcoming film adaptation of the long-running Broadway show Wicked. The film features a star-studded cast centered around Grande's Galinda/Glinda the Good Witch and Cynthia Erivo's Elphaba, with In the Heights director Jon M. Chu at the reins. 
Grande makes no secret of her love for all things Wicked. She sampled songs from the stage musical in her work and frequently mentions her love of Broadway musicals. Naturally, she's seen the show multiple times, even taking to Twitter once to share her aspirations involving the production.
What did a fan say about Grande 'manifesting' her gigs?
In a February 2022 post, a fan shared three separate tweets from the Grammy-winning singer over the years. They each referenced her desire to collaborate with specific people or play a particular role. "Ariana grande is the living proof that manifestation does exist," the fan wrote on Twitter. 
One of the tweets included in the post is from when Ariana Grande went to see Wicked. "Loved seeing Wicked again…amazing production," she tweeted on her now-deleted account. "Made me realize again how badly I want 2 play Glinda at some point in my life! #DreamRole."
Not only has Grande wanted to play Glinda since she was young, but she's received pointers from the Good Witch herself. She saw Wicked when she was just 10 years old. Grande met Kristin Chenoweth backstage, and the two later reconnected. Chenoweth even joined Grande on The Voice Season 21 as her team's adviser.
Ariana Grande got to work with 2 celebrities she looked up to
Another tweet included in the fan's post saw Grande tag Mariah Carey, simply telling the singer, "I love you." In 2020, Grande joined Carey for her Magical Christmas Special, singing alongside Jennifer Hudson on the track "Oh Santa!"
Finally, the fan's tweet included a screenshot of an old tweet of Grande's, where she raves about actor Leonardo DiCaprio. In the original tweet, Grande notes that she watches his movie Titanic "at least 2 times per week." Grande went on to say that she's "not sure" what she would do if she ever got the chance to meet DiCaprio. 
This dream of Grande's became a reality when she shared the screen with the actor in the Netflix film Don't Look Up. Grande, in a minor role, played singer, Riley Bina. In a brief on-screen interaction, she tells DiCaprio's character, Dr. Randall Mindy, "Why don't you mind your own business, you old f—?" We're assuming this isn't what a young Ariana Grande had in mind when dreaming of meeting DiCaprio, but we'll presume their off-screen interaction was more to her liking.