'Yumi's Cells': Did the K-Drama Meet Fans Expectations Compared to the Webtoon?
The 2021 webtoon-based K-drama 'Yumi's Cells' has fans hooked on its seamless combination of animated emotion characters called 'cells' with romance and comedy as they help Yu-Mi (Kim Go-Eun) navigate new love after a severe heartbreak.
Yumi's Cells developed a buzz as it would combine a romantic Korean drama with animation. The 2021 K-drama unravels the daily life of an office worker named Kim Yu-Mi, played by actor Kim Go-Eun. The refreshing concept of combing her everyday life with her emotional cells depicted as animated characters in their own world captured viewers' interest. Yumi's Cells was originally a popular webtoon of the same name before being developed into a television show. The K-drama pulled in new viewers and old fans of the webtoon. After the K-drama's first episode, the cute, quirky love story and animated emotions have won over fans.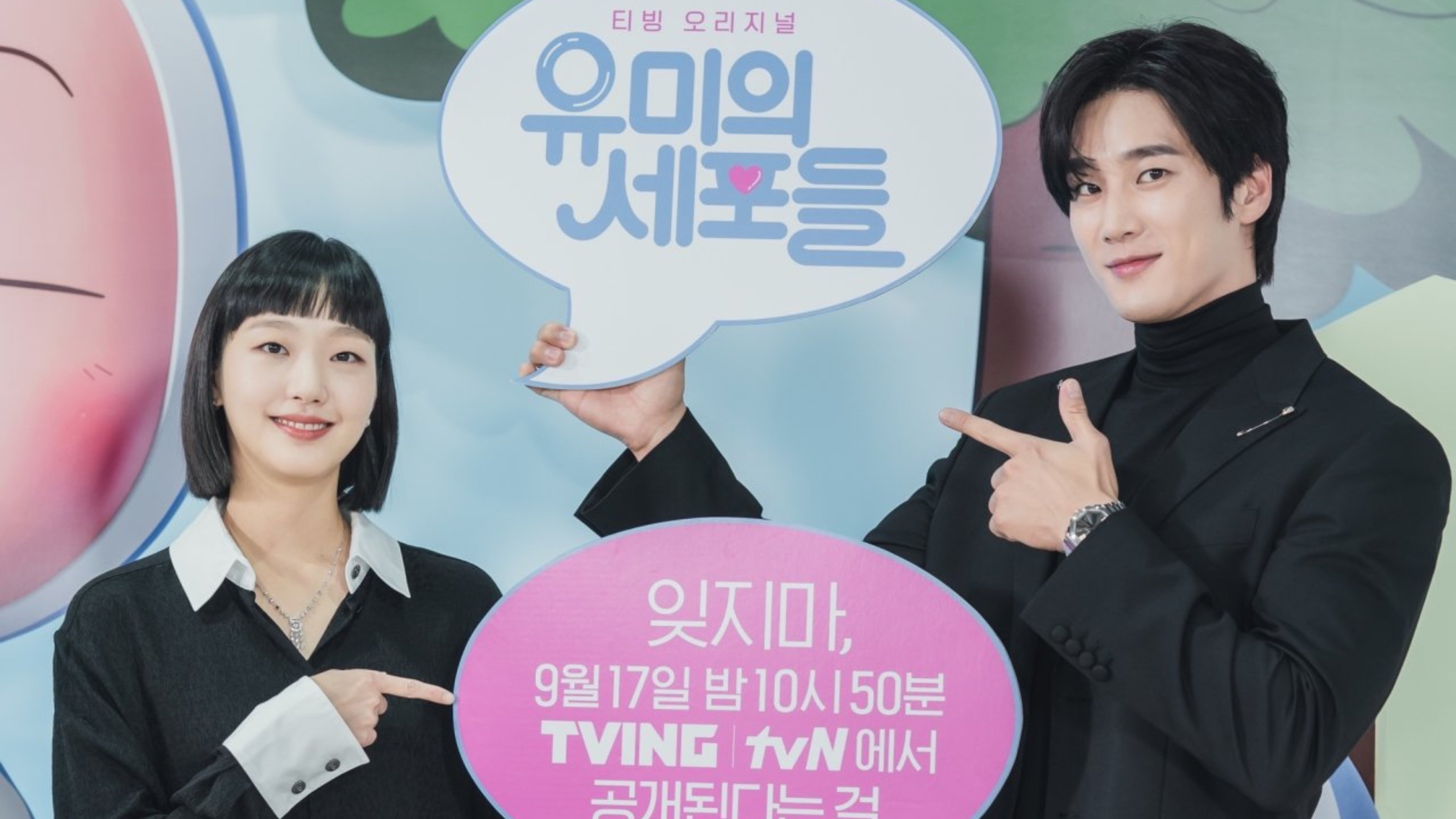 Kim Yu-Mi lost her love cell after a bad breakup
The K-drama trailer has Yu-Mi giving up on love. In the first episode, fans learn Yu-Mi has spent the past three years dedicated to her job. She decided to no longer pursue a relationship after getting her heart broken in a bad breakup. Viewers see what goes on inside Yu-Mi's head. Her emotions are depicted as animated characters in their own world. They are responsible for how Yu-Mi reacts to situations and her decisions. Yu-Mi's love cell was washed away in a flood of tears during her breakup. Her love cell has been in a coma for the past three years.
The first episode has Yu-Mi reignite her love cell when her crush at work shows interest in her. At the possibility of love, all her cells go into a frenzy to make sure Yu-Mi gets her shot at love. When her crush asks her out, he intends to set her up on a blind date. Her love cell is once again heartbroken and washed away in a flood along with other cells. Despite her cells' disagreement, they help Yu-Mi on her blind date in hopes of getting things back to normal.
Yu-Mi's blind date is a game developer and friend of her coworker. Ku Woong, played by Ahn Bo-Hyun, takes the date despite his reluctance. Wearing shorts, a t-shirt, and flip-flops, Woong did not expect to become enamored by Yu-Mi. While fans thought they would only get to see Yu-Mi's cells, they also get Woong's. Woong's cells have no idea what to do as he becomes too nervous to act normally on their date. Meanwhile, Yu-Mi's cells try to do their best while many key emotions are missing.
Romance and animation create a perfect combo for fans in 'Yumi's Cells'
Yumi's Cells has only aired two episodes, but fans are already in love with the K-drama. Fans have come to love the animated cell characters. Yu-Mi's cells comprise of love, emotion, rationality, hunger, anxiety, fashion, and even sexy. The cells are small cute, baby-like animations wearing blue outfits. Each cell has its persona that matches its designated emotion, and its outfits can reflect its traits. Fans on Reddit can not get enough of the fun, colorful, and whimsical display the K-drama has been able to create.
One Reddit user comments, "I absolutely adore how much her cells fight for her, and it leaves me imagining my own cells talking about me. Such a cool concept, this, along with Hometown, is just top tier till now! Way to go tvN!!!" Fans find Yumi's Cells refreshing and a new concept that has not been explored before in a K-drama. One Redditor points out the K-drama's similarity to the Disney movie, Inside Out.
New fans were convenient to watch the K-drama from the first or second episode as it got progressively better and more comical. One Reddit fan gives the K-drama praise for its impressive use of animation, stating, "The transitions are so seamless from the live-action to 3D animation. Locus Animation has done a really commendable job with the cells. The voice, the animation, and the background music that was playing during the detective cell's scene were absolutely perfect."
Did 'Yumi's Cells' live up to its original webtoon?
Like many other K-dramas, Yumi's Cells on-screen storyline was first an illustrated story in a webtoon. Donggeon Lee created the webtoon in 2015. The synopsis for the webtoon reads, "a story of Yumi and her brain cells." Fans of the 2021 K-drama were originally fans of the webtoon and were curious how it would come to life in the K-drama. Some Reddit users were pleasantly surprised by the K-drama outcome.
"I was very hesitant to watch this drama because I really enjoyed the webtoon, and I was nervous about how they would adapt the cells to a drama format. The prospect of watching a semi-animated show didn't exactly thrill me, and the way they did the trailers also made me rather nervous. So I'm very happy to find that I'm really loving the way they've adapted the cells! It fits perfectly, and the transitions between the real world and Yumi's headscape are impeccable," said a Redditor.
Many key elements were included in Yumi's Cells from the webtoon. The illustrated cells are the same in the K-drama, from the blue outfits to facial features. Love wears the same white suit with a pink cape. The K-drama changed certain features about Yu-Mi. Kim wears the same short bob haircut and bangs but kept her dark brown hair color instead of the sunshine yellow in the webtoon.