Zac Efron 'Idolized' His 'Hairspray' Co-Star Queen Latifah
The 2007 movie musical Hairspray was popular with fans for many reasons – the star-studded cast, the beloved songs, and the lighthearted story that took place in the early '60s. Based on the popular Broadway musical, Hairspray featured performers like John Travolta, Nikki Blonsky, Christopher Walken, Queen Latifah, Amanda Bynes, and Zac Efron.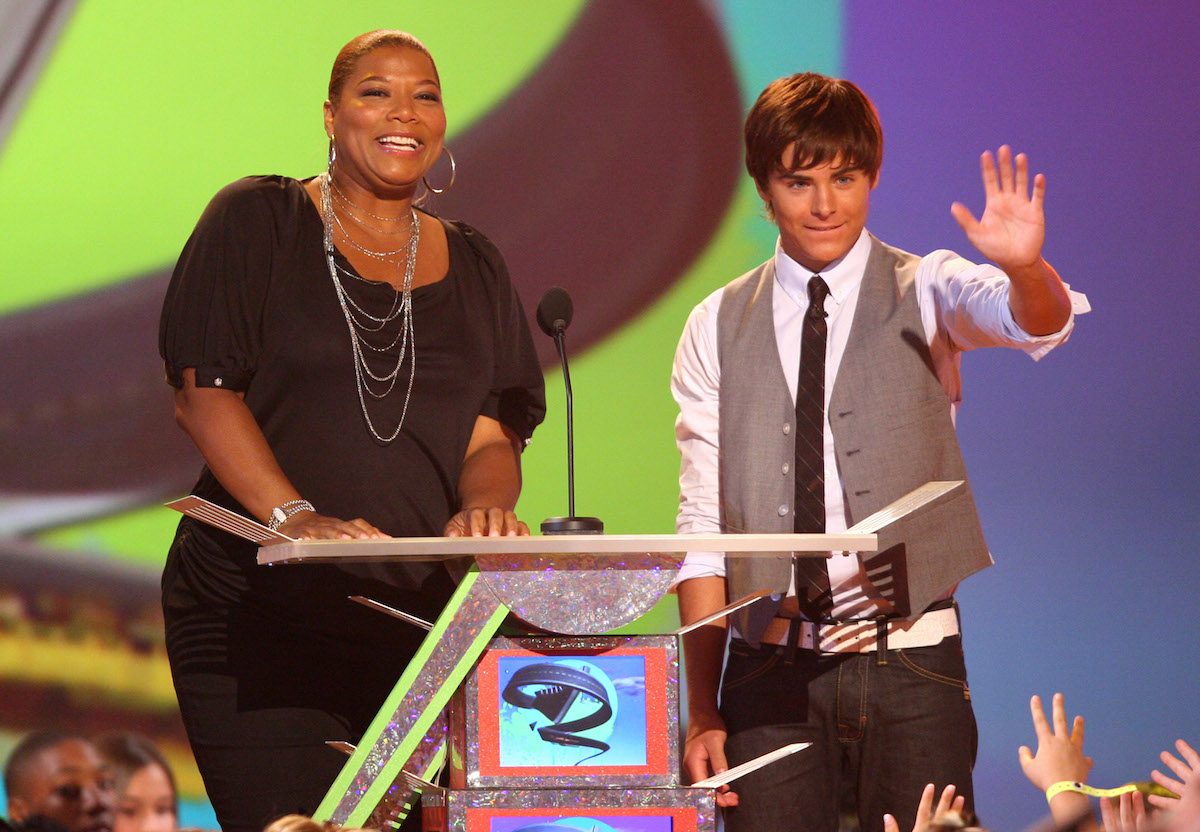 While many of the cast members went on to rave about how much they enjoyed working on Hairspray, there was a special connection between Efron and Queen Latifah – and in 2014, Efron went on the famous rapper's talk show to reminisce about the first time he met his co-star.
Zac Efron raved about meeting Queen Latifah
Zac Efron and Queen Latifah have a shared affinity for music – and as Efron revealed in a 2014 guest appearance on The Queen Latifah Show, he "idolized" her well before they even officially met. "It was a basement sort of scene, we had this big dance number," Efron recalled. "I was really nervous to meet you." Queen Latifah, who has long been hailed as a pioneer in the music industry, asked her former co-star, "why?"
Efron shrugged, noting with a smile on his face, "I idolized you … I think you're amazing." Efron went on to describe how, on the day of their big meeting, he discovered that he had a big pimple on his face – making him extra nervous to meet his idol. The actor joked that filmmakers had to use CGI in order to remove the pimple from the finished film, but said that he was relieved when he finally met Queen Latifah because she was so kind to him.
Zac Efron and Queen Latifah were both featured players in 'Hairspray'
As Link Larkin in Hairspray, the resident lead male dancer on The Corny Collins Show, Efron made waves. The young star got the chance to sing and dance in the film, showing off his skills even as the character of Link developed an intense attraction to Tracy. Queen Latifah portrayed "Motormouth" Maybelle Stubbs, a Baltimore-based DJ who has a long-running affiliation with The Corny Collins Show.
While Efron and Queen Latifah only shared several scenes together, including the dance number referenced by Efron in his 2014 interview, their chemistry is palpable – and it's clear that the two had a great time together. Interestingly enough, although Efron was a smash in Hairspray, director Adam Shankman later revealed that he almost passed on Efron for the role of Link.
As Shankman told the Boston Herald in a 2007 interview, Efron's "big Disney smile" made him think that Efron wasn't right for Link – but after he told Efron to incorporate some "danger" in his mannerisms, he "got it," and saw that Efron was right for the role.
Queen Latifah and Zac Efron have hung out in the years since 'Hairspray'
Queen Latifah and Efron never really lost touch after filming Hairspray, even though their busy schedules mean that they don't see each other as often as they would like. Early on in his 2014 interview on The Queen Latifah Show, Efron and the host joked that they hadn't run into each other at their "spot," Roscoe's Chicken and Waffles, for quite some time. 
"Any time you want to go, I'm right there with you," Efron said. The two former co-stars shared several affectionate moments throughout the course of the interview, with Queen Latifah making sure to praise Efron for the hard work that he put into developing the character of Link in Hairspray, even though he was only around 19 years old at the time. For Efron and Queen Latifah, Hairspray wasn't just a professional opportunity, but a chance to develop a very special friendship.
RELATED: Movie Musicals to Watch on HBO Max Before 'In the Heights' Premieres