Zach Braff Never Won an Emmy Award for 'Scrubs' But He Could for 'Ted Lasso'
Actor Zach Braff is no stranger to Hollywood. He's well known for his role in the hit television series Scrubs. Not only an actor, he had his directorial debut in the film Garden State. While Scrubs had 17 Emmy nominations and two wins, Braff himself was never on the receiving end of an individual award. That could all change at this year's Emmy Awards.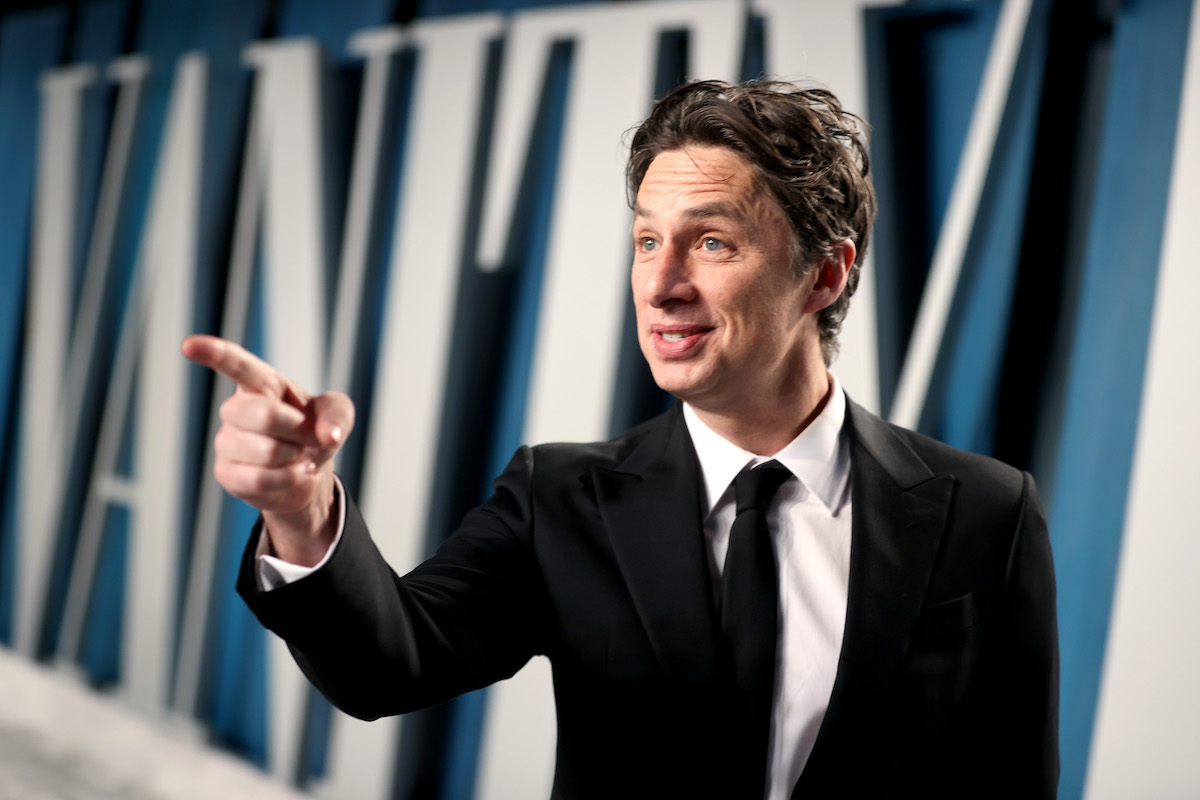 What Emmy is Zach Braff nominated for?
Braff is nominated for Outstanding Comedy Director for the episode titled 'Biscuits.' The second episode of the show's inaugural season finds Ted (Jason Sudeikis) still adjusting to his new home overseas. Unaware that the new owner, Rebecca Welton (Hannah Waddingham), of AFC Richmond, has only hired him to coach the team in a bid to get back at her ex-husband. Ted is unrelenting in his kindness and brings her cookies or "biscuits" once a week to try and get to know her better.
It's an episode that gives audiences a glimpse into Ted's personality. Even in this fish-out-of-water scenario, he makes the best of the situation.
Is Zach Braff favored to win this year?
While there's no doubt Ted Lasso has an excellent chance at dominating the Emmys, Braff's win isn't necessarily in the bag. He's going up against two other directors for each of their own Ted Lasso episodes. 
MJ Delaney and Declan Lowney are also up for the award for their own episodes of the AppleTV show. This could split the votes, and the director of another series could end up with the award. Both Susanna Fogel and Lucia Aniello are up for the Outstanding Comedy Director award for their work on shows Flight Attendant and Hacks.
Braff was previously nominated for Outstanding Comedy Actor for his role as John Dorian on Scrubs. However, he didn't take home the win. Scrubs only two Emmy wins were for Outstanding Multi-Camera Picture Editing for a Series in 2005 and Outstanding Sound Mixing for a Comedy or Drama Series (Half-Hour) And Animation in 2007.
Where fans can watch the 2021 Emmy Awards
Ted Lasso broke records with the amount of Emmy nominations it received this year. The freshman comedy series has 20 nominations, more than any other comedy series has ever received. 
If you're planning on watching the 2021 Emmy Awards to see if Ted Lasso sweeps the show, you have a few different options. The program will air live on CBS beginning at 8 p.m. ET/5 p.m. PT, but the show will also be streamed live. You can find it on Paramount + for those who don't have traditional television channels.
Streaming platforms are making their mark on this year's awards, with shows from HBO Max, Netflix, and Apple TV receiving multiple nominations. 
If you want to spend your time rewatching Ted Lasso until the Emmy Awards on Sept. 19, you're in luck. The entire first season of the show is available to watch on Apple TV. The first eight episodes of Ted Lasso Season 2 are streaming as well.