Zara Tindall Chose This $350,000 Family Heirloom to Wear on Her Wedding Day
Zara Tindall, like the other ladies of the royal family, is renowned for her association with tiaras. When she tied the knot with Mike Tindall in 2011, Zara, the daughter of the Princess Royal, adorned herself with a truly stunning tiara.
Here's a closer look at the iconic Princess Andrew's Meander Bandeau Zara wore on her wedding day.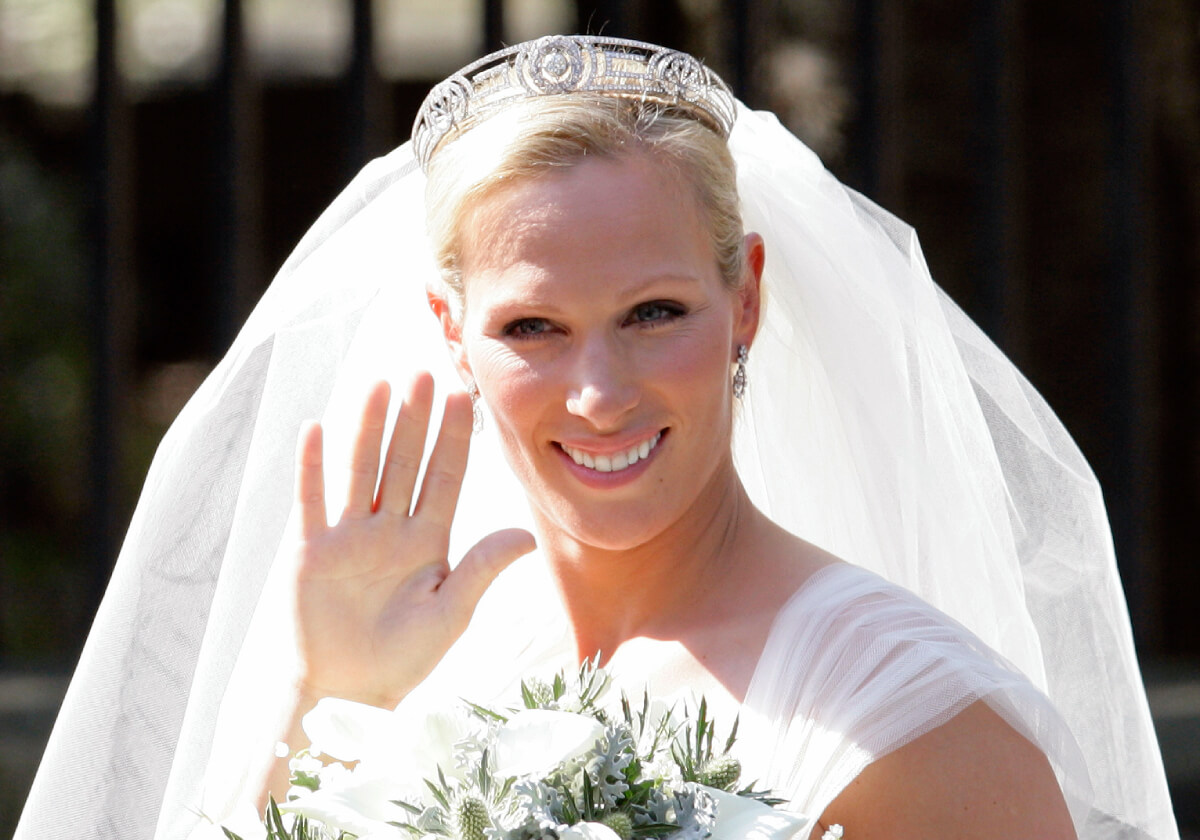 Zara Tindall wore this famous tiara on her wedding day
As a member of the royal family, Zara is no stranger to tiaras. Amongst the royal family's vast jewelry collections, their tiaras are some of the most valuable across the globe.
Included in these priceless items is the tiara Zara wore during her wedding to Mike. The enchanting event unfolded at Canongate Kirk in Edinburgh, where Zara, accompanied by her father, Captain Mark Phillips, gracefully made her entrance for the ceremony.
Zara added a touch of elegance to her attire with antique royal jewelry borrowed from her mother, Princess Anne. Underneath her ethereal tulle veil, she adorned herself with Princess Andrew's Meander Bandeau. 
This magnificent diamond tiara originally belonged to Zara's great-grandmother, Princess Alice of Battenberg. 
Back in 1947, Alice gifted the tiara to Queen Elizabeth II as a precious wedding present. Eventually, the late monarch passed down the tiara to Anne, who lent it to Zara for her wedding.
Here is a closer look at Princess Andrew's $350,000 Meander Bandeau tiara
Princess Andrew's Meander Bandeau is truly a sight to behold. The diamond bandeau Zara wore in her wedding exudes an effortlessly sophisticated appeal with its smooth and refined design. 
It showcases neoclassical motifs such as meander patterns, delicate anthemions, and a striking central laurel wreath element. These elements, combined harmoniously, suggest that the tiara was crafted during the dawn of the twentieth century. 
The earliest known photographs of the tiara date back to 1914. These images show the captivating Princess Alice adorned in this remarkable piece of jewelry.
Jewelry expert Zack Stone estimates the tiara to be worth a staggering $350,000. Its exquisite craftsmanship and timeless beauty contribute to its remarkable appraisal in the world of fine jewelry.
"It's a particularly sentimental piece as Princess Alice gave it to Queen Elizabeth II as a wedding present in 1947, who later passed it on to Zara's Mother, Princess Anne," he explained. "I'd estimate the striking piece to be worth $350,000 (£280,000)."
The tiara, of course, gets its name from Princess Andrew of Greece and Denmark, who originally owned the piece. The royals are believed to have obtained the tiara at the turn of the 20th century.
How Zara Tindall paid tribute to her grandmother Queen Elizabeth at her wedding
It's been nearly twelve years since Zara and her husband exchanged their vows in Scotland. Zara, an accomplished Olympic equestrian, and Mike, a former rugby player, joyfully tied the knot on July 30, 2011.
While planning her momentous day, it was evident that Princess Anne's daughter held her grandmother, Queen Elizabeth, dear to her heart. She lovingly incorporated several meaningful gestures as a tribute to the monarch. This included special arrangements for the wedding reception and a heartfelt choice of bridal attire.
Radiating sheer elegance, the bride captured everyone's imagination in a magnificent ivory silk gown meticulously crafted by renowned designer Stewart Parvin. As one of Queen Elizabeth's favored couturiers, Parvin's creation showcased a harmonious blend of simplicity and artistry.
Princess Andrew's Meander Bandeau, of course, stole the show and remains one of the more popular tiaras in the royal family's collection.