1 of The Most Iconic 'Twilight' Songs Made It Into The Film Thanks To Kristen Stewart
Often times while making a movie, the soundtrack is mixed and added to the movie in post-production. Especially when it comes to scenes where a song is actually playing, such as during a dance, the actors aren't really dancing to the song that will be in the final version of the film. However, that wasn't the case with Twilight's prom scene, and it's thanks to Kristen Stewart. 
Kristen Stewart personally suggested 'Flightless Bird, American Mouth' for the prom scene in 'Twilight'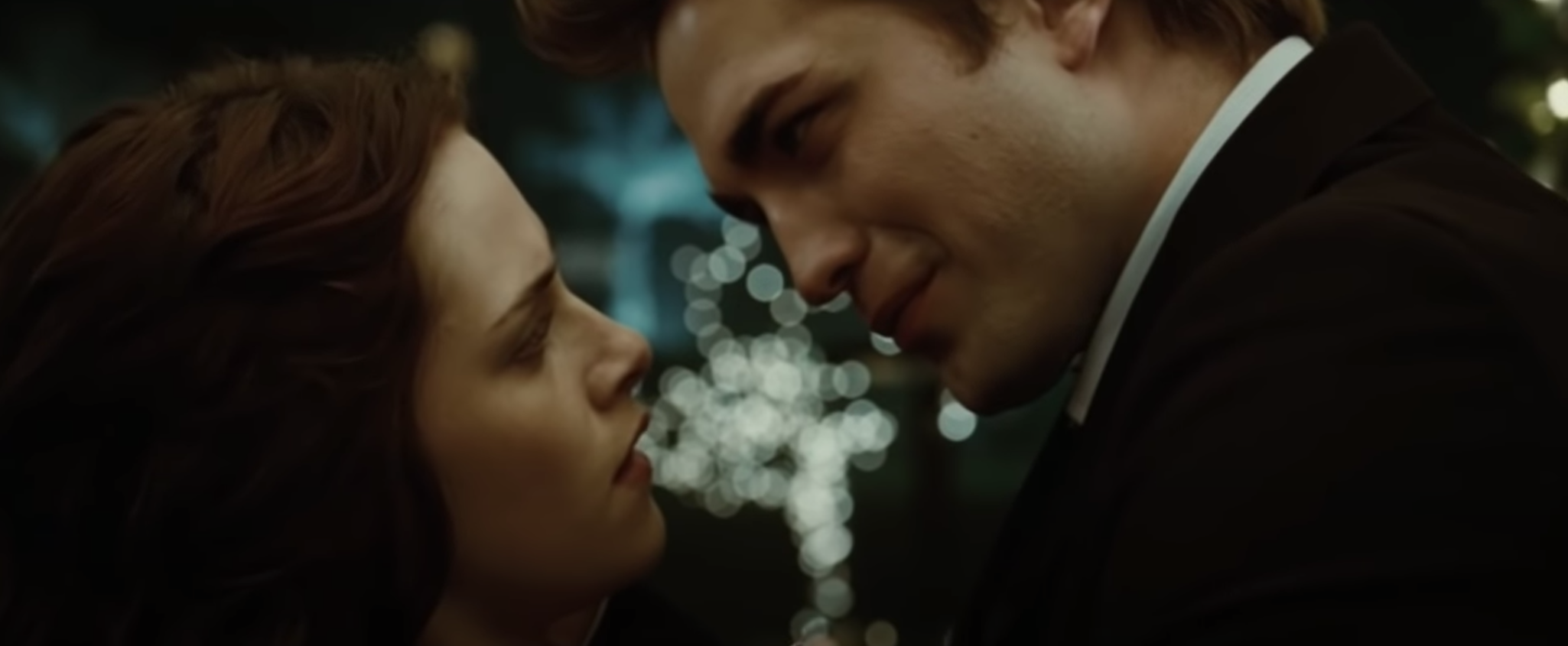 If you listen to "Flightless Bird, American Mouth" on Spotify, one of the "music facts" that pop up says that every teen girl was listening to this song in 2008. And that's all thanks to Twilight including this in the scene where Edward Cullen and Bella Swan dance at prom. The song is sweet and soft, and fits into this scene perfectly. So perfectly that it's a bit of a motif for the couple on-screen throughout the movie and later in the saga. 
The mastermind behind picking that song was Stewart, who played Bella. She told Entertainment Weekly that the song came on while she and Robert Pattinson were rehearsing for the film, and she had a very visceral reaction to it.
"Before we even started shooting the first Twilight with [director] Catherine Hardwicke, I was rehearsing with Rob and we were sort of dancing around this room, trying to do this scene," Stewart said. "I put on Iron & Wine's 'Flightless Bird, American Mouth' and I just became instantly emotional. Rob couldn't handle it — it got weird! But I was like, 'oooh, this is perfect.'"
Hardwicke also credited Stewart with choosing the song every Twilight fan knows and loves today. She told Us Magazine that when it came time to rehearse that specific scene with a crew, Stewart brought the song out and Hardwicke was won over really quickly. 
It was a special experience for Iron & Wine
Sam Ervin Beam has been releasing music as Iron & Wine since 2002 and the album that Stewart heard "Flightless Bird, American Mouth" on was The Shepherd's Dog, which came out in 2007. In a 2018 oral history of the Twilight soundtracks for Billboard, Beam shared that he knew the story of Stewart picking the song out for the prom scene. 
"I guess it was just a thing where they heard it so many times in that scene, they couldn't imagine it [being] something else," he said. 
Alexandra Patsavas, a music supervisor and producer, told Billboard that Stewart really captured the vibe of that scene and what Edward and Bella were feeling. It's one of the big reasons that the song not only works in that scene but also has stood the test of time for Twihards. 
"Kristen knew what would best evoke the feeling of that scene [when Bella and Edward are at prom]," she said. "I think she came up with that possibly before the movie even shot. I'm not actually sure of that, but by the time we were in post, that song was already living in the cut."
Beam also shared that he still gets requests to play that song at his shows. "That's the biggest, widest handshake I've ever made with the public, piggybacking on the back of this giant movie," he said.
The song went on to become one of the most iconic and comes back during Edward and Bella's wedding
Bella and Edward go through a ton of obstacles and drama through five movies. But by the fourth film, Breaking Dawn Part 1, the two get married. And as they're reciting their vows during their wedding, "Flightless Bird, American Mouth" is heard in the background. As they kiss, the music swells, which can make even the toughest fan cry. 
The choice to bring the song back is a testament to how deep the song is ingrained in their on-screen relationship. Not only did the song fit the couple at the beginning, but to hear it come back was a very full-circle moment. And Bill Condon, who directed both Breaking Dawn movies, asked Beam to record a special version of the song for this special moment. 
"We totally recorded a whole new version of it with the string section — that was super fun," he told Billboard. "It's one of those things where, as an artist, you put your work into the world, and sometimes it finds nooks and crannies that you would never imagine it would find. [Twilight] was just a giant train that was unstoppable."