7 Artists Who Received Their 1st Grammy Nominations This Year, from Harry Styles, Megan Thee Stallion, BTS, and More
One of the biggest nights in music is Grammys night and the nominations for the 63rd Annual Award Show were just announced on Nov. 24. Like they are every year, the Grammy nominations were exciting for some while other fans felt their favorites were snubbed. But for these seven artists, it was the first time they received nominations. So, here they are.
1. Harry Styles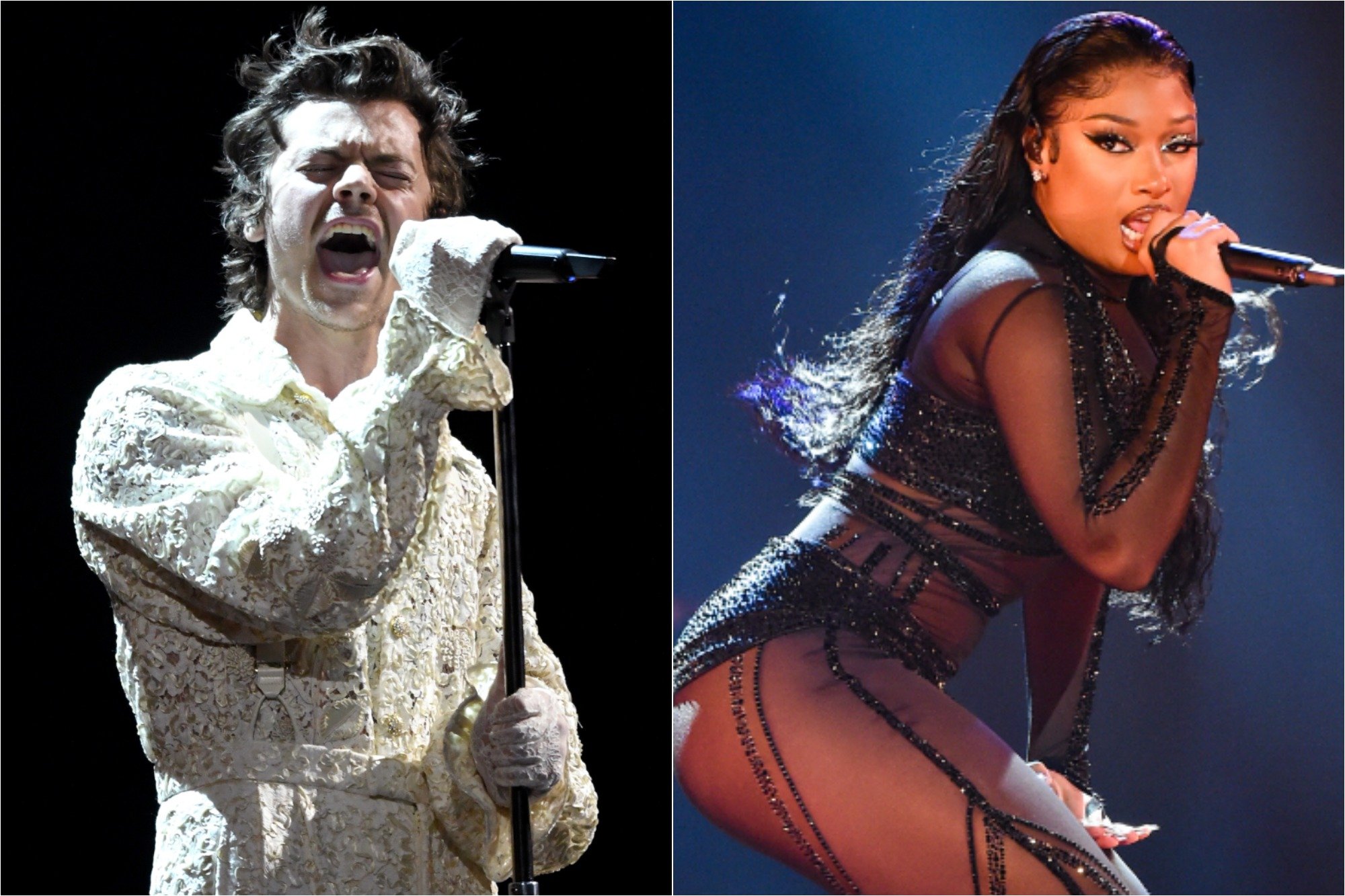 RELATED: 3 Harry Styles Songs That Involve Fruit, Even Though They're Not Really About Fruit
Starting off in the boy band One Direction, Harry Styles made his way into his solo career in 2017 with Harry Styles, his debut solo album. But it's Fine Line, his sophomore album, that garnered his first Grammy nominations. He's nominated for:
Best Pop Solo Performance for "Watermelon Sugar" 

Best Pop Vocal Album 

Best Music Video for "Adore You" 
He just released a video for "Golden," also off of Fine Line and famously made waves near the middle of quarantine with his video for "Watermelon Sugar." Fine Line has a mix of breakup songs and songs about being freshly in love. It's very raw and Styles has been open about how he and his team experimented with drugs while writing the songs for the album.
2. Megan Thee Stallion
Megan Thee Stallion is having quite the week. First, she released her debut studio album on Nov. 20, which already has fans excited. Along with a brand new video for "Body," which has cameos from Taraji P. Henson, Jordyn Woods, and Blac Chyna.
Best Rap Performance for "Savage" Remix feature Beyoncé

Best New Artist

Record of the Year for "Savage" featuring Beyoncé
Now she's nominated not just for the first time at the Grammys, but for three different categories. Two of them for the remix of "Savage" with Beyoncé.
3. Doja Cat
Another artist that has had a pretty good year and a half is Doja Cat. She's also nominated in similar categories to Megan Thee Stallion, with her breakout song "Say So" taking the spotlight.
Best New Artist

Record of the Year for "Say So"

Best Pop Solo Performance for "Say So"
Interestingly, both "Say So" and "Savage" had viral TikTok dances this year too. Surely a coincidence, because the Grammys take into account artistry and not necessarily how well something performs on the charts, but still something to note.
4. Phoebe Bridgers
Next up is Phoebe Bridgers who is another artist on here nominated in the Best New Artist category who is receiving her first Grammy nomination ever. She's best known for making indie rock and folk-rock and is nominated for those categories.
Best New Artist

Best Rock Performance for "Kyoto" 

Best Alternative Music Album for Punisher
Bridgers' songs have struck a chord with a younger, queer crowd and her songs are deeply raw and emotional. "Kyoto" is off of her album, Punisher, and touches on her relationship with her father as well as the imposter syndrome she faces as a musician.
5. BTS
BTS' secured their first Grammy nomination with their first English-language track, "Dynamite." It's a disco-infused song that's pretty upbeat and already has over 101 million views on YouTube. And now it's their first nomination for Best Pop Duo/Group Performance for "Dynamite."
Also, as Showbiz Cheat Sheet reported, BTS made history for being the first-ever Korean group to present last year at the Grammys in 2019. And they were the first-ever Korean act the perform at the Grammys when they went on stage with Lil Nax X. These are, of course, big first steps for the K-Pop group.
6. Poppy
If you grew up with YouTube odds are you might know Poppy and her videos. She had a pretty odd persona online, with the popular React channel having kids react to her videos. But she's also a singer, and her newer metal song "Bloodmoney" was just nominated for Best Metal Performance for "Bloodmoney."
7. Pop Smoke
Unfortunately, rapper Pop Smoke's first Grammy nomination is coming posthumously. He was shot in February and his song "Dior," which he's now nominated for Best Rap Performance, has only gained popularity since. Pitchfork called the song is a "radical addition to the protest music canon." Also noting that it is "amplifying the voices of Black kids in his native Brooklyn and beyond."
RELATED: Grammy Awards: See BTS, Megan Thee Stallion, and More React To Their First Ever Nominations