Alfre Woodard Still Has Scars From Making 'Star Trek: First Contact'
Alfre Woodard is many things, including an actor, producer, political activist, and artist. Woodard has won many accolades over the course of her career, including four Emmy Awards. These days, Woodard is considered to be one of the greatest actors of her generation — and she is still hard at work filming new projects. She is known for diving headfirst into her roles, holding nothing back and doing what it takes to really "sell" a performance. Recently, Alfre Woodward opened up about one of her best-known roles, Lily Sloane in Star Trek: First Contact, and why she still has scars from filming.
How did Woodard become famous?
Alfre Woodard has been acting since the '70s, starting off in the world theater. She made her Off-Broadway debut in 1977, in the critically-acclaimed play For Colored Girls Who Have Considered Suicide When the Rainbow Is Enuf. By the early '80s, Woodard had made her transition to television, appearing in shows such as Hill Street Blues. Throughout the '80s and '90s, Woodard continued to make waves with critics and viewers, acting in a wide variety of television and film productions.
While Woodard has appeared in everything from comedy to serious drama, to her fans, one of her greatest performances is in the 1996 science-fiction film Star Trek: First Contact. Woodard portrayed Lily Sloane in the film, and to this day, it remains one of her best-known roles. As Woodard has revealed, however, filming the movie was far from easy. In fact, she retains some very physical reminders of her time making Star Trek: First Contact. 
How did Alfre Woodard get scars from filming 'Star Trek: First Contact'?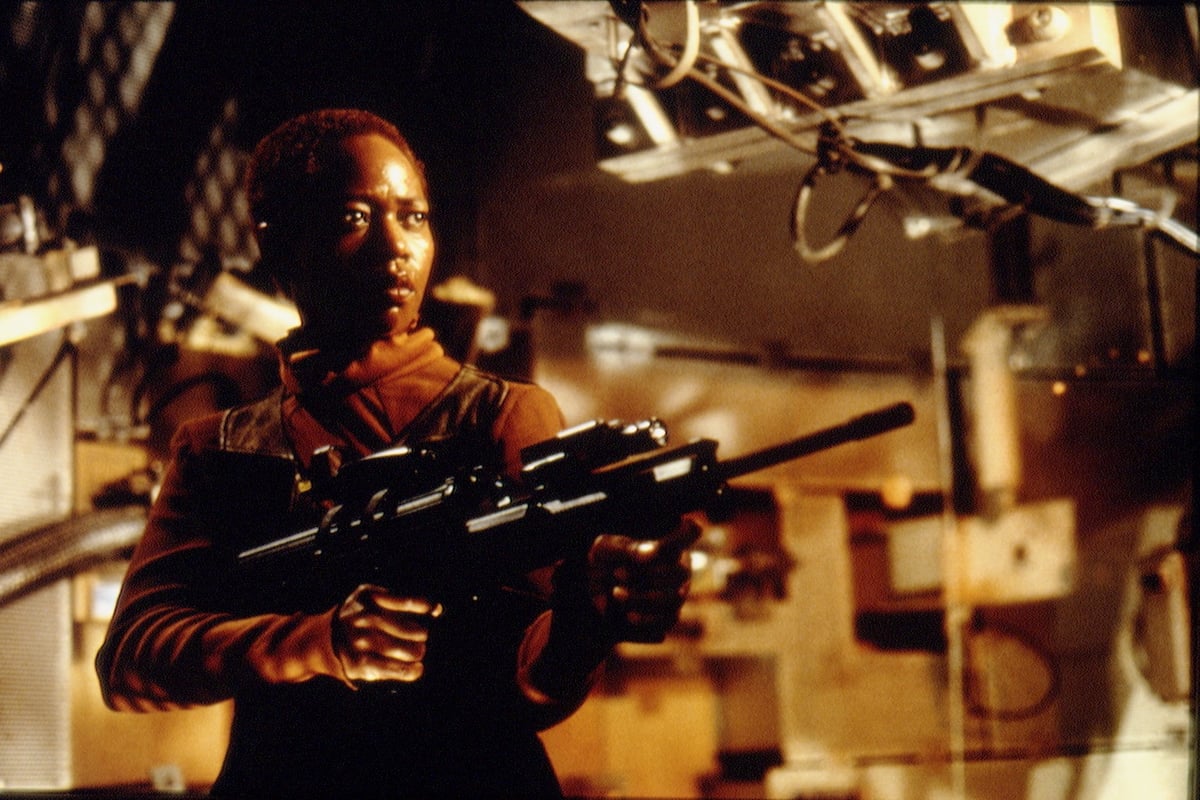 Recently, Alfre Woodard opened up to Collider about her work in Star Trek: First Contact, admitting that she thinks of her time on the set fondly. Woodard also revealed that she still has scars that she got while filming, showing off significant marks on the undersides of her arms and saying that she got them during an explosion scene in the science-fiction drama. As Woodard told Collider:
"It was me and Jamie and probably 200 stunt people when the explosion happened … and when it happened, the explosion was so intense that it just knocked us on our butts … My arms were bleeding and the skin was gone. I ran up to Jonathan (the director) and I said, 'Jonathan, I messed up the costume and my arms are bleeding,' and he said, 'That's okay, we got the shot!'"
Fortunately, Woodard's hard work paid off, and Star Trek: First Contact is considered to be one of the franchise's very best films. Although Woodard has not revisited the Star Trek universe in recent years, she's remained very busy, and her latest series, See, is proving that she's still very much a force to be reckoned with.
Woodard is currently earning acclaim for the series 'See'
Alfre Woodard might be approaching 70 years old, but she's not slowing down. In fact, Woodard is earning renown for her work in the brand-new Apple TV+ fantasy series See, opposite Jason Momoa. Woodard has also acted in several high-profile movies recently, including Kevin Hart's Netflix film Fatherhood and the prison drama film Clemency.
Coming up, fans will be able to catch Woodard in a remake of the cult-classic horror film, Salem's Lot, as well as in the action thriller The Gray Man, which is set for release sometime in 2022. For Woodard, it seems no job is too challenging and no role is too full of danger. 
RELATED: 'Star Trek: Picard': Why Q and Picard's Relationship is "Profoundly Deep"