Alison Brie on the Possibility of a 'GLOW' Movie: 'Don't Hold Your Breath'
GLOW is one of the many shows to get canceled by Netflix this year. The streaming platform shockingly canceled the popular series in October. It had already filmed the first two episodes of season 4 before the coronavirus pandemic halted production.
In the time since the surprising cancellation, fans and cast members alike have rallied to convince Netflix to green light a GLOW movie. A fan-made petition circulated online, and star Marc Maron even pitched a film conclusion on Instagram Live. But what does star Alison Brie think of the possibility of a GLOW movie?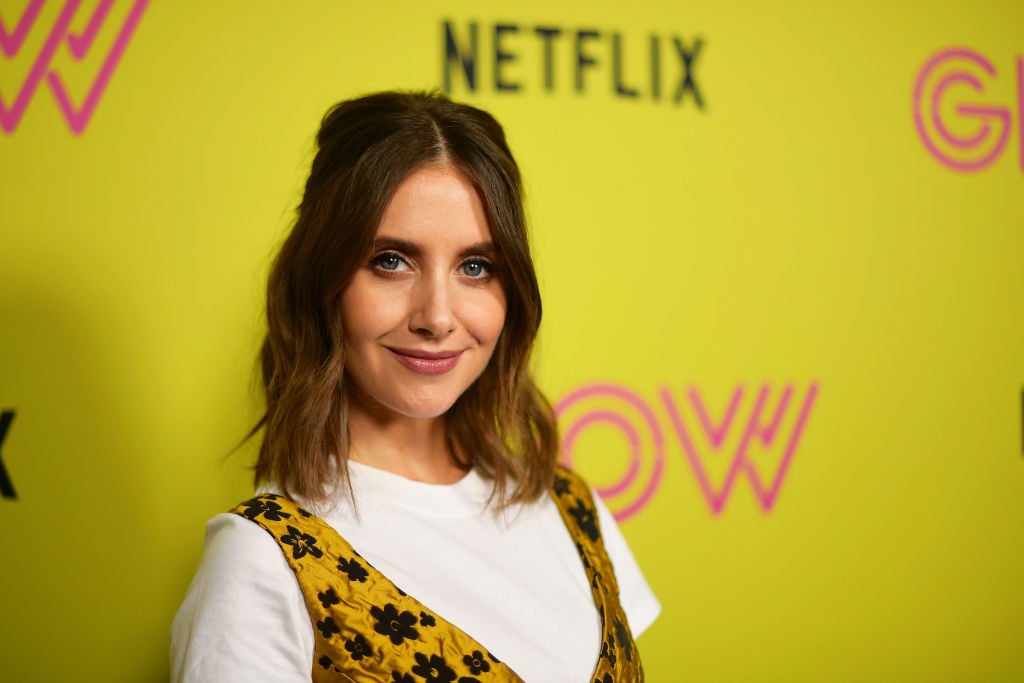 'GLOW' got canceled in October
The '80s wrestling series was a bastion of strong roles for women on TV. It told the story of struggling actress Ruth (played by Brie) whose career and confidence changes forever when she joins an all-female wrestling show, Gorgeous Ladies of Wrestling, aka GLOW.
The series also starred Betty Gilpin, Sydelle Noel, Kia Stevens, Sunita Mani, Britney Young, Kate Nash, Gayle Rankin, and more as the cast of the wrestling show, and was heralded as one of the few shows on TV boasting so many nuanced female characters.
Brie said in an interview with Andy Cohen on Watch What Happens Live! on Nov. 19 that the physicality of the show made her fearful the delay in filming would become indefinite. She was unfortunately correct, and the cast was informed of the cancelation two days before it was announced.
"We all in the cast heard on Friday night," the Mad Men alum said. "And then the news broke on Monday. Which was good. Because we sort of had the weekend to connect as a cast. We all hopped on a Zoom together."
Alison Brie says a 'GLOW' movie 'might take a minute'
In his Oct. 6 Instagram Live, Maron campaigned for Netflix to green light a better conclusion for the series, noting that season 4 was already planned out.
"I think what they should do is… let us make a movie," he said. "I mean, let us wrap it up in a two-hour Netflix movie. They had the whole season laid out. We know where it's gonna go. Why don't you give the showrunners and the writers and the cast the opportunity to finish the story in a movie?"
It's a fair suggestion, especially given how beloved the show is by fans. For her part, Brie loves the idea of a movie, but she warned that it would take a long time to get made if approved.
"I certainly think a movie could tie everything up," she said in an interview for the upcoming episode of The Playlist's The Fourth Wall podcast. "I'm a little pessimistic about it actually happening just in light of everything that's gone on this year and how difficult it is to get anything back into production with COVID. And I'm also part of the Community cast, who's been trying to get a movie going for six years, so what I'm saying is don't hold your breath because if it does happen, it might take a minute."
Whatever the future has in store for GLOW, Brie is proud of what the team created.
"I'm going to miss playing with those incredible women and Marc Maron and Chris Lowell," she said. "But you know, we're so lucky. We're lucky that we got to make three, to me, perfect seasons of a show. I love it so much and it will live on Netflix forever. So people can still check it out."