Amber Heard: Johnny Depp's Dog Had Permanent Bowel-Control Issues After Eating His Marijuana
There are varying stories about who or what left a nasty surprise in Johnny Depp's bed. But Amber Heard claimed a small dog was behind the mess and couldn't control its bowels because it had previously ingested Depp's marijuana.
When actor Amber Heard was asked about the infamous "fecal matter" incident in her defamation trial with Johnny Depp, she claimed his small dog was the real culprit. She further alleged that the canine had permanent trouble controlling its bowels because it once ate Depp's marijuana. But does that usually happen? And what are the two stories on who left the "surprise" in Depp's bed?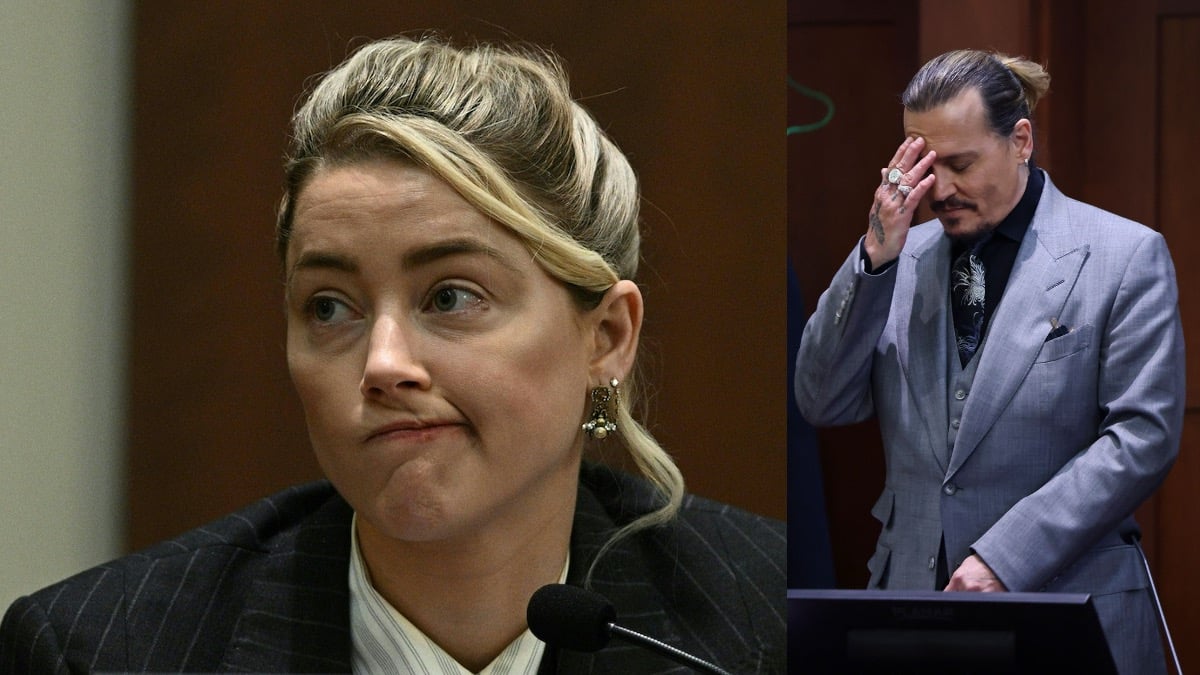 Johnny Depp's witness claimed Amber Heard called the excrement a 'practical joke'
Notably, Heard and Depp agree they had a memorable fight the night of her 30th birthday celebration. And they are both on the same page that it was generally because he was late for the party.
In the high-stakes defamation trial, Depp's executive chauffeur and security guard, Starling Jenkins, provided a deposition. The day after Heard's party, he said he drove to Coachella when she and her entourage of friends wanted to go.
Jenkins testified Heard rode with her group while he transported and cared for her dogs. Once they arrived, he drove her and her friends around and provided security during the trip.
They checked in at the hotel upon their arrival, then Jenkins drove the group to the festival. And on the way, he and the Zombieland actor allegedly "had a conversation about the surprise she left" in Depp's bed.
Jenkins told the court that Heard personally told him it was a "horrible practical joke gone wrong."
Amber Heard claimed Johnny Depp's dog ate his marijuana as a puppy and had 'bowel-control' issues
While Heard was on the stand, she said Depp's dog left the surprise in his bed. She told the jury the pet "had eaten [Depp's] weed when she was a puppy and had bowel-control issues for her entire life, among some other issues."
Heard alleged Depp's dog was in bed while she was packing for Coachella in 2016. According to her story, it defecated after burrowing under the covers.
Furthermore, Heard said she never told anyone it was a practical joke. When asked if Jenkins told the truth when he previously testified about that, she said, "Absolutely not."
Throughout Heard's testimony, she accused many of Depp's witnesses, including her former personal assistant, of making false statements under oath.
According to veterinary experts, the effects of marijuana toxicity in dogs are usually gone in days
Many observers have doubts that Heard's story about the dog is true. The size of the surprise in proportion to the pet she blamed for it has some people, including Depp, in literal disbelief.
Furthermore, permanent bowel-control issues aren't a reported symptom of marijuana toxicity in dogs. Of course, every case is different. But research shows that ailments caused by exposure, including diarrhea, subside within 72 hours of ingestion.
The Aquaman actor claimed the pet was treated by a veterinarian. And most cases observed under treatment only experience acute symptoms until their system has been cleared. The ASPCA performed a study of the effects of marijuana exposure on 250 animals, primarily canines, that showed no irreversible damage.