'American Idol' 2022: What Happened to Katy Perry's Pants?
Katy Perry's pants split on 'American Idol' 2022. Here's what happened during Hollywood Week and what she posted to social media in response.
ABC's American Idol 2022 continues to surprise fans. Now that auditions are over, the hopeful contestants are engaging in Hollywood Week, where they really put their skills to the test in front of guest mentors. The first night of Hollywood Week featured an unfortunate incident for Katy Perry, though. So, what happened to Katy Perry's pants? Here's what went down.
Katy Perry's pants split on 'American Idol' 2022 during the Hollywood Week Genre Challenge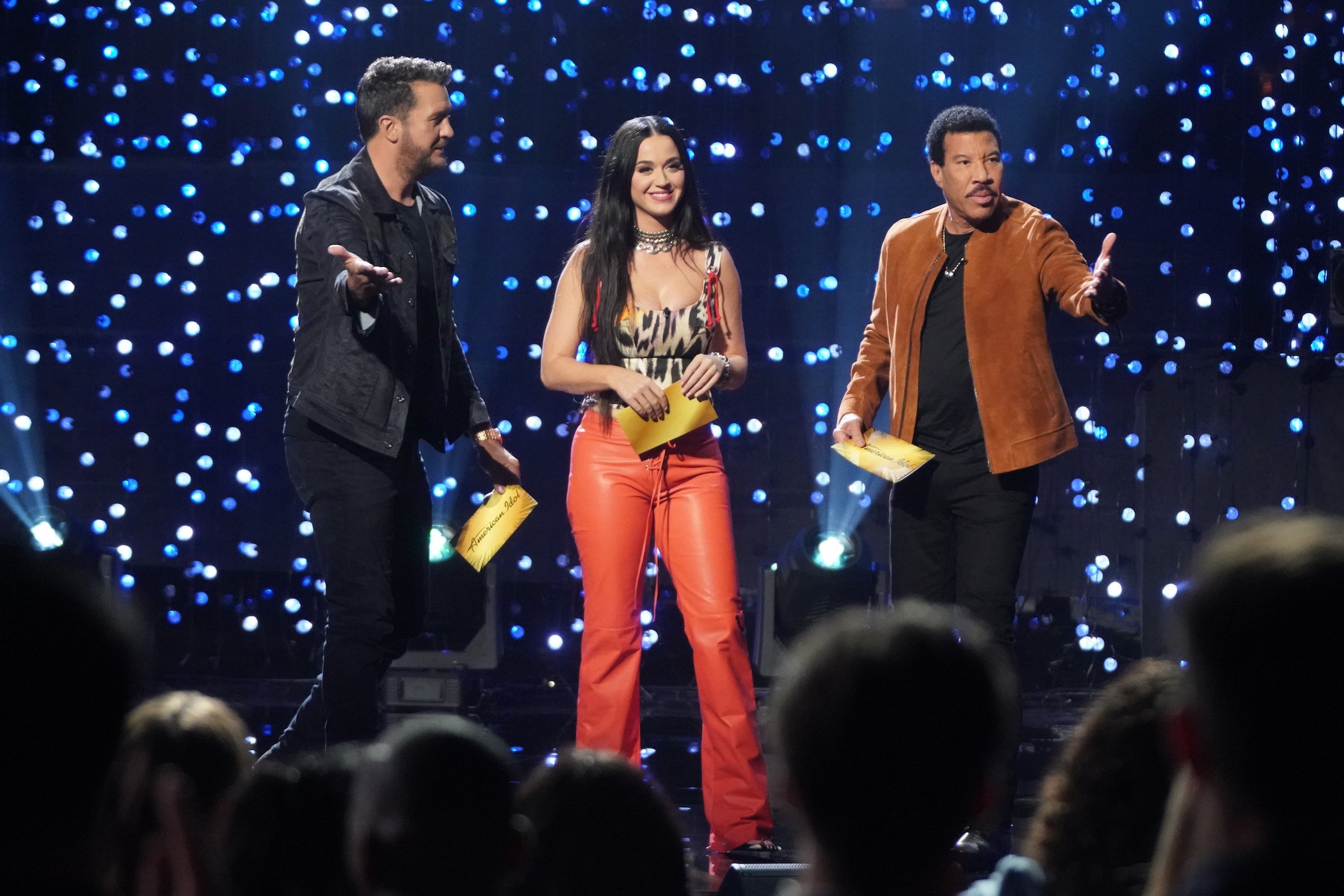 American Idol 2022 has already given fans plenty to talk about — and Katy Perry's wardrobe malfunction during Hollywood Week is certainly up on the list. So, what happened to Katy Perry's pants?
Perry began singing an impromptu version of her song, "Teenage Dream," with fellow judges Lionel Richie and Luke Bryan. All three judges were singing along and dancing — but the fun didn't last long. Just as Perry was singing, "Put your hands on me in my skin-tight jeans," she danced her way to a squat position on the floor. That's when her red leather pants ripped at the seam in the back.
"They busted!" Bryan yelled.
"That was a first, ladies and gentlemen," Richie added. "The concert is officially over."
"Can I get some tape?" Perry asks production. "Some gaffers tape?" Production and Bryan then taped Perry's pants while she leaned over the judge's table. "Hurry up!" she called.
Katy Perry made fun of her wardrobe malfunction on social media
Katy Perry's pants-ripping moment on American Idol 2022 won't soon be forgotten. And she made fun of it on social media.
Not only did Perry post the moment of the pants ripping, but she also retweeted a meme of herself as Spongebob Squarepants with ripped pants that Luke Bryan originally posted. "@KatyPerry this is supposed to be a family show #AmericanIdol," Bryan captioned the post.
"Family, my a**," Perry tweeted along with the meme.
This isn't the first time fans have heard of Katy Perry's wardrobe malfunctioning on American Idol, either. International Business Times reminds fans that Perry fell after rising from her seat and dancing to a contestant's singing in 2018. Perry slipped and fell, and her undergarments were revealed under her mini dress. The contestant and fellow judges, Richie and Bryan, looked shocked by what occurred.
Hollywood Week featured a star-studded list of guest mentors
Aside from Katy Perry's pants-ripping incident, Hollywood Week in American Idol 2022 features a number of guest mentors that fans certainly recognize. Variety reports the mentors include season 7 winner David Cook, season 10 runner-up Lauren Alaina, season 2 winner Ruben Studdard, season 9 winner Lee DeWyze, season 10 second-runner-up Haley Reinhart, and season 19 winner Chayce Beckham.
Former American Idol winners haven't been brought back to the show since 2018.
"It's like a sorority-fraternity, big brother-little sister kind of thing," executive producer and showrunner Megan Michaels Wolflick explained. "It's really cool because they've been through the process and they understand Hollywood Week. A lot of them had their own iconic moments during Hollywood Week."
"Who better to work with them than someone who's been there before who understands what it takes to get through Hollywood Week?" Wolflick added. "Every one of them leaped on the opportunity and was an absolute yes right away. They were so excited about it. Everyone came with bells on, they wanted to do more. What else can we do? They were all so excited to be back and to meet these contestants."
Check out Showbiz Cheat Sheet on Facebook!