Andy Griffith Loved Working on 'Matlock': 'He Was Always, Always Singing'
While actor Andy Griffith tried his hand at various roles after the conclusion of The Andy Griffith Show, it wasn't until his debut as high-powered attorney Ben Matlock in the 1980s that he found success again.
Perhaps viewers liked seeing Griffith continue to maintain law and order, more or less, on Matlock as he had as Sheriff Andy Taylor.
Whatever the reason, the show was a hit, and not just with audiences. The star himself was pretty fond of Matlock.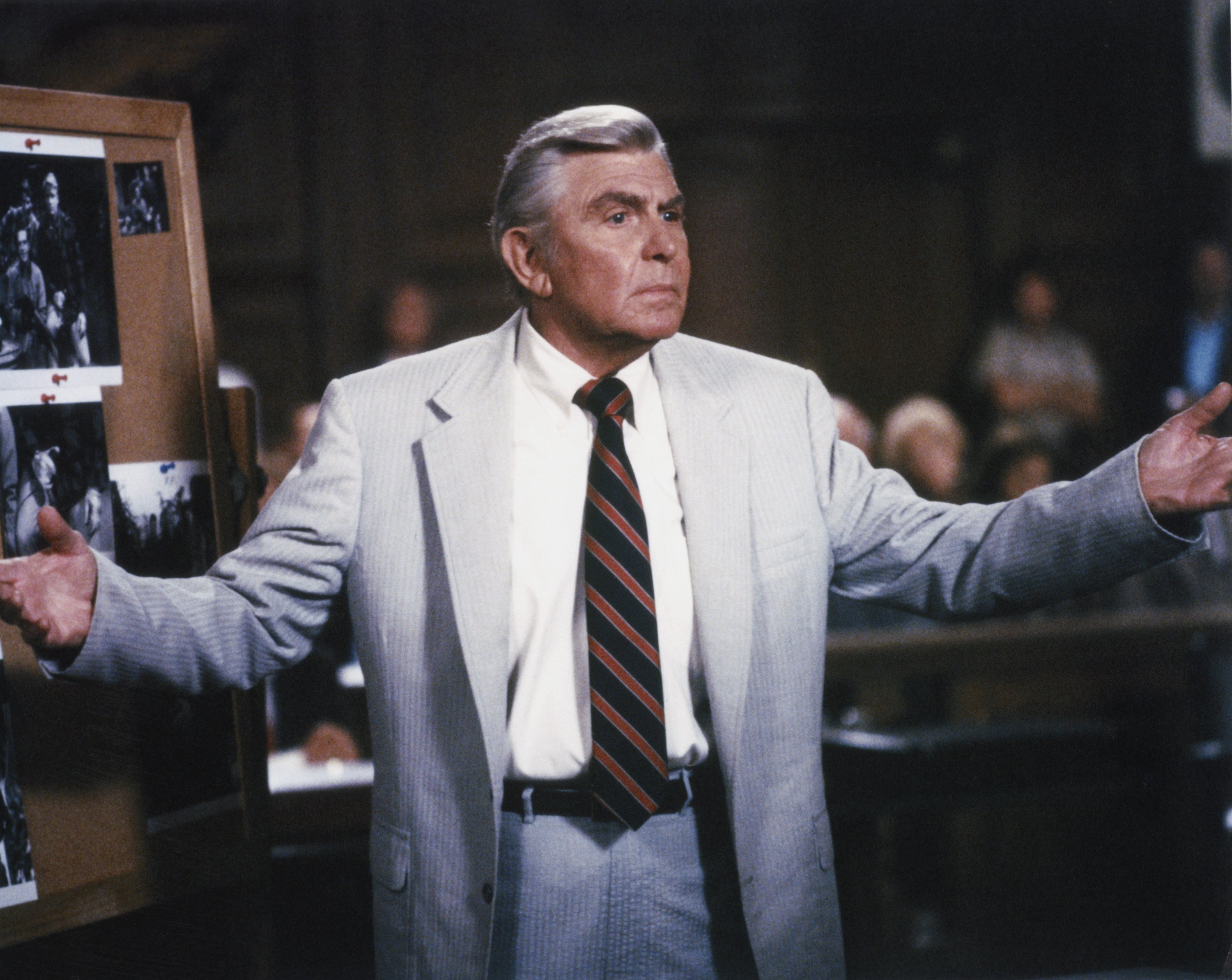 Griffith kept looking for his next big television hit series
Despite his efforts to land another hit TV program as successful as The Andy Griffith Show, the actor instead encountered one canceled series after another.
He worked on a number of projects, some lasting a few episodes, but none more than 20 episodes. These included the comedy-drama Headmaster in 1970; another comedy, The New Andy Griffith Show in 1971; police show Adams of Eagle Lake in 1975; the sci-fi series Salvage-1 in 1979; and family drama, The Yeagers, in 1980, which lasted just two episodes.
The actor talked to the Television Academy Foundation (TAF) about his various attempts to prove himself once again as a series star.
"I was in Headmaster and The New Andy Griffith Show, which didn't go anywhere," he recalled. "I did some movies for television. I played my first heavy, first out-and-out heavy on a show called Pray for the Wildcats. And then I did another one right after that for Aaron Spelling called Savages."
'Matlock' gave Griffith new purpose as an actor
Griffith's moment finally arrived in the character of eccentric, hot-dog-loving, sought-after defense attorney Ben Matlock, and the actor was ready.
Matlock, Griffith told TAF, "was different from anything I ever played. It was a great role."
He explained that a network bigwig "saw me in a miniseries. He was president of NBC. I had a week in [miniseries] Fatal Vision, I played a lawyer and Brandon Tartikoff saw something he liked. So he called Fred Silverman and he said, 'See if you can get Andy to play a lawyer.' … So it finally happened. The script came out, and we shot it, Brandon picked it up, it went on the air … we stayed on NBC for six years."
In Andy and Don: The Making of a Friendship and a Classic American TV Show, Daniel de Visé's biography of Andy Griffith and Don Knotts' friendship and careers, the author observed that Matlock had liberated Griffith from "the rut of the previous 18 years, hustling from job to job and enduring lengthy spells of no work at all."
And the actor loved it, as his Matlock co-star Nancy Stafford told the author: "He was always, always singing. You could hear him walk out of the makeup trailer onto the soundstage, humming. And he'd walk back into his trailer, and he was singing. I think one of the things I learned from him was just a great affection for the work. He was happiest, I think, when he was working."
Griffith said he 'didn't worry about the law' on 'Matlock'
The courtroom drama never failed to keep up its status as a steady hit for NBC.
"Matlock remained a consistent top 20 draw through five seasons," de Visé wrote. "NBC's sales department would target the series from time to time because of its graying fan base. … Matlock was becoming a part of popular culture.
If you're wondering whether Griffith hit the law books to prep for the show, he didn't.
"I never worried about the law," he continued. "They say that [Perry Mason] actor Raymond Burr did. But I knew that somebody else was there to look after the law part. I just wanted it to be entertaining within that framework."
RELATED: 'Matlock': The 2 Hit Spin-Offs That Came Out of Andy Griffith's Legal Drama