Ariana Grande's 2020 Grammys Dress Was 20 Feet Wide and Included Over 400 Yards of Tulle
Ariana Grande is no stranger to iconic red-carpet moments. The pop diva has been in the spotlight her entire adult life and appeared at dozens of awards shows. Though Grande's vocal range and powerful performances have earned her acclaim, she's also a fashion icon. Over the years, Grande has embraced some memorable looks, from her signature high ponytail to winged eyeliner and thigh-high boots. But at the 2020 Grammy Awards, Grande made a splash, stepping out in an incredible dress that reportedly took over 200 hours to make.
Ariana Grande's 2020 Grammys dress was a custom Giambattista Valli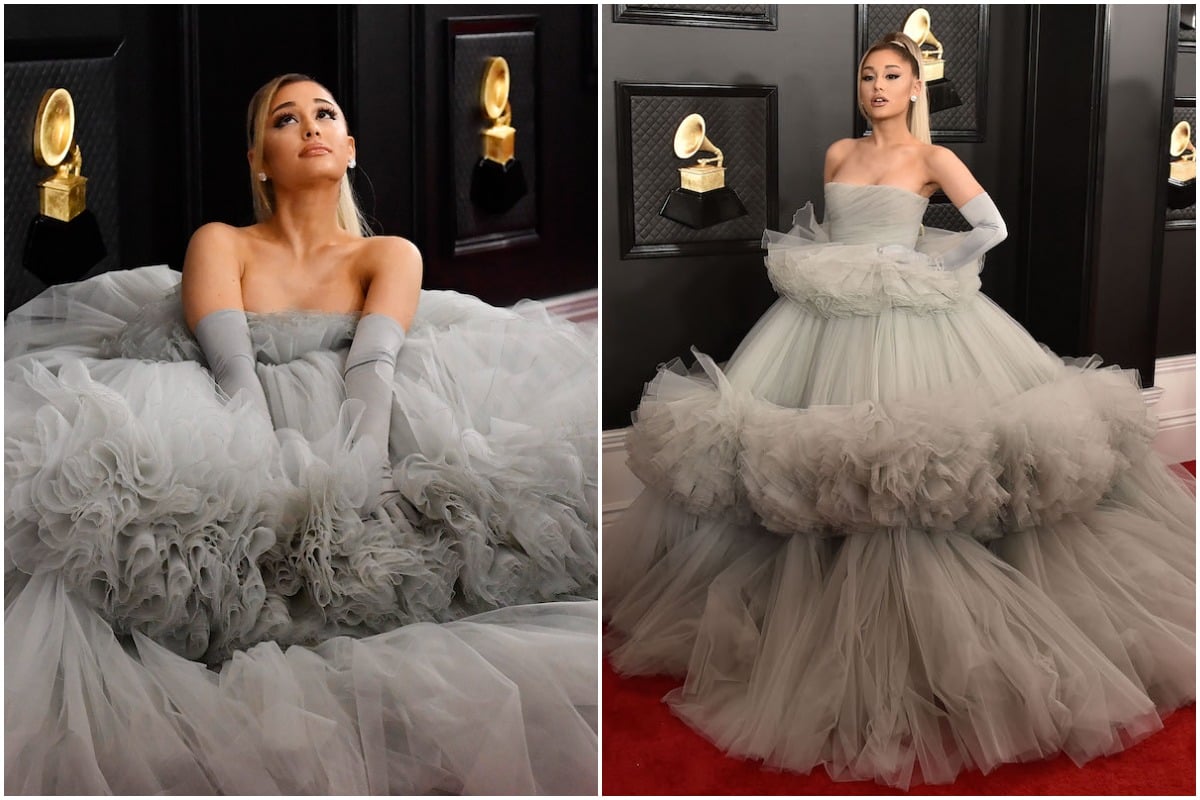 The 2020 Grammy Awards ceremony was an event to remember, featuring a slew of top artists and entertainers strutting their stuff on the red carpet. However, Ariana Grande was one of the event's standouts, especially when it came to her fashion choices. The five-time nominee that night showed up wearing a massive gray gown with matching gloves.
According to BuzzFeed, Grande's dress was a custom Giambattista Valli that took over 200 hours to make. The gown featured 400 yards of tulle and measured a staggering 20 feet wide.
The publication reports that Grande's stylist, Law Roach, was so overwhelmed at seeing her in the dress for the first time that he burst into tears.
Grande accessorized her look with diamond stud earrings, glamorous makeup, and her iconic high ponytail.
Ariana Grande's other 2020 Grammys looks were also a hit
The gray tulle Giambattista Valli frock wasn't the only designer dress Grande rocked on the 2020 Grammys red carpet. She actually wore three outfits during that year's awards ceremony, including a second custom dress very similar to the first.
According to Popsugar, Grande's second gray dress also featured long gloves and a full skirt. However, its design was more restrained than the first.
The third dress, which Grande wore while sitting in the audience, was a change of pace, an emerald-green ball gown with matching elbow-length gloves. The singer accessorized her look with a bold emerald necklace and matching earrings.
In the end, fans and critics praised Grande as one of the red carpet's best-dressed, rocking looks that were not only eye-catching but also classic. 
The pop diva paid tribute to Mac Miller with her 2019 Grammys dress
Though Ariana Grande was a red-carpet standout at the 2020 Grammys, the artist chose not to attend the awards ceremony the previous year. Despite not appearing in person, she got gussied up at home and shared photos and videos on Instagram to show off her beautiful dress. Grande wore a custom baby-blue Zac Posen ball gown.
Fans quickly noted she looked like the fairytale princess Cinderella. They also pointed out her outfit might have paid tribute to Mac Miller. Only a few months earlier, Miller had died of a drug overdose. The rapper and Grande had dated for a while, and he had even written a song, "Cinderella," featured on his final album, Swimming. Grande possibly chose the dress to pay homage to her late friend.