'Around the World in 80 Days' Season 1 Finale Sets Stage for Season 2
What a journey. Phileas Fogg's whirlwind trip around the globe came to an end in Feb. 20's finale episode of Around the World in 80 Days on PBS. After a season of hijinks and adventure, Fogg (played by David Tennant) and his friends Abigail Fixx (Leonie Benesch) and Passepartout (Ibrahim Koma), are back in London. But are their globe-trotting days really behind them? The last moments of the episode hinted that fans will be seeing more of this quirky trio. 
[Warning: This article contains spoilers for Around the World in 80 Days.]
'Around the World in 80 Days' renewed for season 2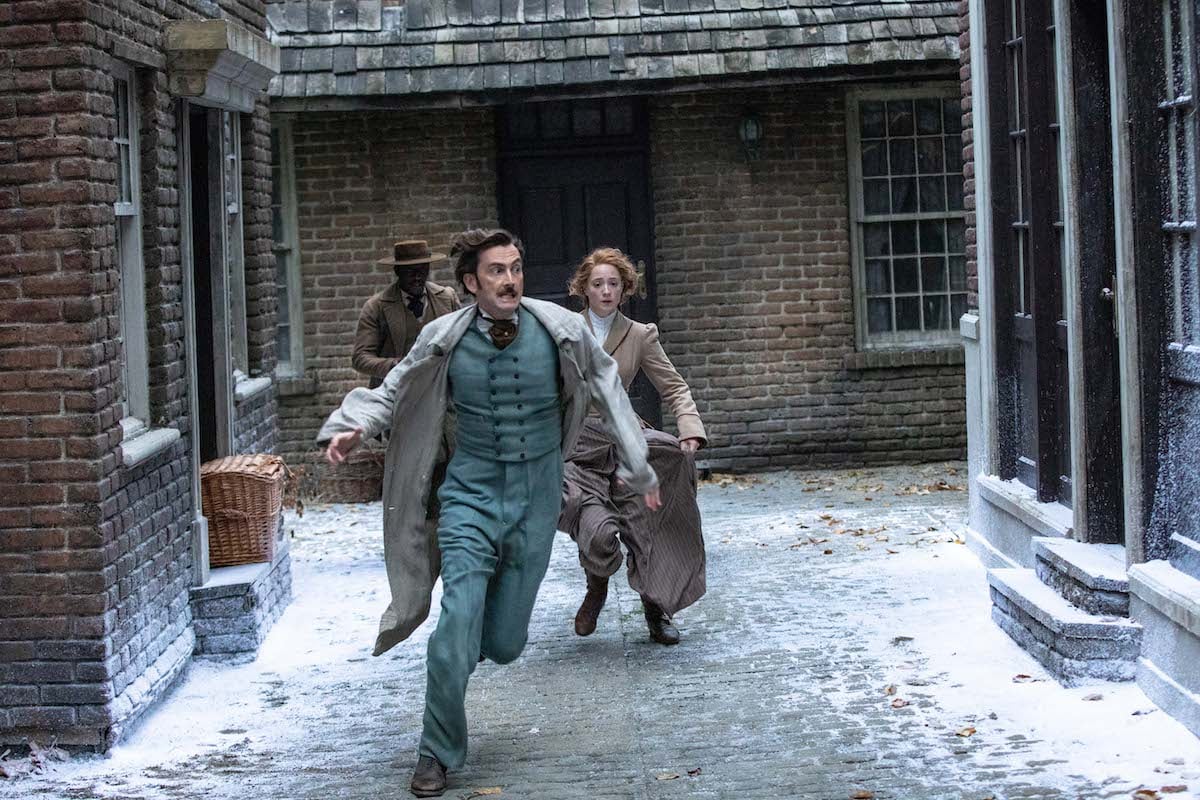 Around the World in 80 Days is based on an 1872 novel by Jules Verne, with season 1 covering the events of the book (with a few changes). In the finale, Fogg and his traveling companions made it back to London in time for him to win his bet against Nyle Bellamy (Peter Sullivan). That seemed to wrap up the story nicely, but it won't be the last we see of the Victorian adventurer. 
A second season of Around the World in 80 Days is already in the works. It will follow Fogg and his friends as they embark on another perilous journey. While casting hasn't hasn't officially been confirmed, the show's core stars are expected to return, according to Deadline. 
How the finale set up a second season of the David Tennant show 
Right now, details on Around the World in 80 Days Season 2 are scarce. But the show's finale offered a hint about where things could be going.
In the episode's final scene, Fogg, Abigail, and Passepartout toast their success at the Reform Club. 
"It was a great adventure, monsieur," says Passepartout. 
Then, Abigail picks up a copy of the newspaper and makes a comment about an unusual story. 
"Look. Something has been attacking shipping and causing all sorts of bother," she says. "The British think it might be a giant narwhal .. the Americans think it's a giant squid. And the French think it's some sort of mechanical war machine." 
Fogg brushes off all those theories. "Sounds interesting, though," he adds. "Where's it supposed to be happening?" he asks as the three exchange a look. 
Fans of Verne's work will recognize that the show seems to be setting up a second season based on his novel 20,000 Leagues Under the Sea. While Fogg is not a character in that book, the story begins with a marine biologist's quest to find a mysterious creature that has been attacking ships. The search leads him to an encounter with Captain Nemo and his submarine the Nautilus. 
The Disney+ series 'Nautilus' is inspired by '20,000 Leagues Under the Sea' 
Verne's book has been adapted a number of times, including a popular 1954 Disney movie with James Mason and Kirk Douglas. Now, Disney+ is developing a prequel series, titled Nautilus, that will tell Captain Nemo's origin story. Shazad Latif will plays Nemo in the 10-episode series. Production is currently underway in Australia, Variety reports.  
Meanwhile, Slim Film + Television and Federation Entertainment, which produced Around the World in 80 Days, also plan to adapt Verne's novel Journey to the Center of the Earth. 
Check out Showbiz Cheat Sheet on Facebook!