'Avengers' Co-Stars Scarlett Johansson and Chris Evans Will Reunite On-Screen
Avengers co-stars Chris Evans and Scarlett Johansson were friends for many years before joining the Marvel Cinematic Universe. After completing their runs as Captain America and Natasha Romanoff in Avengers: Endgame and Black Widow, respectively, fans weren't sure if they would see Evans and Johansson together again onscreen. 
However, a Captain America and Black Widow reunion is happening sooner rather than later.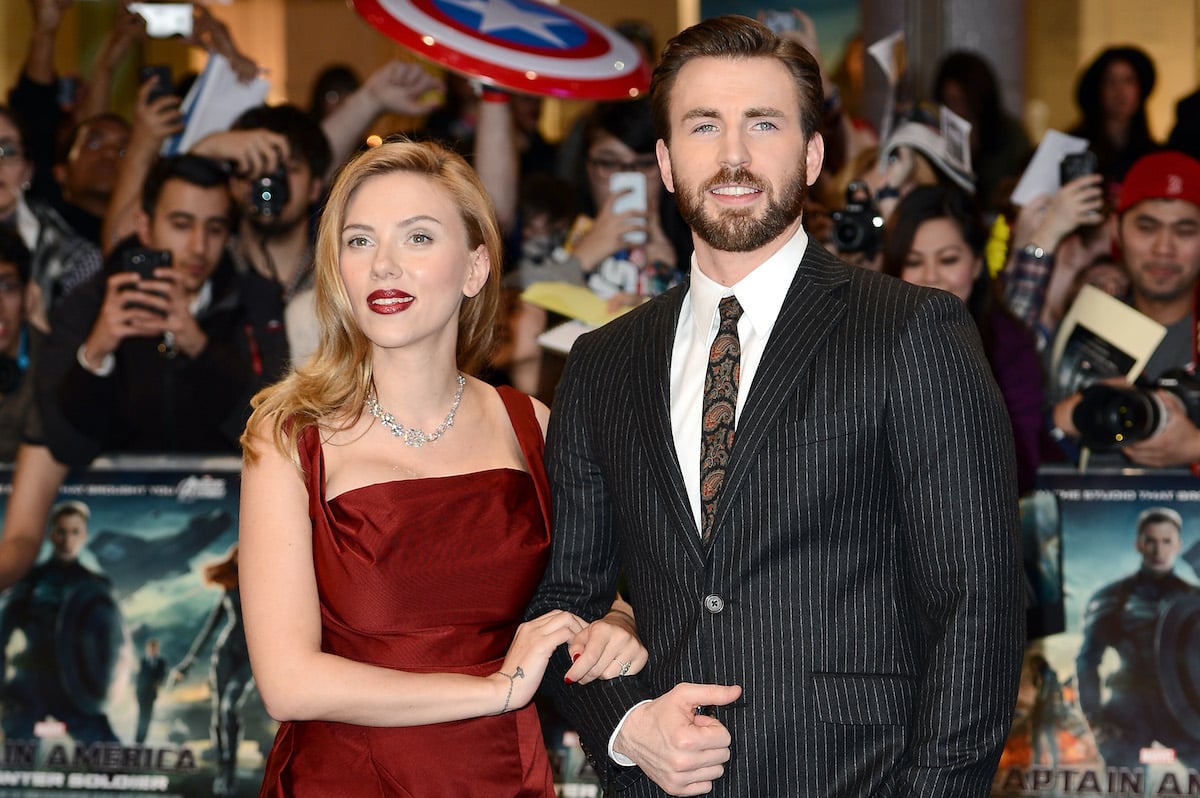 Chris Evans and Scarlett Johansson have been busy since the last 'Avengers' film
Since wrapping Avengers: Endgame, Johannson starred in her own Natasha Romanoff spinoff film Black Widow. She is currently suing Disney for an alleged breach of contract. The actor is confirmed to next appear in Wes Anderson's upcoming movie, currently filming in Spain. 
Evans starred in Knives Out and Defending Jacob, for both of which he received critical acclaim. He is set to voice Buzz Lightyear in the upcoming Disney Pixar film Lightyear. He will reunite with Captain America: The Winter Soldier and Avengers: Infinity War directors Anthony and Joe Russo on The Gray Man. Ryan Gosling, Ana de Armas, Regé-Jean Page, and Billy Bob Thornton also star. 
Scarlett Johansson and Chris Evans will star in Apple Studio's 'Ghosted'
Apple Studios announced in Aug. 2021 that Evans and Johansson would star together in the new romantic action film Ghosted. The former Avengers stars will play the romantic leads.
Details around Ghosted's plot have yet to be revealed. However, The Hollywood Reporter described the production as "a high-concept romantic action-adventure in the vein of Romancing the Stone, the 1984 adventure movie that starred Michael Douglas and Kathleen Turner."
Directing the project is Dexter Fletcher. The English actor-turned-director is best known for Rocketman and Bohemian Rhapsody. He achieved critical acclaim for his biopic Eddie the Eagle and the musical Sunshine on Leith. 
Paul Wernick and Rhett Reese penned Ghosted's screenplay. The duo also wrote Deadpool, Deadpool 2 (with Ryan Reynolds), and the Zombieland films. 
There could be an 'Avengers' reunion in the 'Little Shop of Horrors' remake
Johansson and Evans first appeared on film together in the 2004 SAT heist film The Perfect Score. Three years later, the duo played love interests in The Nanny Diaries. 
In Feb. 2020, it was announced that Evans was in talks to join Johansson in the Little Shop of Horrors remake. The Black Widow star is cast as Audrey opposite Taron Egerton's Seymour. Evans would play the sadistic dentist, taking over for Steve Martin, who played the role in the original 1986 film. However, there has yet to be an official update since Evan's Feb. 2020 casting announcement. 
In March 2021, Evans told ACE Universe that new coronavirus (COVID-19) safety precautions had pushed the production over their budget. "I actually just emailed Berlanti, the director, a few weeks ago just saying, 'Hey man, I haven't heard anything! What's going on?'" Evans said. Berlanti told him that the producers were currently negotiating with Warner Bros. 
"Hopefully, if enough people get noisy about it, it'll move it right along," Evans concluded. "So please, by all means. Start tweeting. Get loud because I'm dying to do that."