'Avengers: Infinity War': Elizabeth Olsen Forgot She Wrote One of Her Most Significant Lines
There's one heartbreaking moment in 'Avengers: Infinity War' that's unscripted, but Elizabeth Olsen almost forgot she helped write it.
By now, Wanda Maximoff and Vision's love story is one of the most significant stories within the Marvel Cinematic Universe. Plus, WandaVision just finished and shined a bigger light on their relationship as well as the trauma Wanda's gone through.
In revisiting the past, an unscripted moment from Avengers: Infinity War came back up and it turns out that Elizabeth Olsen forgot it was a line she helped write in one interview.  
Paul Bettany and Elizabeth Olsen's major moment in 'Avengers: Infinity War' was unscripted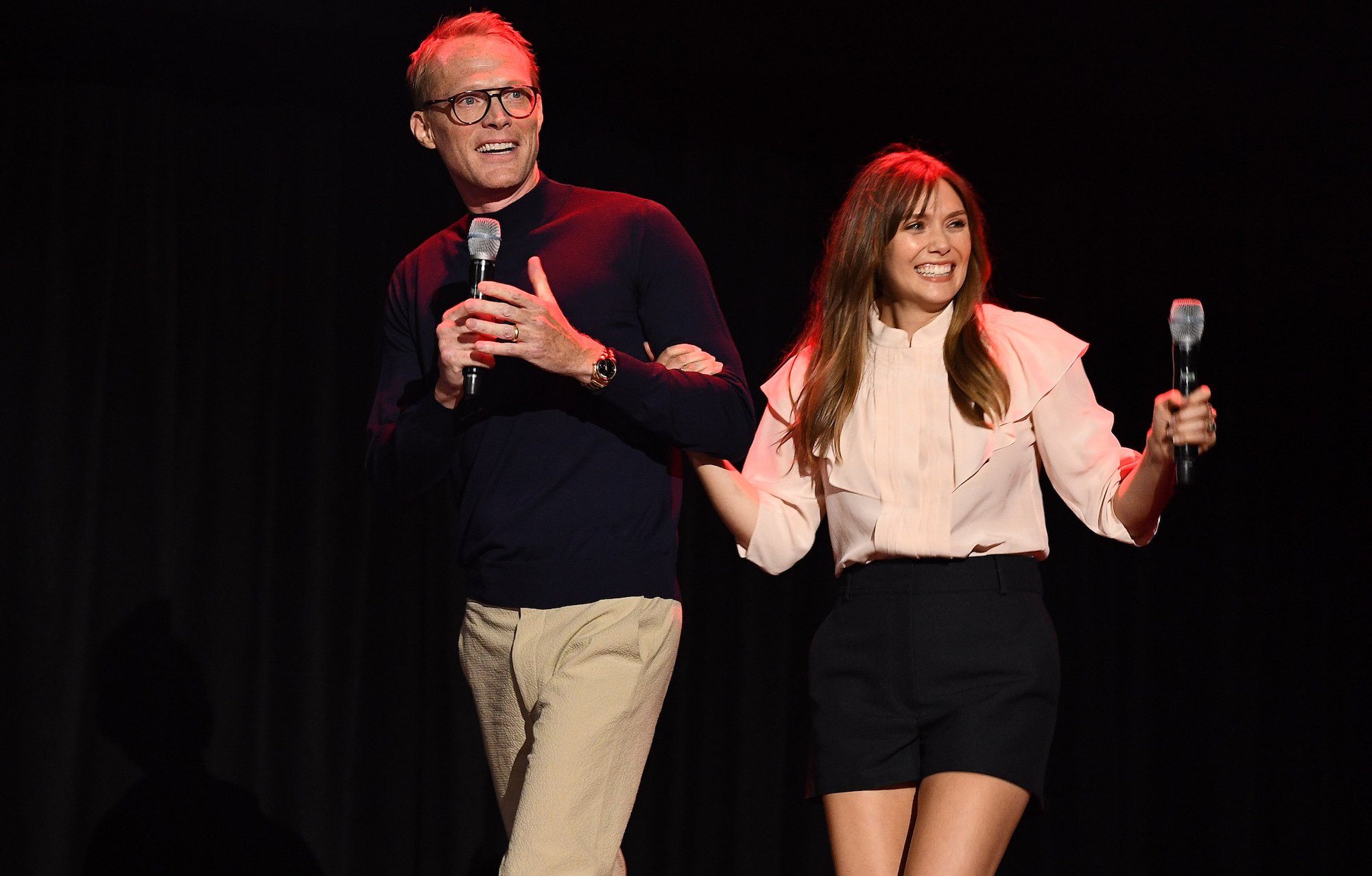 By now, Vision and Wanda's final scene together in Avengers: Inifity War is one of their most heartbreaking and it's also improvised. 
In an interview with MTV in 2018, after Infinity War came out, Bettany shared that he and Olsen filmed the scene in extreme heat and it was so emotionally draining, of course. Then the Russo brothers laid it on them that it was the "beating heart" of the whole film. On top of that, nothing in the script was really working, so they asked Bettany and Olsen to come up with their own lines for that moment. 
"You know, I just sort of looked at Lizzie and she looks at me and I thought, 'I'm a robot, and you're a witch, how are we gonna do this?'" Bettany recalled. "We went off and just wrote some stuff together and then we came back in. You know, it's a lot in isolation."
He remembered feeling a little silly about it because the scene doesn't have the emotional weight when they were just filming it on their own. But of course the final product is one of the most significant moments in that film, and a moment that follows both of these characters well-into WandaVision. 
But Olsen forgot that they wrote those lines out at first
Funnily enough, though, before the film came out, Olsen and Bettany did a press junket interview with a Swiss publication, Kinowetter, and Olsen forgot about their unscripted moment. 
The interviewer asked if they were allowed to put their own spin on things, and Bettany answered that they "100 percent" were allowed to. 
"The Russo brothers were really open to that stuff," he said. "In fact, they really wanted us to really." This was before the MTV interview, which took place at Comic Con in 2018 that summer. 
At first, Olsen said she couldn't remember improvising anything, but then when Bettany whispered what bit they did write themselves, she remembered right away. 
"Yeah, sorry, that was all improvised. Totally forgot," Olsen said, finding it a little funny that she even forgot. "And that was a really heightened moment too."
Again, at this point in time, they couldn't disclose what that scene was but Wanda having to destroy the Mind Stone in Vision's head while holding off Thanos with her other hand will go down as one of the best moments in Avengers' history. 
Bettany and Olsen truly just love working together and it shows
It's obvious by the on-screen chemistry that Olsen and Bettany have a pretty good work ethic. In an interview with Entertainment Weekly in November 2020, Bettany shared why he likes working with her.
"I love working with Lizzie, for a number of reasons," he said. "She's incredibly punctual and I am too. And it drives me nuts when people are late, and she's never lazy… she always comes to set with an idea. And I do too."
Olsen said that they're "always texting" about their ideas, which makes their unscripted Avengers: Infinity War scene seem all the more common and genuine to their performances as Vision and Wanda. Olsen also said that she and Bettany were on the same wavelength when it came to the comedy of WandaVision, which helped with the work aspect as well. 
"I think Paul and I, we each have these inner children that met on this show. And we are just hamming it up like we have never done in our careers before," she said. "We are given so much license to do it. And it has been a ball. We are just swinging for the fences."