'Batman Forever' Director Got Into a 'Physical Pushing Match' With Val Kilmer, Calling Him 'Psychotic'
Val Kilmer has long been one of Hollywood's most intriguing stars. The actor rose to fame thanks to his roles in movies like The Doors, where he played iconic rock singer Jim Morrison, and Tombstone, where he played the sarcastic and deadly Doc Holliday.
Kilmer is well known for his affinity for playing real-life people. Fans also enjoyed his portrayal of Batman, one of the most famous fictional superheroes of all time. Fans loved Kilmer's work onscreen in Batman Forever. But, behind the scenes, a virtual war was raging between Kilmer and director, Joel Schumacher.
Joel Schumacher worked with Val Kilmer on 'Batman Forever'
Val Kilmer was one of Hollywood's most popular leading men when he was cast as Bruce Wayne/Batman in Batman Forever. The sequel to Batman Returns replaced Michael Keaton with Kilmer. It introduced several popular characters, including Chris O'Donnell as Batman's sidekick, Robin.
Directing the film was Schumacher, a film producer and fashion designer. He directed iconic '80s classics such as The Lost Boys and St. Elmo's Fire. Kilmer and Schumacher should've been a combination made in box-office heaven. However, while Batman Forever performed well at the box office, the set was notoriously tense.
What did Joel Schumacher say about his 'pushing match' with Val Kilmer?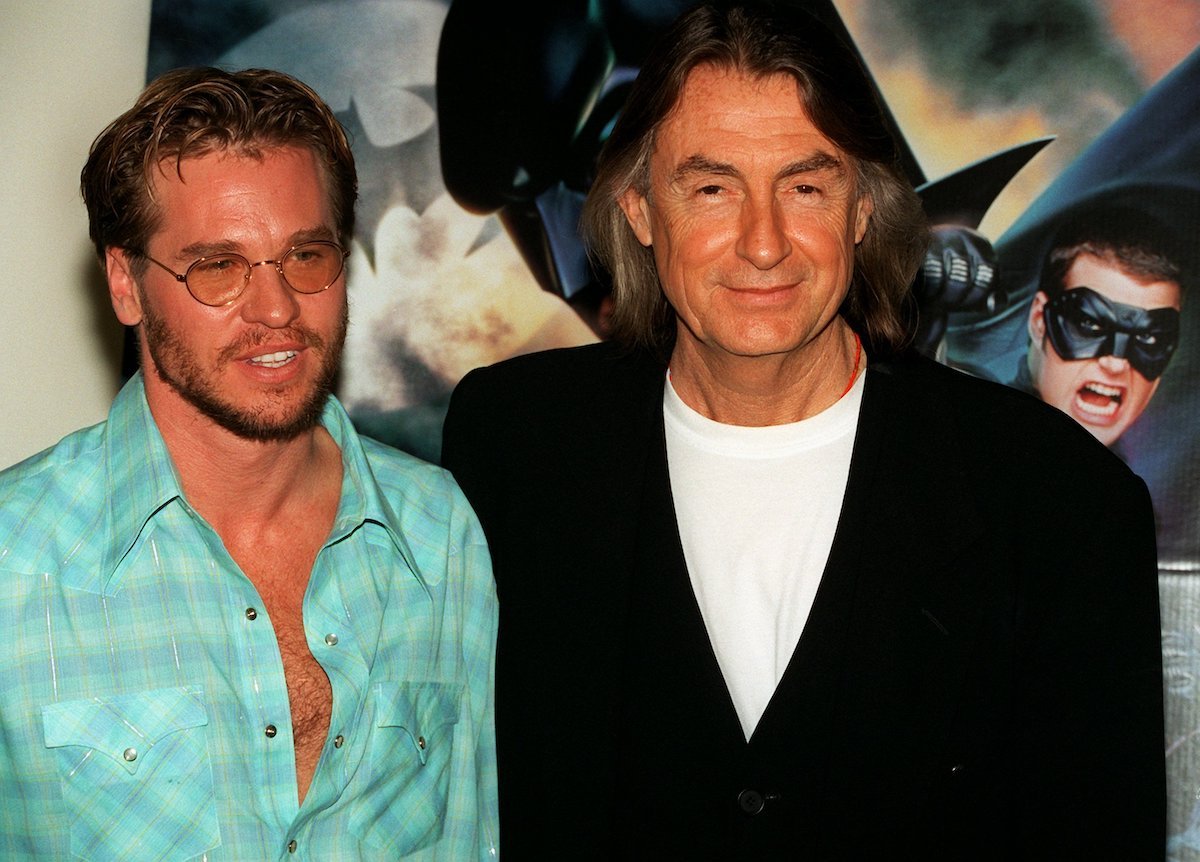 Schumacher and Kilmer butted heads from the start when making Batman Forever. A 1996 Entertainment Weekly article details the tension between Kilmer and the director, with Schumacher calling Kilmer "childish and irresponsible."
As the director described, "I had heard horror stories about Val and was warned not to hire him. But I have heard that about many talented people, hired them anyway, and had no problems whatsoever." Unfortunately, problems did arise. Just a couple of weeks into shooting, Schumacher and Kilmer really got into it.
Schumacher described it as "a physical pushing match," saying Kilmer was being irrational and ballistic with the first AD, the cameraman, the costume people…" The director went on to say, "He was rude and inappropriate. I was forced to tell him that this would not be tolerated for one more second. Then we had two weeks where he did not speak to me, but it was bliss."
Did Kilmer and Schumacher ever make amends?
Kilmer and Schumacher soldiered through the making of Batman Forever. The film premiered in June 1995. While fans loved Kilmer's take on Batman, and Schumacher's signature style worked well within the comic-book universe, Kilmer didn't come back for the film's 1997 sequel, Batman & Robin.
The director told Entertainment Weekly, "He sort of quit, we sort of fired him. It probably depends on who's telling the story."
While Schumacher and Kilmer wouldn't work together on any more Batman films, the famed director still has some good things to say about the actor. In a 2020 Vulture profile, Schumacher opened up about some of his relationships in Hollywood over the years, discussing his highly-publicized spat with Kilmer.
"Here's the difference between Val Kilmer and Tommy Lee Jones," Schumacher said, speaking of his time filming Batman Forever. "I don't care what state Tommy is in emotionally, when that camera rolls, there is no bad take. Val is a different story. But he was a fabulous Batman."
Schumacher even ranked Kilmer as the best onscreen Batman, when compared to George Clooney, who took over the role from Kilmer, and Keaton, who preceded Kilmer as the mythical hero. While Schumacher didn't reveal whether he and Kilmer are on speaking terms these days, it's clear that when it comes to Kilmer's talent, the director has his mind made up.
RELATED: 'The Flash': Is George Clooney the Only Batman Not Asked to Return to the DCEU?