'Below Deck': Captain Glenn Hitting the Dock Was a Hot Moment for Kate Chastain
The dramatic moment when Captain Glenn Shephard hit the dock on Below Deck Sailing Yacht was a bit of a turn-on for Kate Chastain from Below Deck.
She recently played the game of Below Deck shag, marry, kill, and she said Shephard's firey reaction to hitting the dock definitely turned her head.
Captain Glenn would be a good husband
Chastain shared why she'd marry Shephard. "I feel like Captain Glenn would be a really good [husband]," she dished on the Beneath the Surface with Daisy and Alli podcast.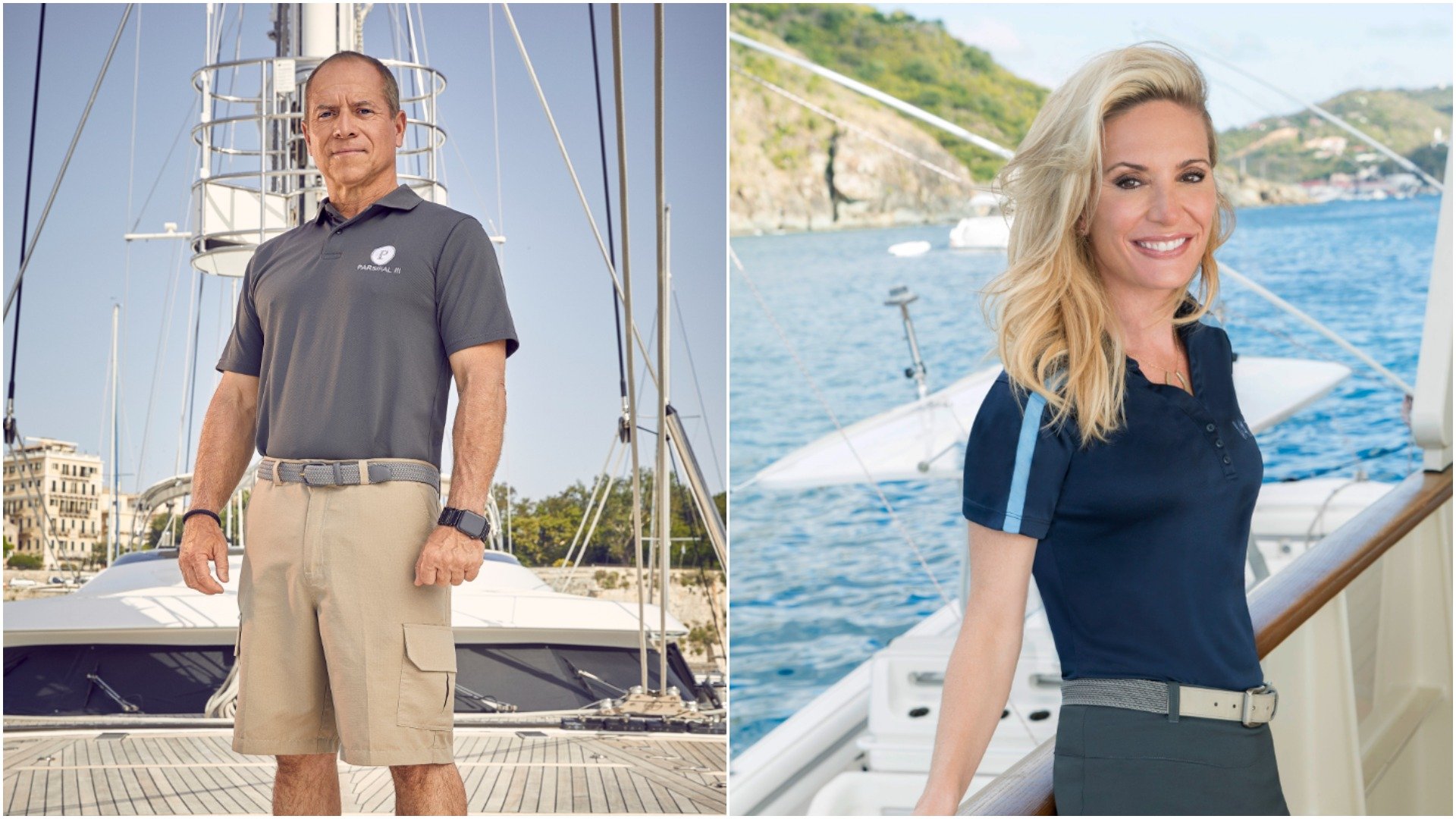 She then shared why Shephard got her attention. "It was last season when you guys hit the dock," she recalled. "And he's usually so nice and Canadian. And he's so nice. When he hit the dock, he got mad. He was like, 'What the –!' I was like, 'Glenn! Whoa!'"
Also, "And I think he's lovely," she added.
But Kate would shag Colin MacRae
When it came to who to shag from the show she went with Colin MacRae from Below Deck Sailing Yacht. "I watched his YouTube video on what is it, Parlay Revival?" Chastain said. "Ah! And he's just a surfer who was so my type. And I've now gone out of the surfing world but he's just so great. He's a real f***ing man. But also his girlfriend is smoking hot and they match. So definitely shag him."
Chastain would "kill" chef Leon Walker from Below Deck Season 3, but mainly out of self-defense. "He was very scary," she recalled. "It almost got to that point. He pretty much was like, 'You gotta watch your back.' He poured honey in my bed. They never showed that. Yep, he poured a whole jar of honey in my bunk bed. He really wanted to kill me. So I'm gonna say Leon for self-defense."
Who is Kate Chastain dating?
While Shephard is the marrying kind for Chastain, she's currently playing the field and dating. "Dating takes a lot of time, it's like a part-time job," she said. "I'll give a doctor, an orthopedic surgeon who lives in a high-rise condo a date. But I'm also giving a hockey player who lives in Buffalo a chance. A golfer who lives in Boca."
She joked about double-booking dates and offered some dating advice to chief stew Daisy Kelliher, who expressed hesitation about dating. "It's a numbers game, you gotta play to win," she explained. "You gotta go out there. Especially in New York and here, [Florida] actually. Worst-case scenario, you get a free drink and a free meal. There are so many restaurants in New York. So I will meet you at that place that's hard to get reservations."
When Kelliher said she wasn't sure if she had the energy to fake it through a date, Chastain replied, "A chief stew in yachting or anyone who works in yachting. You are comfortable putting on a smile and acting like you're having a great time." She added, "You're getting dinner and maybe a chance at someone you might like."
Chastain also shared she's tried dating apps but uses a photo of someone who looks like her. Her photo also features a different dog that looks like Halo. "I think some guys just want to go on a date with Kate from Below Deck because their ex-girlfriend watched the show," she said about the need to be extra cautious on dating apps. "But whatever. I still got that free drink and a meal."
RELATED: Captain Glenn From 'Below Deck Sailing Yacht' Would Be Most Prepared for 'The Perfect Storm'