Why Ben Affleck's 'Good Will Hunting' Character Almost Died in a Horrific Accident
Much like Tom Hanks, Robin Williams rode a wave of comedic performances all the way to the Oscars. But the most surprising element of Williams' win wasn't that he got an Academy Award. It was the project for which he claimed that trophy. Good Will Hunting proved to be the little movie that could in 1997. But one proposed ending — in which Ben Affleck's Chucky suffers a horrible death — could have easily sinked the whole project.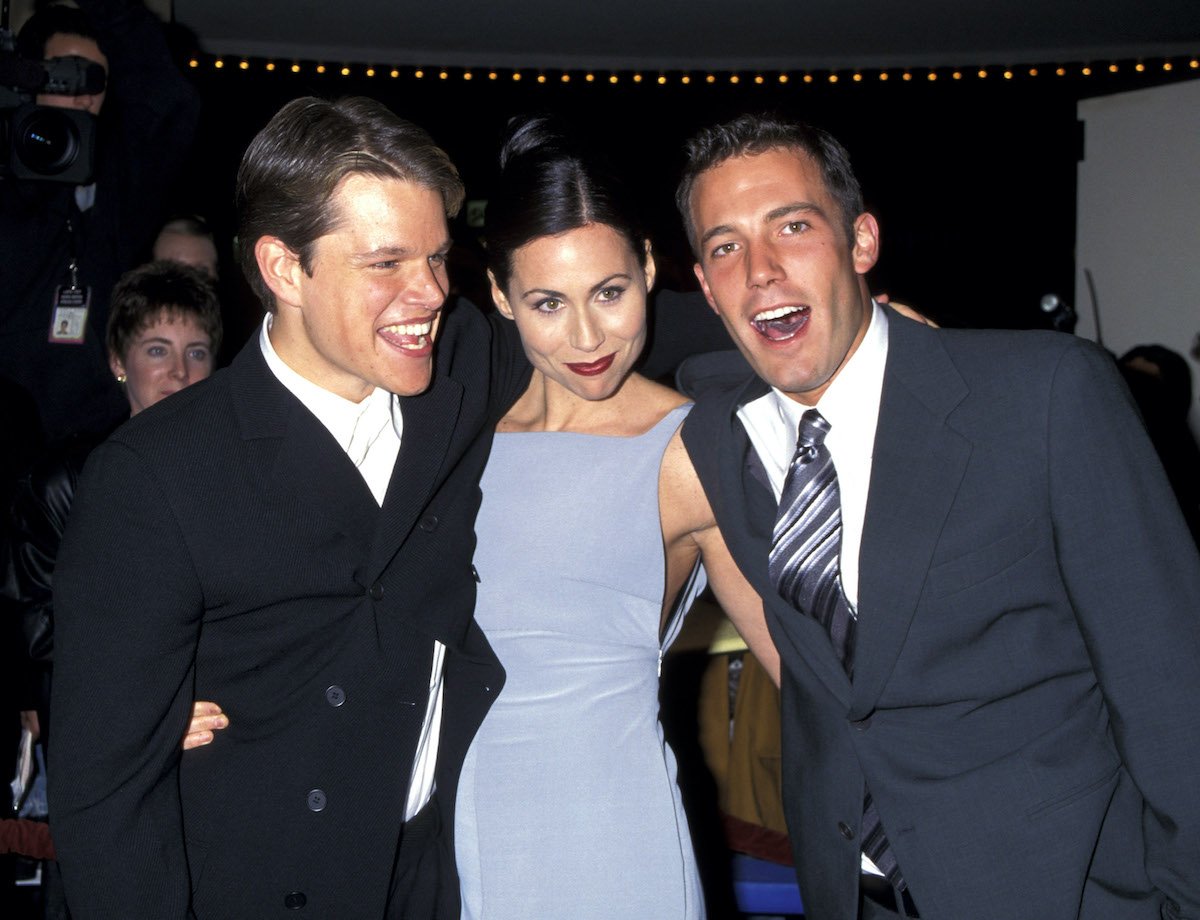 Ben Affleck and Matt Damon became Academy Award winners because of 'Good Will Hunting'
As Williams told it, he couldn't believe that Affleck and Matt Damon co-wrote such a complex, insightful movie. As psychologist Sean Maguire, Williams won an Oscar for Best Supporting Actor. But Affleck and Damon walked away from that ceremony Academy Award winners themselves for Best Original Screenplay. The on-screen chemistry between Williams and Damon provides an emotional heart to Good Will Hunting.
But arguably, Will's (Damon) friendship with Chucky (Affleck) is just as essential. After all, it's Affleck who has one of the movie's most poignant moments when Chucky realizes Will has finally skipped town to become something more. Instead of that sweet connection between two lifelong friends — both on screen and off — Good Will Hunting could have gotten violent when it came to tying up Affleck's storyline.
RELATED: Ben Affleck Is Working With Matt Damon Again; Is the Former Batman Vying for an Oscar?
Would the movie have been a hit if it had been released with director Gus van Sant's original ending?
The Good Will Hunting ending offers a bright future for Damon's title character. But it would have been far more bittersweet if director Gus Van Sant had his way. According to journalist Tom Shone (via Comic Book Resources), Damon once revealed Van Sant initially wanted a much darker ending than what was on the page, which was bad news for Affleck's Chucky.
"Gus came down and said 'I want to do a draft where Chucky, Ben's character, dies on the construction site.' And Ben and I were just mortified. 'What are you talking about?' 'I want him to get crushed like a bug.' We said 'Gus what are you talking about? You can't just f**ing smush Ben. That's a terrible idea.'

Gus said 'No, I really want to see what would happen.' So we did a whole new draft… The scenes in a vacuum I thought were good, but we still didn't like the idea, then Gus read it and said, 'Okay, it's a terrible idea. Let's go back to what we had.'"
Thankfully, Van Sant came around on Affleck and Damon's ending, which makes a simple statement about how someone can change their life. Of course, they made other extreme adjustments to the script. Damon and Affleck even added in wild sex scenes to make sure the studio reviewed their latest script changes. That too disappeared during the development process.
RELATED: Ben Affleck's Relationship With Jennifer Lopez Made It 'Painful to Be His Friend,' According to Matt Damon
The 'Good Will Hunting' cast ultimately got to tell the best version of this story, with an iconic director's help
A movie is only as good as its ending. It's hard to imagine Good Will Hunting making the same impact with a bleaker ending. The idea for its true ending didn't come from either Affleck or Damon. Rather it was director Terrence Malick (The Tree of Life) who helped them crack the finale. He suggested Skyler (Minnie Driver) should leave, inspiring Will to follow her out of town.
"We said, 'Of course, that's enough,'" Damon said to Malick's notes. "That's where we come from. If you just leave, that's a big enough deal. It doesn't have to build up to anything more." Once Malick shared his insight, Damon and Affleck knew immediately that sending Will off to the next chapter of his life was the right way to end their story. And the rest is cinematic history.