'Better Call Saul': 9 Subtle 'Breaking Bad' References You May Have Missed
'Better Call Saul' references 'Breaking Bad' plenty of times, but did you catch all of these subtle nods to the original series in the spinoff?
As a prequel to Breaking Bad, Vince Gilligan and Peter Gould don't shy away from callbacks in Better Call Saul. Some of those references are in-your-face, like Saul Goodman's (Bob Odenkirk) fate as a Cinnabon manager in Nebraska. Then there's the countless Breaking Bad characters that reprise their role in Better Call Saul. 
But there are other nods to the original series that are more subtle. Did you catch these references to Breaking Bad in episodes of Better Call Saul?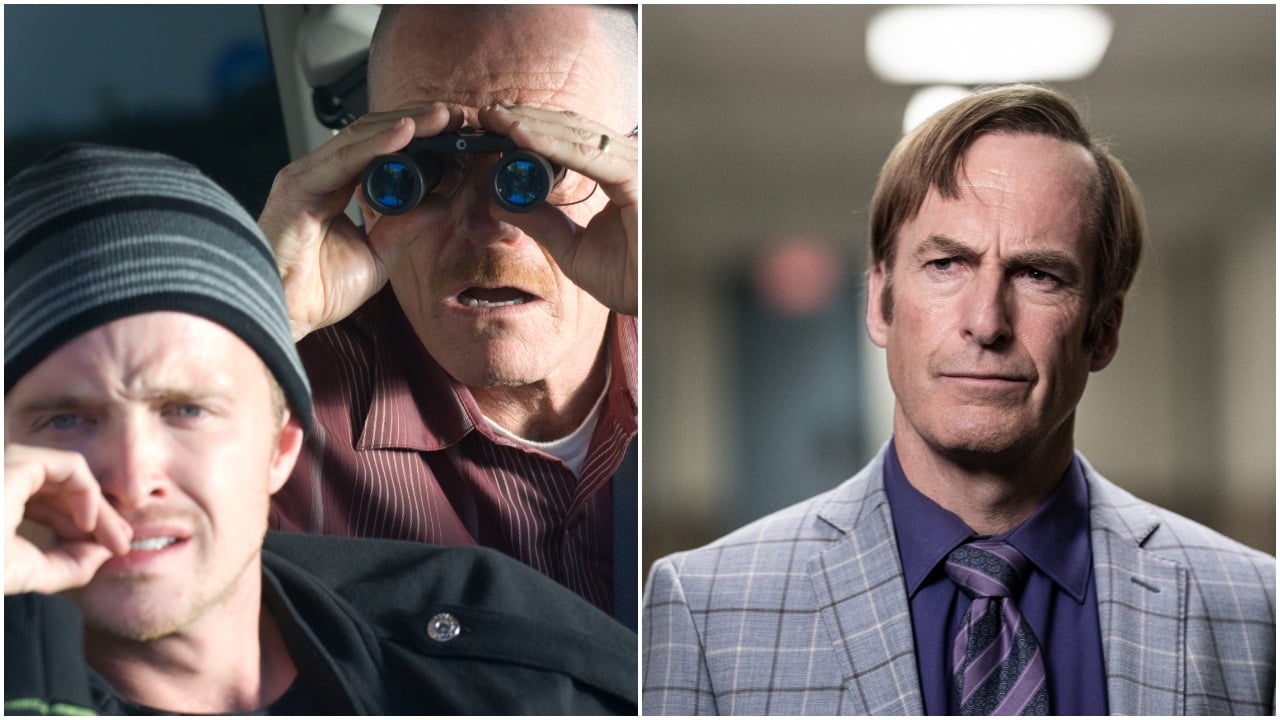 Zafiro Añejo tequila 
Brand continuity isn't lost on Gilligan and Gould in either story. In Breaking Bad, Gus Fring (Giancarlo Esposito) poisons a bottle of the fictional tequila Zafiro Añejo to get back at Don Eladio.
That same blue bottle and elaborate topper show up in Better Call Saul when Jimmy and Kim scam stockbroker "Ken Wins." Fans will recognize him from Breaking Bad — his car gets set on fire after he steals Walter White's (Bryan Cranston) parking spot. 
Saul's Ice Station Zebra Associates in 'Breaking Bad' honors Kim Wexler 
In Breaking Bad, Saul Goodman's holding company has a seemingly strange name — Ice Station Zebra Associates. But watching Better Call Saul, fans learn that it's Kim Wexler's (Rhea Seehorn) favorite movie. Kim isn't around in Breaking Bad, making Saul's use of Ice Station Zebra sting a bit more. 
'Better Call Saul' explains why Tuco Salamanca is in prison in 'Breaking Bad'
Tuco Salamanca's (Raymond Cruz) former cellmate Skinny Pete (Charles Baker) is a friend of Jesse Pinkman (Aaron Paul) in Breaking Bad. But the original series doesn't clarify why Tuco was in prison. 
In the Better Call Saul Season 2 episode "Gloves Off," Tuco is in jail for an assault against Mike Ehrmantraut (Jonathan Banks); a setup orchestrated by Mike and Ignacio "Nacho" Varga (Michael Mando). 
Kim Wexler inspired Saul Goodman's dollar trick in 'Breaking Bad' 
Saul's "give me a dollar" trick is one of the first things we see him do in Breaking Bad. The money legally binds Saul with Jesse and Walt, granting them attorney-client privilege. 
But in Better Call Saul, we see Saul picked that trick up from Kim. In the season 3 episode "Witness," Kim encourages Jimmy/Saul to make the same deal so she can protect him. Like Jesse in Breaking Bad, Jimmy didn't have any singles at the time — only large bills. 
Huell Babineaux's pickpocketing skills in both shows 
In Breaking Bad, Huell Babineaux (Lavell Crawford) serves as Saul Goodman's intimidating bodyguard. But in Better Call Saul, the criminal lawyer initially connects with Huell because of his pickpocketing skills.
In the Better Call Saul episode "Chicanery," Huell plants a cell phone battery on Chuck McGill (Michael McKean), causing his meltdown during a hearing. Later, in Breaking Bad, Huell's magic fingers lift the ricin cigarette from Jesse's pocket in season 4's "End Times" and marijuana in season 5's "Confessions." 
Gus Fring memorializes Max Arciniega in 'Better Call Saul'
In the flashback episode "Hermanos," Breaking Bad reveals Hector Salamanca (Mark Margolis) shot Gus Fring's business partner Max Arciniega (James Martinez) in the head. This event traumatizes Gus, which becomes more apparent in the Better Call Saul episode "Dedicado A Max." Gus visits a Mexican village he has funded and dedicated to his dead friend. 
Metal objects don't fare well in either series 
A direct clap-back to Walter's fight with a metal paper towel holder, Jimmy takes his anger out on a metal trashcan in the elevator bank at Hamlin & McGill. Walter was mad about his cancer being in remission; Jimmy was frustrated by his unsuccessful meeting with the firm. 
Heisenberg's cameo in 'Better Call Saul' 
In a blink-or-you'll-miss-it moment of Better Call Saul, Heisenberg's ensemble hangs on a coatrack behind the courthouse reception desk. Heisenberg isn't around yet in the timeline, but this Easter egg feels like a gift from Gilligan and Gould. 
Jesse Pinkman's tag in 'Better Call Saul' 
Paul and Cranston are expected in the final episodes of Better Call Saul. But Jesse Pinkman has already made an appearance in the spinoff.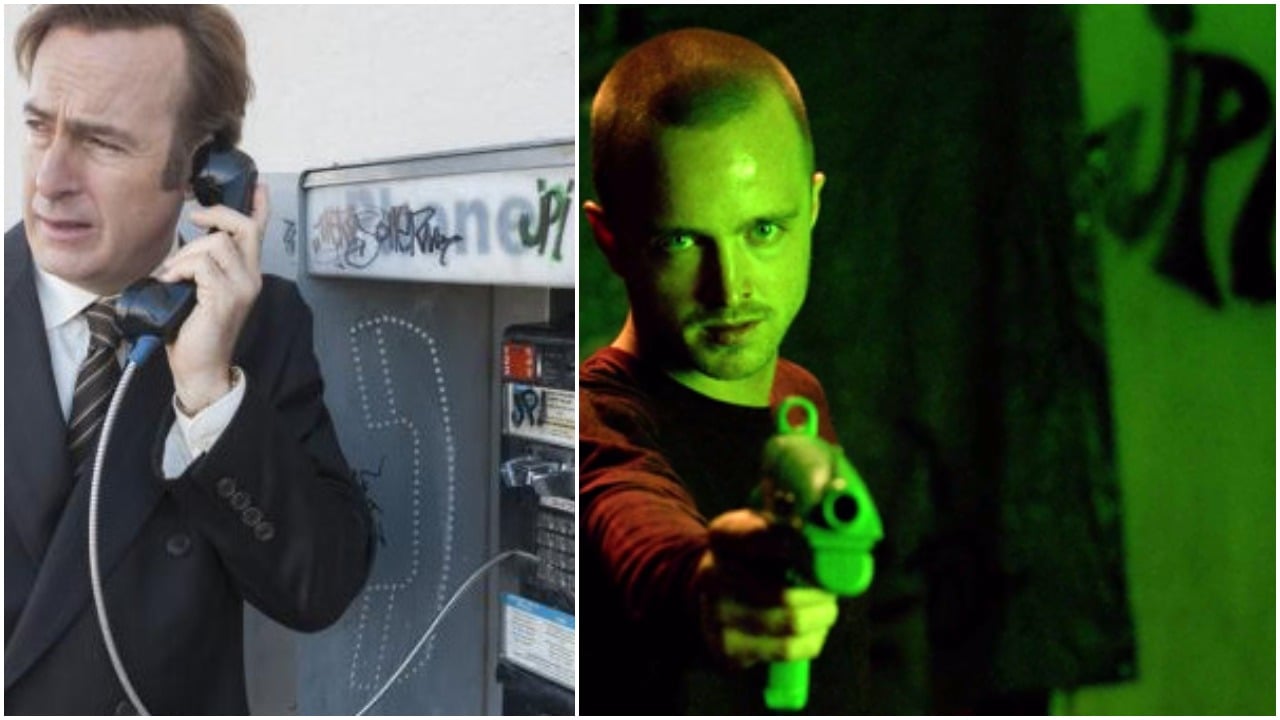 In one scene, Jimmy uses a phone booth with "JP" graffitied on it. It might sound like a stretch, but that same tag — "JP" with an inverted exclamation mark — is on the wall of Jesse's house in Breaking Bad Season 4. 
Better Call Saul Season 6 part one premieres on April 18, 2022 at 9 p.m. ET on AMC.