Better Disability Representation Is Coming to Marvel and It's Not Through Hawkeye's Jeremy Renner
There are obviously differences between the comic book version of Clint Barton/Hawkeye and the Marvel Cinematic Universe version (Jeremy Renner). A major difference is that Marvel didn't use the 1980s storyline where Clint becomes deaf. 
This could have been a move toward disability diversity in Hollywood if a hearing-impaired actor got the role. Or if the storyline was introduced at all. While that seems to be the case in the upcoming Hawkeye series, the ship has sailed for the former. However, there's still a deaf, Native American superhero coming onto the scene.
The trailer for 'Hawkeye' dropped and showed his hearing aid
RELATED: 'Hawkeye': Why The Trailer Should Have You Excited
The long-awaited trailer for Hawkeye premiered on Sept. 13 and showed Clint Barton in New York City with his family around the holidays. The short teaser brings the full festive vibe with decorations galore adorning major landmarks. But the big aspect surrounded the fact that his past came back to haunt him in the form of Kate Bishop (Hailee Steinfeld). 
In the comics, and seemingly here, she's a big fan and looks up to Hawkeye hence why she's an archer as well. The series will show them team-up and most likely show him pass the baton to Kate as well. Will he be gone for good (thanks to Yelena Belova)? That's anyone's guess. 
But hawk-eyed fans noticed that Renner's Clint Barton had a hearing aid at around 25 seconds into the trailer. According to Inverse, set pictures from December 2020 showed Renner on set with an earpiece. But the trailer confirmed the comic book storyline about Hawkeye's injured eardrums is making its way into the MCU. 
However, he's not a deaf actor, which is an issue for those wanting better deaf representation in media.
But the series has a deaf superhero who will be played by an actual disabled actor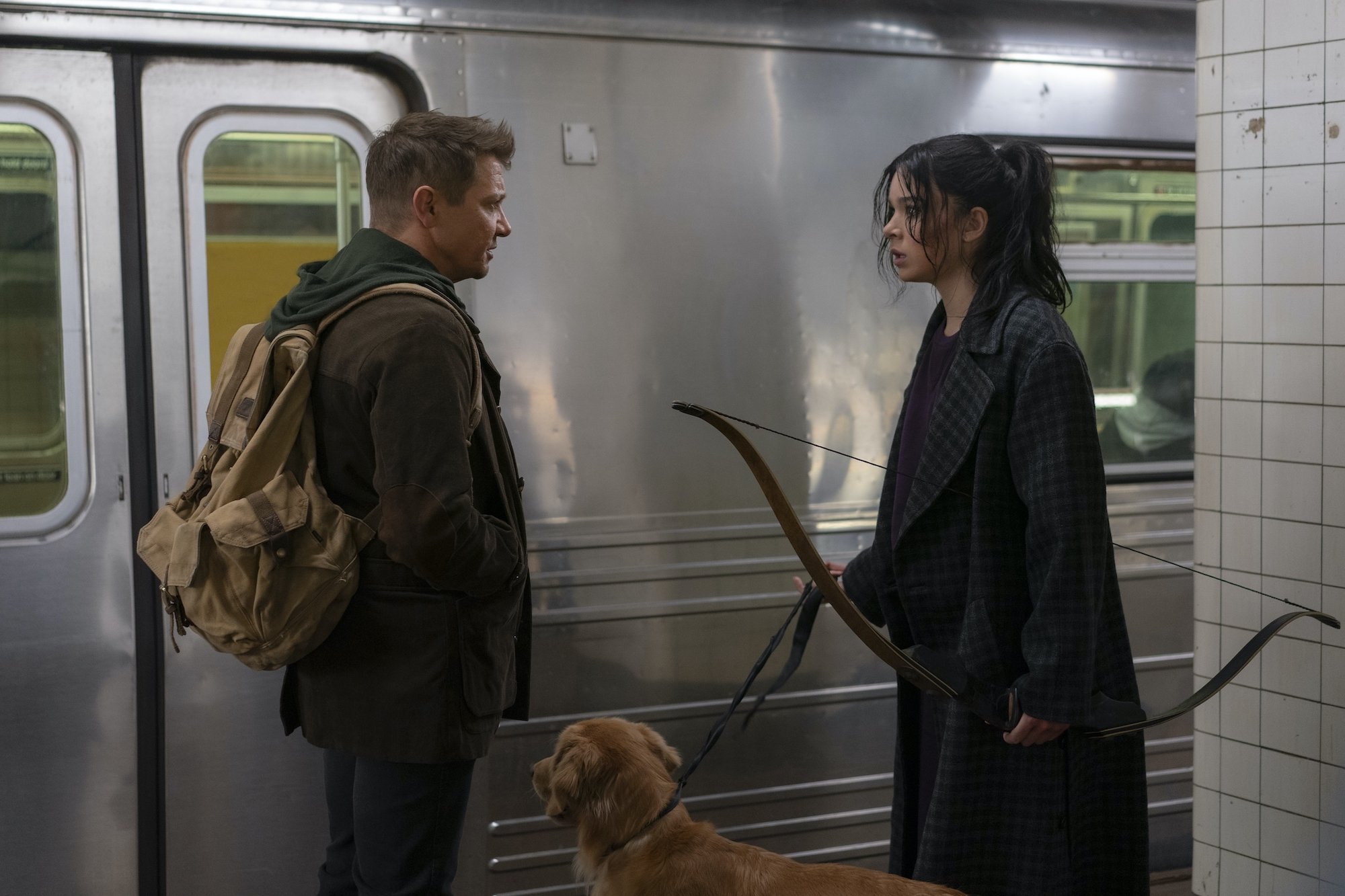 According to ScienceFiction.com back in 2018, deaf activist and America's Next Top Model alum Nyle DiMarco pointed out that Hawkeye's hearing impairment should have been included from the beginning and that an actor with that disability should have been cast. It would have given more diversity and representation for those with disabilities. 
So while Renner doesn't fit that description and won't fill that part of representation off-screen, it's important to have that representation on-screen.
But one character coming to Hawkeye by the name of Maya Lopez, who is the superhero Echo, is deaf and Native American. She's associated with Daredevil and was introduced in 1999. She was also the first character to appear as Ronin (also Clint Barton's future self, which Avengers: Endgame dabbled in a little bit) using the moniker in 2005.
Alaqua Cox is the actor portraying Maya Lopez/Echo, and she's also deaf and Native American, as Indian Country Today reported. As Variety reported in December 2020, Echo is "capable of perfectly copying another person's movements, making her a formidable fighter."
Echo is reportedly getting her own spinoff series
Alaqua Cox is of the Menominee and Mohican nation according to her Instagram bio. She's posted a couple of videos and photos from training and filming Hawkeye there as well.   
It's one thing to add in Hawkeye's storyline about his hearing impairment, but it's another entirely to cast an indigenous, deaf actor to portray a character of the same identity. Comic book writer and artist David W. Mack who co-created Echo shared in an Instagram post in June how great it is to have that representation for the character. 
"[Echo], who is deaf & indigenous is being played by an actor who is deaf & indigenous," he wrote in his caption. "I taught at the School for the Deaf in Africa, Asia, & Europe, in my work for the US State Dept, & the students love Echo & will be happy about this."
Not to mention Cox will reprise Echo/Maya in a spinoff series on Disney+ as well. On March 22, 2021, Variety reported that Marvel is picking up the series for the new superhero. It was in the early stages then, so it's not clear if any familiar faces will pop up as well. So fans will just have to wait and see how Hawkeye ends and where the MCU is at to guess where Echo's story will lead.
RELATED: A Marvel Theory About What All Female Characters in Phase 4 Have in Common Could Predict Their Outcome Too