'Big': Tom Hanks Improvised 1 of the Classic Movie's Funniest Moments
Big is more than one of Tom Hanks' most popular movies. The 1988 comedy is also one of the actor's movies most likely never to be forgotten. After all, it has already endured for more than three decades. And while Big was a major turning point for Hanks, it also serves as a crystallization of all his comedic talents up to that point in his career. Case in point, Hanks' improvisation played a key role in the movie's success.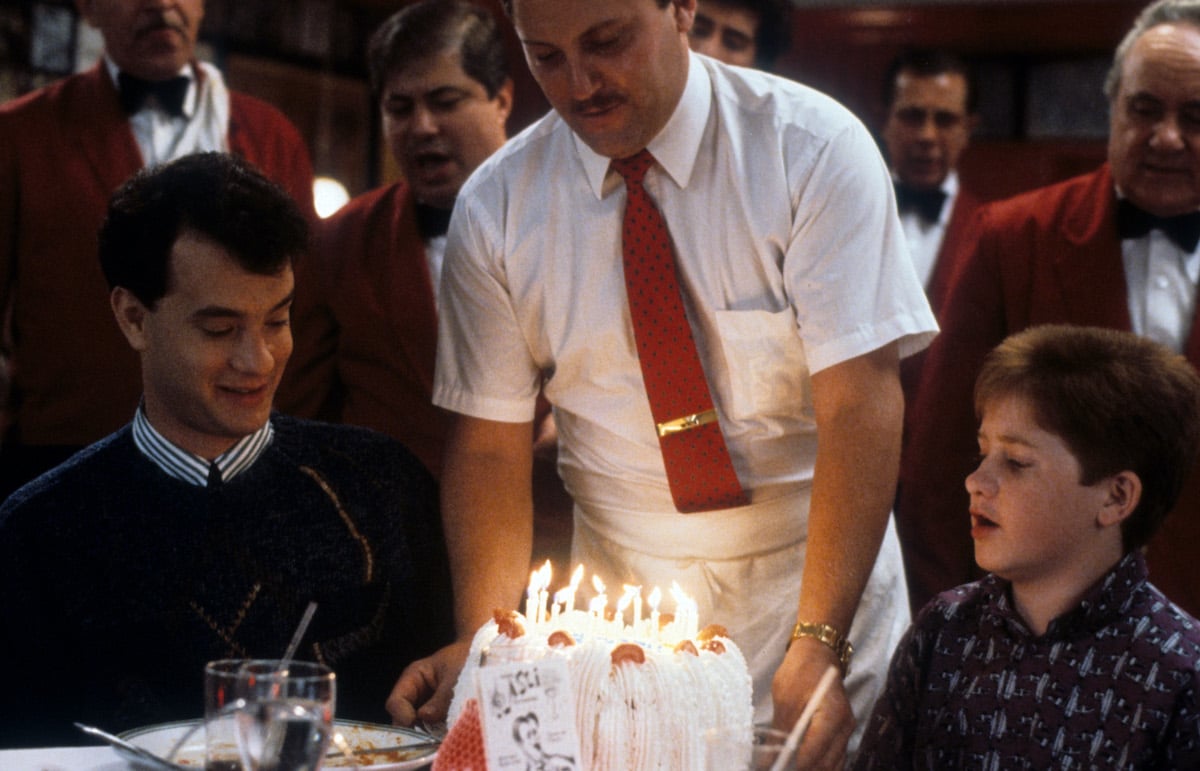 'Big' was Tom Hanks' breakthrough as a dramatic actor
Prior to Big, Hanks' film work was almost exclusively in comedies. Aside from a role in 1980 horror film He Knows You're Alone, the actor's early filmography includes megahits Splash and Bachelor Party as well as less popular entries such as The Man with One Red Shoe, Volunteers, The Money Pit, and Nothing in Common. Hanks' first full-on drama was 1986's Every Time We Say Goodbye, a film which failed to any major impact whatsoever.
Just two years later, Big would give Hanks the perfect showcase. While the central premise of a 12-year-old boy who awakens as a 30-year-old man is inherently comedic, the movie layers plenty of heart and pathos into the story. And as a result, Hanks is able to tap into both the innocence of a young boy but also the frightening aspects his character might experience when he is thrust into adulthood overnight.
RELATED: Why Tom Hanks Movies Never Work as TV Shows
Tom Hanks' comedic talents boosted 'Big' behind the scenes
In a 2013 article for the New York Post, Hanks' co-star Elizabeth Perkins — who plays his co-worker and love interest Susan — revealed just how much the actor brought to Big. In particular, Perkins recounted how Hanks would improvise many versions of the same moment, such as his character's entrance into a swanky office party.
"He walks through the door in a white tuxedo, and the first choice he makes is, 'Everyone's staring at me. Is my fly open?' That was all Tom Hanks. [Penny Marshall] is one of those directors who says, 'let's just do it again and see what happens.' So there was an enormous amount of play, which really allowed Tom to find those adolescent moments that made you believe he was thirteen."
Given how much director Penny Marshall's movie leans on Hanks' comedic timing, it's remarkable to think she once envisioned Robert De Niro as the star of Big. The film obviously would have worked very differently with De Niro. But in hindsight, it's hard to imagine it working well at all without someone with Hanks' specific skill set at the center.
RELATED: Tom Hanks Almost Didn't Work with This Actor Because of His Looks
Tom Hanks has balanced both drama and comedy ever since
Big might have been Hanks' first notable foray into "serious acting." After all, he earned his first Academy Award nomination for becoming a young boy in this project. And while he has often taken on much darker films since then, Hanks has never completely abandoned his ability to shift effortlessly from one genre to the next at a moment's notice.
In addition to tackling heavy subject matter in films such as Saving Private Ryan and Captain Phillips, Hanks has frequently revisited his comedy roots. And while movies such as The Terminal and Larry Crowne aren't as beloved, Hanks' work with director Nora Ephron (Sleepless in Seattle, You've Got Mail) is. And of course, the actor continues to tap into his youthful manic energy whenever he steps into the recording booth for another Toy Story project.