'BIP': Dean Unglert Admitted Caelynn Miller-Keyes Makes More Money Than He Does
We've seen plenty of couples get together thanks to shows like The Bachelor, The Bachelorette, and Bachelor in Paradise. But few seem as compatible as Dean Unglert and Caelynn Miller-Keyes. The two met on the beaches of Mexico and hit it off as soon as they met, though trouble began early on when Unglert left the show and Miller-Keyes behind. Thankfully, he came back after realizing he was missing out on true love. And now, the two are still together nearly a year later.
Miller-Keyes and Unglert both have their own brands they promote and side hustles to help them make a living. But Unglert just revealed on his podcast that Miller-Keyes actually makes more money than him. Here's what he said.
'Bachelor' Nation stars can make a lot of money via Instagram influencing
Bachelor viewers have all heard contestants accusing each other of not being on the show for the "right reasons." And it seems it's more common than ever for reality TV personalities to get on the show for exposure so they can continue a life of Instagram influencing. As for Unglert and Miller-Keyes, they've been on a few Bachelor shows. Thanks to their popularity, they've attained quite a following and likely make quite a lot of money.
Reality stars-turned-influencers produce quite a few Instagram posts per month, and with each post, they can earn between $5,000 and $15,000 on average. Even influencers who have fewer followers can still earn nearly $500,000 just through social media. And those with a lot of followers and engagement on their pages can earn well over $1 million.
So, how many followers does it take to earn major money? Sarah Boyd from the influencer agency Simply said 1 million followers can earn the influencer about $10,000 per post.
Dean Unglert probably doesn't have that many expenses
There are certainly plenty of Bachelor stars who indulge in lavish lifestyles. But Unglert isn't one of them. He's made it known that he loves to travel on a budget and cut costs whenever possible. Not only that, but he lives out of a van, which certainly isn't as expensive as Miller-Keyes' California apartment.
"It'll take some time for me to recoup my entire investment, but emotionally, moving into my van has already given me a return on my investment 10 times over," Unglert wrote, according to Business Insider. "More than just a steel cage with four wheels and a bed to sleep in, my van represents something I was always searching for: freedom."
Fans still question Unglert on his Instagram regarding how he makes a living. While he gives them answers, he usually jokes about his financial status. When one follower asked him if he had a job, he snarkily answered, "I won the lottery."
He says he makes less money than Caelynn Miller-Keyes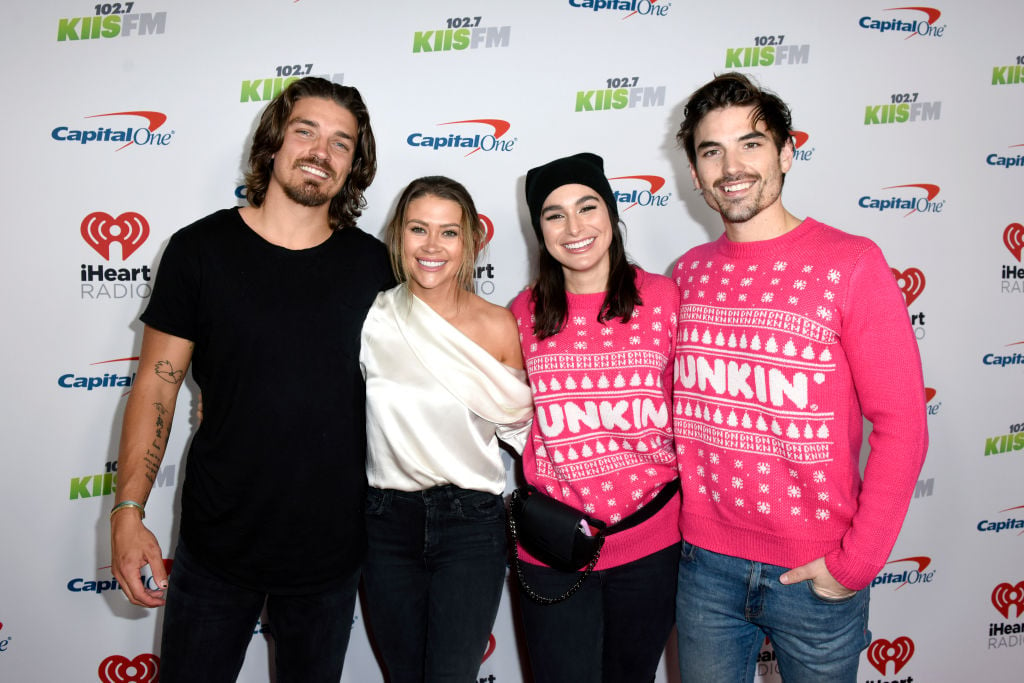 Unglert certainly isn't hurting for money thanks to his reality TV fame. And it seems Miller-Keyes isn't either. Not only does she have multiple brand partnerships, but she also has a clothing collection with boohoo. And while talking about prenups on his podcast, Help! I Suck at Dating …, Unglert revealed Miller-Keyes makes more money than he does.
Jared Haibon noted on the podcast that he could ask for a prenup with his wife, Ashley Iaconetti, but she'd laugh since she makes more money than he does. "Caelynn makes more money than me, too, so it'd be the exact same situation," Unglert told Haibon.
While Unglert and Miller-Keyes keep their finances separate, they do have a joint bank account they add to for travel. Unglert noted that when they promote a product as a couple, that's where those funds go, too.
We're glad Unglert and Miller-Keyes seem to have their finances worked out, as that can certainly put strain on a young couple!
Check out Showbiz Cheat Sheet on Facebook!