'BIP': Dean Unglert Says Caelynn Miller-Keyes Lets All the Internet Hate Get to Her
Bachelor in Paradise won't be back for summer 2020, but we're still keeping up with the stars from the last season of the show. We know Caelynn Miller-Keyes and Dean Unglert met in Paradise — and they've been going strong ever since. But fans have had plenty to say about their relationship. And after Miller-Keyes and Blake Horstmann's debacle, she got even more serious backlash.
Now, Unglert and Miller-Keyes are more transparent about their relationship than ever. While the backlash doesn't seem to affect Unglert, Miller-Keyes has a harder time brushing it off. Here's what Unglert had to say about how she takes the internet hate.
Caelynn Miller-Keyes got a lot of backlash over her fling with Blake Horstmann
RELATED: Dean Unglert Said Caelynn Miller-Keyes Was 'Overdramatic' on 'Bachelor in Paradise'
Prior to BIP, Horstmann and Miller-Keyes had a fling at Stagecoach Festival — but it seems they weren't on the same page regarding what it meant. Horstmann went on to try and connect with other women he knew would be on the show. And he also had an additional romp with Kristina Schulman at the same festival. But Miller-Keyes still felt let down by Horstmann's actions, as she accused him of ghosting her and not taking their semi-relationship seriously.
This all came to a head when Horstmann attempted to clear his name by publishing texts between him and Miller-Keyes. The texts showed Miller-Keyes asking Horstmann for casual sex and nothing else. And it led to severe backlash for her.
"I prefer to hear both sides of the story. Especially since you are known to tell lies on the bachelor. It sounds like he dumped you and now you're seeking revenge trying to play the poor me card," a follower commented on Miller-Keyes' Instagram post.
She also gets hate for her relationship with Dean Unglert and Instagram content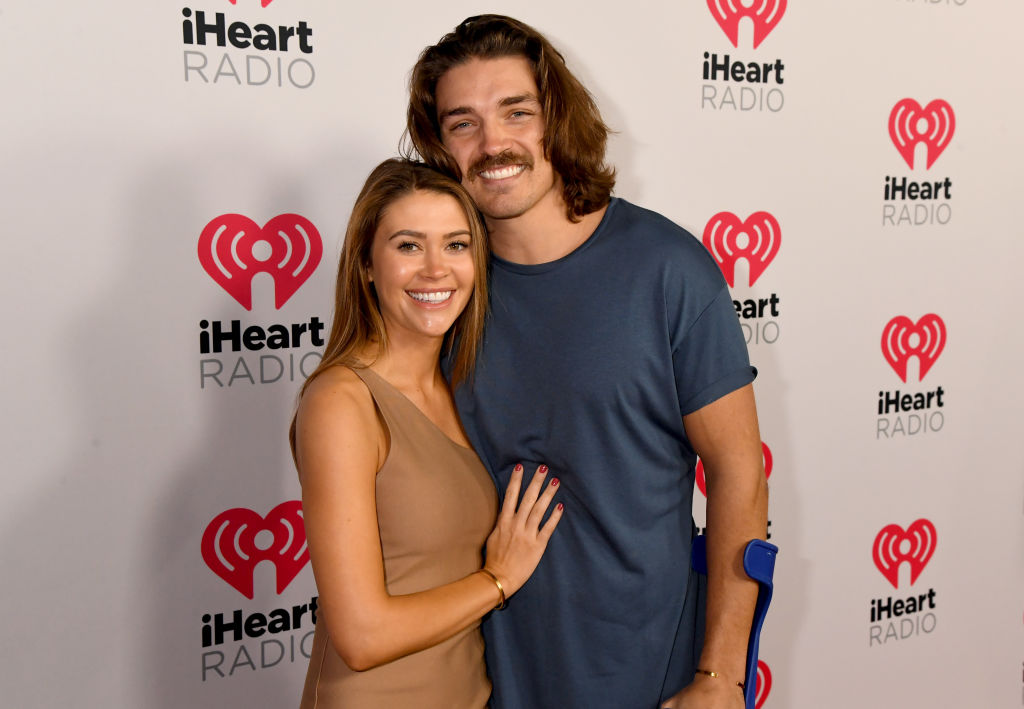 Not only did Miller-Keyes get serious hate for what occurred with Horstmann, but many also haven't been too kind in regards to her relationship with Unglert. Those who watched Paradise know Unglert left the show and returned once he realized how much he missed Miller-Keyes. And in that brief period without him there, Miller-Keyes pursued Connor Saeli. We know now, of course, that she ditched Saeli and went back to Unglert once Unglert reappeared.
Since then, Miller-Keyes has spent a lot of time defending herself. After an Instagram follower told her, "Dean is just a fling," she commented back, "life is just one big fling."
Now that Miller-Keyes is getting more attention than ever, fans are also finding plenty on her Instagram to critique. She's promoted bedsheets on social media, and fans trolled her since Unglert lives in a van. Not only that, but a fan also told her to "brush her hair" in another Instagram photo, and Miller-Keyes saw the comment and replied with, "lol what's a brush?"
Unglert says Miller-Keyes doesn't take well to all the hate
Unglert may be used to some backlash he's gotten over the years, but he said on his podcast, Help! I Suck at Dating…, that Miller-Keyes isn't necessarily the same way.
"I was on the show the first time, like, three or four years ago, and Caelynn just two years after me, so one or two years ago. So I have this, like, bigger perspective on relationships, having gone through breakups, being in public relationships. And she's, like, a little bit more doe-eyed and more, just fresher on the whole situation," Unglert said on his podcast. "And so she still lets things get to her sometimes, and I always have to constantly remind her … 'As long as you're happy in this relationship it shouldn't matter what anyone else is saying. … Don't let that affect your well-being.'"
Even if Miller-Keyes is affected by internet hate, it seems Unglert is there to help her along the way. We're glad their relationship is going strong!
Check out Showbiz Cheat Sheet on Facebook!