'Bowfinger': Why Steve Martin Initially Planned to Cast Keanu Reeves, Not Eddie Murphy
Steve Martin is a veteran of the entertainment business. Since his work on The Smothers Brothers Comedy Hour in the 1960s, Martin has become a comedy icon. So fans were thrilled when he decided to star alongside Eddie Murphy — another comedic legend — in 1999's Bowfinger. Believe it or not, however, Keanu Reeves almost starred opposite Martin instead of Murphy.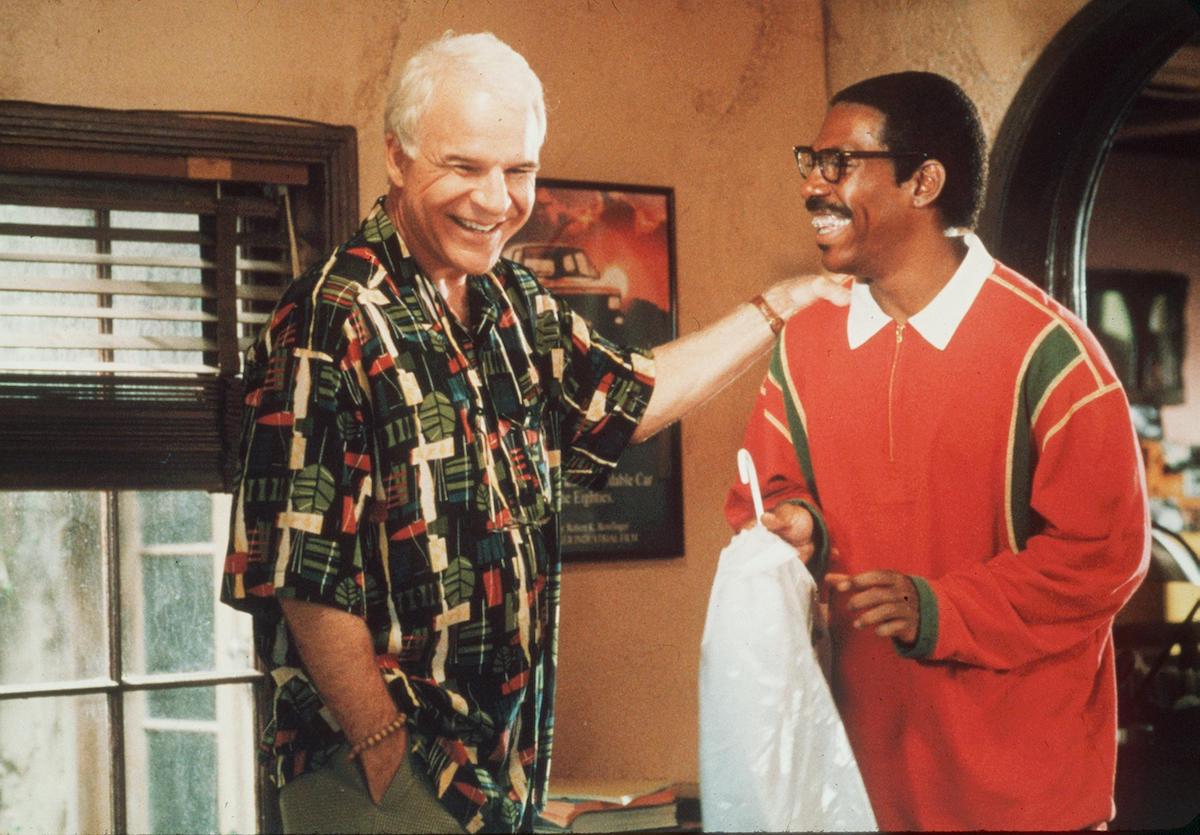 What is the movie 'Bowfinger' about?
Certainly, Murphy and Reeves don't seem like they often compete for the same roles. But taking into consideration the story of Bowfinger, the decision to bring in Reeves makes more sense. For those who haven't seen the movie, the plot follows Bobby Bowfinger (Martin) — a down-on-his-luck movie producer desperate to finally make a hit movie.
But when conventional means don't pan out, Bowfinger decides to get the world's biggest movie star, Kit Ramsey (Murphy), to star in his movie. The catch is that Kit doesn't know he's a part of the project. Bowfinger and his ragtag production crew instead follow the star around, leading him to new heights of Hollywood paranoia. Hilarity — written by Martin, no less — ensues.
RELATED: 'Coming 2 America': Eddie Murphy Has a Peculiar Idea for 'Coming to America 3'
Steve Martin wanted Keanu Reeves instead of Eddie Murphy
Given Murphy's dual roles in the film and his high-energy performance as Kit, it's easy to imagine Martin conceived of Bowfinger with him in mind. However, Martin initially hoped to get Reeves — whom he worked with in 1989's Parenthood — to star as Kit. According to Mental Floss, producer Brian Grazer once explained how the movie's direction shifted gears.
"When Steve gave me the script for Bowfinger, it wasn't written for Eddie Murphy. It was written for a white action star. It was written for Keanu Reeves, literally. I said, 'Why does it have to be an action star?' He said, 'That's the joke.' I said, 'What if it were Eddie Murphy, and Eddie Murphy played two characters? That could be really funny.' He said, 'You know, that'd be great — that'd be brilliant. Let's do that.' He processed it in about a minute, and he made a creative sea change."
In the spirit of true collaboration, Martin was quick to identify Grazer's idea was perhaps more ripe for comedic potential than his. Still, Reeves would be a great fit as an iconic action hero. After all, The Matrix hit theaters mere months before Bowfinger did. But the latter film would have ended up with a completely different kind of energy than Murphy brings to its current form.
RELATED: Which 'Cheaper by the Dozen' Star Has the Highest Net Worth?
Is 'Bowfinger' available to stream online?
While Bowfinger wasn't a box office phenomenon, the movie did solid business. Against a production budget of $55 million, the movie — directed by Frank Oz — earned nearly $100 million worldwide. At the time, Bowfinger earned solid reviews. But its reputation has only increased. 
But is Bowfinger streaming anywhere? Thankfully, fans who want to catch up with the movie — or who haven't seen it in a while — can do just that now. According to JustWatch.com, Bowfinger is available to stream on HBO Max. Fans of Murphy and/or Martin are in for a treat.