Brad Pitt and Edward Norton Got Stoned Right Before the 'Fight Club' Premiere
Brad Pitt has been a part of many major movies over the course of his career, from Once Upon a Time in Hollywood to Legends of the Fall. Pitt, whose personal life has often made headlines, has always preferred to keep the focus on his career and has worked hard to create movies that stimulate conversation and creativity. One of Pitt's most memorable movies is the 1999 film Fight Club, directed by the cutting-edge film creator David Fincher. In the two decades since Fight Club was first released, it has become a cult classic — and recently, Pitt opened up about the interesting way that he and his co-star in the film, Edward Norton, decided to celebrate the film's original screening.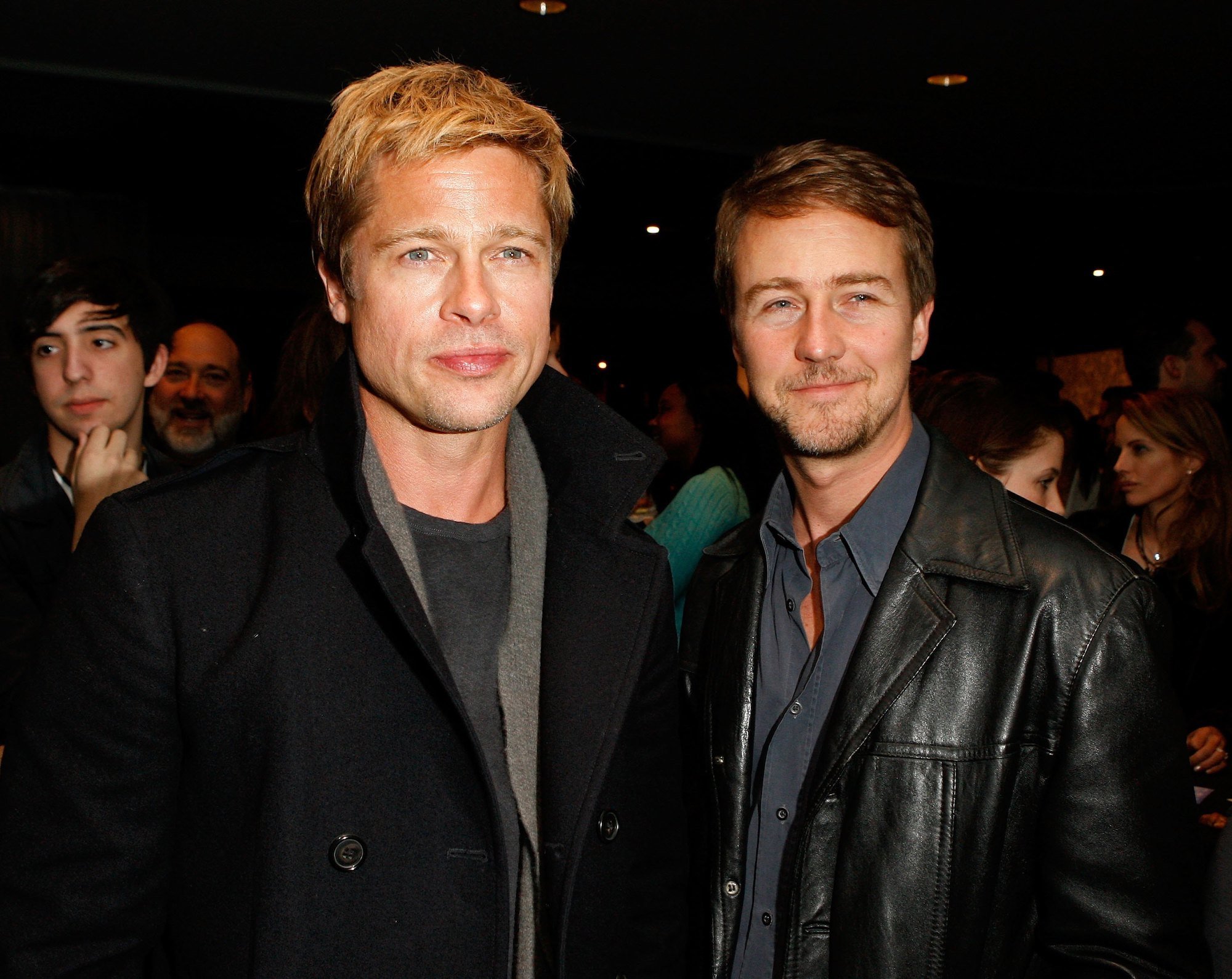 Brad Pitt was a major superstar by the late nineties
Born in Oklahoma in 1963, Brad Pitt originally wanted to pursue a career in journalism but decided later on in his college career to study acting instead. Pitt moved to California in the late eighties, where he took acting lessons and auditioned fiercely for various roles. From 1987 through 1990, Pitt appeared in a number of small roles in television and minor film projects. His big break was in 1991 when he appeared as a cowboy hitchhiker in the buddy film Thelma & Louise. 
Pitt became a sex symbol after his brief turn in Thelma & Louise, and his work in the film led to roles in movies such as Legends of the Fall, A River Runs Through It, and 12 Monkeys. He established a reputation as an actor capable of working in any genre, from horror to comedy and even romantic drama. However, Pitt's work in the 1999 movie Fight Club made the critics really sit up and take notice, and those viewers who didn't take him seriously before certainly did after its release.
What is 'Fight Club' about?
RELATED: Here's Why This 'Fight Club' Star Was Hurt When the Movie Came Out
Fight Club was directed by David Fincher, and starred Brad Pitt, Edward Norton, and Helena Bonham Carter. The movie, based on the controversial novel by Chuck Palahniuk, tells the story of a narrator who lives a normal, white-collar existence. The film's narrator, who remains unnamed, eventually decides to shake things up by forming a "fight club" with soap salesman named Tyler Durden, played by Brad Pitt.
While Fight Club didn't necessarily make it big at the box office when it was originally released, critics and fans alike praised the acting in the movie, especially Pitt's turn as Tyler Durden. Over the years, Fight Club obtained cult classic status, referenced by thousands of fans. 
Brad Pitt revealed that he and Edward Norton were stoned at the 'Fight Club' premiere
Both Brad Pitt and Edward Norton went on to great things after their work in Fight Club. Most notably, Brad Pitt ended up becoming one of the biggest stars in the world, partially due to his association with fellow celebs like Jennifer Aniston, and partially due to his savvy career choices. As Pitt revealed in January 2020, he did not expect Fight Club to be such a big movie. In fact, as he admitted on a podcast with comedian Marc Maron, he and Edward Norton decided to celebrate the film's original screening in an unconventional manner.
"For some reason, we thought it would be a good idea to smoke a joint before," Pitt said, according to People. "The movie starts, first joke comes up, and it's crickets; it's dead silence. Another joke, and it's just dead silent … this thing is just not translating at all. The more it happened, the funnier it got to Edward and I. So we just start laughing. We're the a—holes in the back laughing at our own jokes. The only ones laughing." Ultimately, Pitt admitted that the whole experience was a "good time," and although he is proudly sober these days, he clearly still has the ability to look back on the antics of his younger years with humor and nostalgia.