'Bridgerton': The Dance Scenes Have a Much Deeper Meaning, According To Regé-Jean Page
It's official: viewers love Bridgerton. The Netflix series is Shonda Rhimes' interpretation of Julia Quinn's romance novels, and it is now one of Netflix's most successful series debuts ever.
The period piece will immediately remind viewers of Jane Austen films, particularly 2005's Pride & Prejudice. And the series has one big thing in common with the Keira Knightly flick outside of its setting and fashion: extravagant dance scenes.
In a recent interview, star Regé-Jean Page broke down the deeper meaning behind the Bridgerton dance scenes.
[Spoiler alert: Bridgerton Season 1 spoilers ahead.]
Regé-Jean Page plays Simon Basset, Duke of Hastings, in 'Bridgerton'
Dancing plays as big of a part in Bridgerton as sex (the show is based on a romance novel series, so sex was always going to be part of it). Page plays the perennial bachelor Simon Basset, Duke of Hastings, alongside Phoebe Dynevor's Daphne Bridgerton, the eldest of the Bridgerton daughters.
They make a pact to pretend to be courting each other, so interested women will back off of Simon and Daphne will look more desirable to other suitors after her older brother scared them all away. It's a familiar tale, one that's made more interesting when combined with the stories of the show's vast catalogue of characters. Eventually Simon and Daphne fall in love. And Page said their feelings were made evident in the one place where feelings could be shown: while dancing.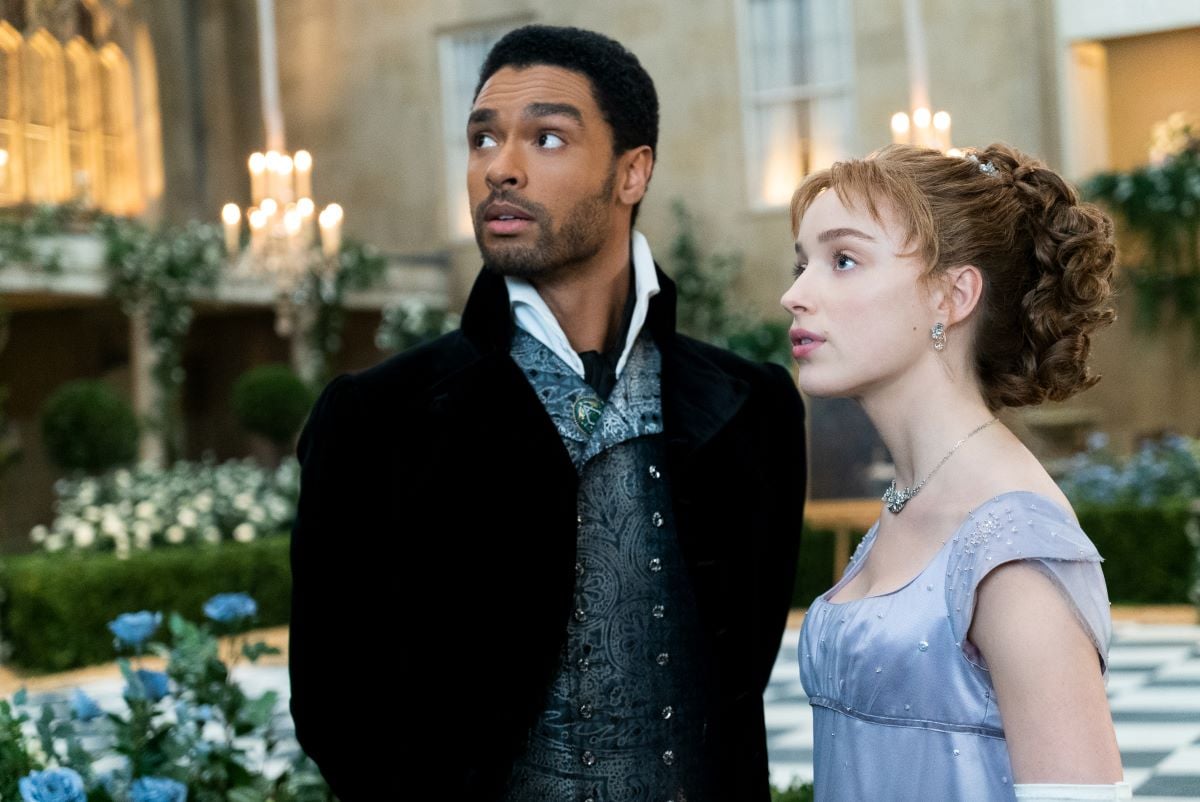 Inside the 'Bridgerton' dance scenes
"The dancing was a gift," Page said in an interview with Esquire. "Once you start dancing, you get to be honest. I think that's why dances are so central to these stories. They're not frivolous; they're the real heart and soul of the story, because everything else is a two-level dialogue where you say one thing and mean another. Then suddenly, there's this place where you can't hide. I think we learn the most about the characters on the dance floor."
'Bridgerton' addresses toxic masculinity
Another aspect of the dance scenes that are wildly different from the genre is the music. Rather than have period-appropriate music throughout the scenes, the show decided to include string covers of current pop music. Ariana Grande's "Thank U, Next," Shawn Mendes' "In My Blood," and more can be heard throughout the rooms of the balls. It somehow just works.
The biggest thing that sets Bridgerton apart from the genre are the sex scenes. Page described the series as "funnier, faster, wittier, and unashamedly sexier" because of that aspect. He's also aware of the inherent misogyny of the time.
"We're telling the story from a perspective that's had four waves of feminism since this genre emerged," he told the outlet. "But even at that time, there was a revolution on the literary scene, with Mary Shelley stepping forward and Jane Austen taking up space. That feminist wave entered the imaginary world and shaped how we treat these archetypes."
Page's Simon is a different kind of leading man, as well. His backstory reveals the childhood emotional trauma he suffered at the hands of his father, informing his adult behavior and his desire to never marry. Unpacking his trauma and letting out his vulnerability is part of the Page loves about the character. He said:
"One of the most exciting things about this project was to deconstruct what's perceived as masculine strength, because that's a conversation we're having right now. We're asking what masculinity is, and a lot of it is letting go of this constant projection of dominance. Simon holds an utterly self-destructive grudge, and the only way to defeat that is to release vulnerability. We're still trying to figure out how to let men be vulnerable, to realize there's strength in vulnerability, and that it's how you fill out the circle of masculinity."
Bridgerton has not yet been renewed for a second season by Netflix, but considering its in the top five of the streaming platform's most successful original series, more seasons seem all but locked in.