'Bridgerton' Made Drew Barrymore Get Back on Dating Apps
Drew Barrymore is a Bridgerton stan. And so are a lot of other people. Netflix announced on Jan. 27 that Bridgerton was watched by 82 million viewers in its debut month, making it the platform's most successful original series debut ever. It's so popular, a Bridgerton musical has gone viral on TikTok just like Ratatouille.
For Barrymore, the Shonda Rhimes series inspired her as well, but not in a creative sense. The steamy show inspired her to get back on dating apps.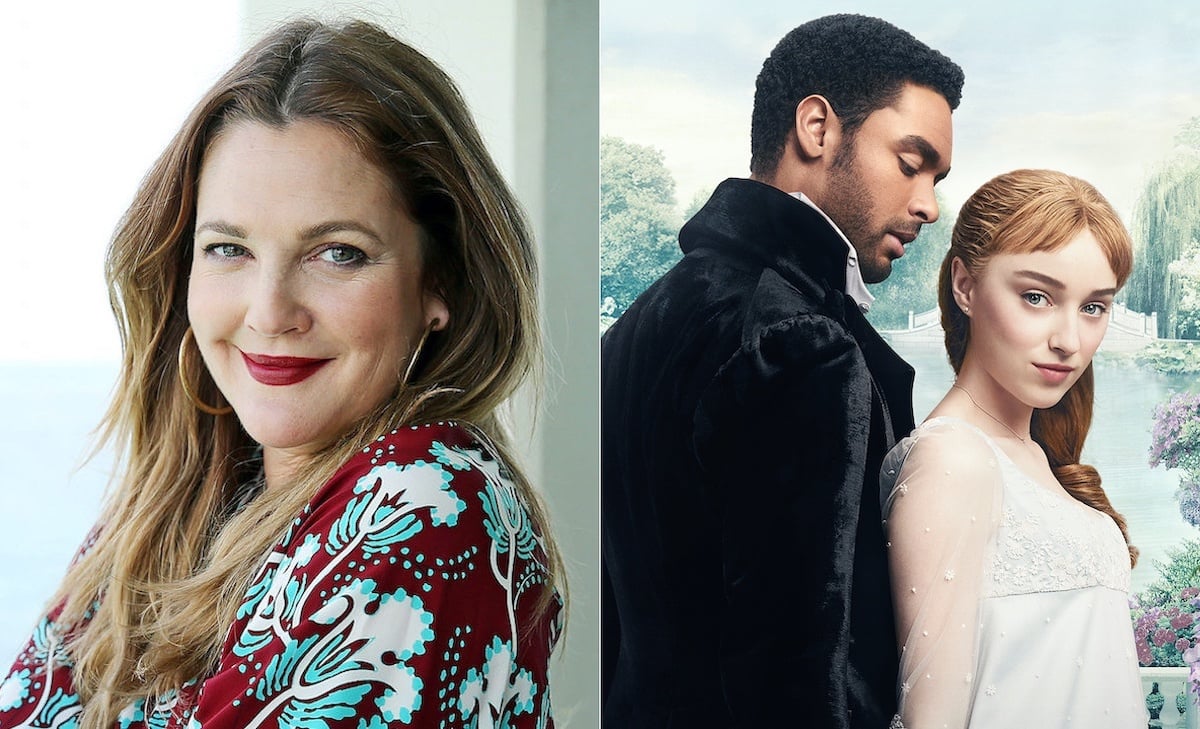 Régé-Jean Page and Phoebe Dynevor warned their families about the 'Bridgerton' sex scenes
In a Jan. 15 interview on The Drew Barrymore Show, Bridgerton stars Régé-Jean Page (Simon Basset, Duke of Hastings) and Phoebe Dynevor (Daphne Bridgerton) revealed how their families reacted to their many sex scenes.
Page said he has a family WhatsApp group chat where he gave his family members fair warning, and one of his cousins had the idea to leave the room to make tea during the scene. Unfortunately for the cousin, there was one moment where they came back to the screen and the scene was still ongoing. (Bridgerton is based on Julia Quinn's romance novels, after all. Sex was always part of the deal.)
For her part, Dveynor said she watched the show with her grandparents specifically to be able to fast-forward through the sex scenes for them.
RELATED: 'Bridgerton': The Dance Scenes Have a Much Deeper Meaning, According To Regé-Jean Page
Drew Barrymore can't get enough of 'Bridgerton'
The Charlie's Angels star and Ross Matthews, The Drew Barrymore Show contributor, completely fangirled over Page and Dynevor's appearance on the show. They broke out floral fans, ornate tiaras, and broaches for the occasion, and their excitement for the interview was clear.
When the interview was winding down, Matthews thanked the actors for their appearance and for the gift that is Bridgerton. He especially thanked them for "really turning our engines back on, if you know what I mean." And that's when Barrymore shared the update on her dating life.
"It's true. I got back on a dating app during Bridgerton," she said. "I was like, 'I'm not dead. I'm not dead.'"
As Dynevor replied, "Yes, Drew!"
Said Page, "I didn't know that was the most that we were going to turn on, but we did it."
RELATED: The Unofficial 'Bridgerton' Musical Already Has Amazing Songs;' Could It Get the 'Ratatouille the Musical' Treatment?
'Bridgerton' Season 2 is in motion
Luckily for Barrymore, Matthews, and the 82 million other Bridgerton viewers, the period piece was green-lit for a second season at Netflix. Rhimes took to Twitter on Jan. 27 to thank fans for watching, briefly mentioning season 2 production.
"'I wish to be entertained' – Queen Charlotte," she wrote. "I am so moved and grateful that @shondaland has pleased Queen Charlotte and 82 million of your households around the world. Now back to work on Season 2!"
Yes, please!