'Bridgerton' Star Phoebe Dynevor Had 'Really Low Self-Esteem' in Her 'Early Twenties'
Phoebe Dynevor stars in Bridgerton Season 1. Her character, Daphne Bridgerton, navigates Regency-era London and what's known as the marriage market. Based on Julia Quinn's Bridgerton book series, the Netflix original program comes courtesy of Shonda Rhimes. Before playing Daphne on Bridgerton, Dynevor had "really low self-esteem" because of all the "rejection" she experienced as an actor. 
Phoebe Dynevor had 'really low self-esteem' as a struggling actor
Dynevor's thankful for everything she's experienced as someone trying to make it as an actor. Although she admits it hasn't been easy. 
"I really appreciate all the 'no's that I've had in my life because I wouldn't be sitting here today [without them]," she told Glamour U.K. in December 2020.
She continued, saying getting rejected for roles or having what was supposed to be her big break fall short, led to some challenging moments.
"It was tough at times; I went through points of really low self-esteem," she said. "Particularly in my early twenties, of just like, 'Why is this not working? What do I need to do? Who do I need to be for this to happen?' That's really dangerous, when you start going down that road, and trying to change yourself." 
Now 25, Dynevor says she's come a long way. 
"The last two years I've grown up a lot and things started happening when I got confidence in myself and everything just clicked into place," she said. 
She still has days where the low self-esteem creeps back in. But as an adult, she can recognize it for what it is. 
"I still have days where I wake up and I'm like, 'I don't want to be me today.' I am quite self-aware but when you're younger, you listen to what your brain is telling you," she said. "But, as I have gotten older, I can acknowledge it and think, 'That's me feeling insecure today because I'm a bit tired but I'm not going to listen to it,'" she later added.
Phoebe Dynevor didn't feel 'very confident' on the 'Bridgerton' set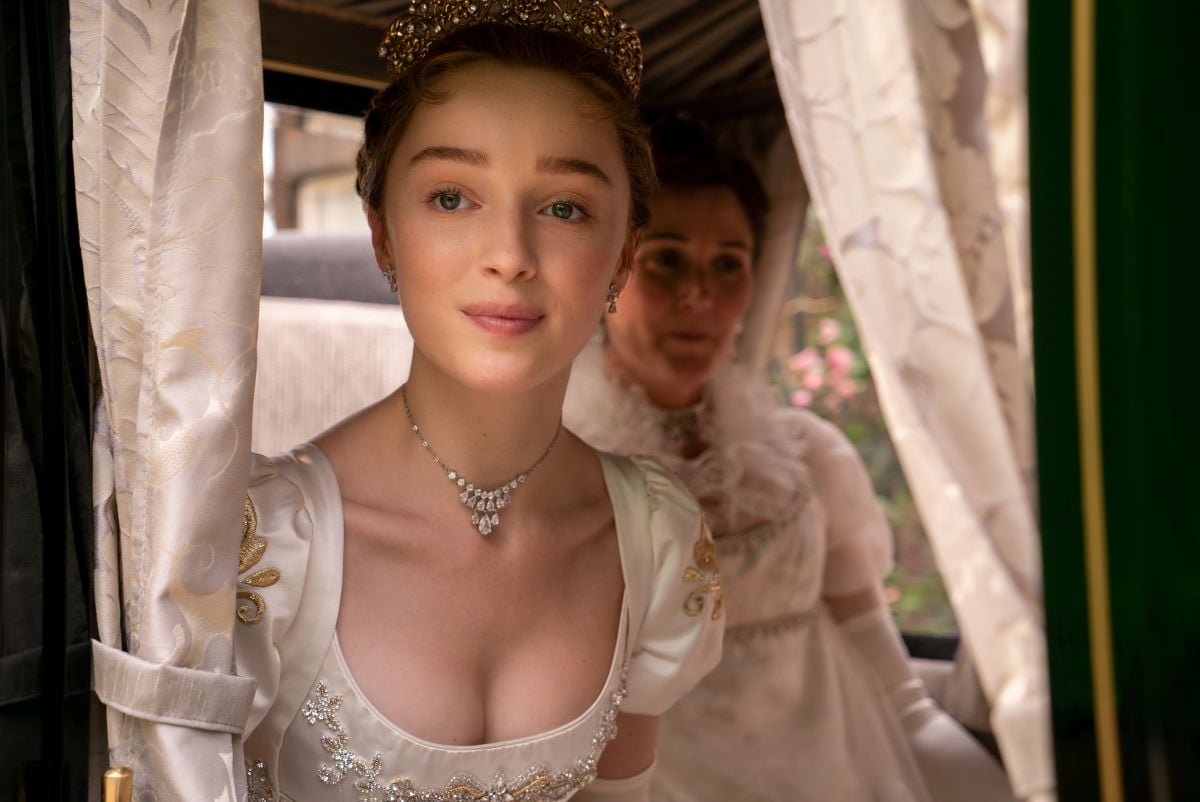 In the same interview, Dynevor opened up about filming a particular scene on Bridgerton. The actor shared she wasn't feeling "very confident that day" and it made filming "uncomfortable." 
"One of the most difficult scenes for me was when Daphne walks down the stairs to greet the prince and everyone in the ball turns to look at her," she said. "It was actually the most uncomfortable scene ever and I just absolutely hated filming it, because I didn't feel very confident that day, I woke up and I just wasn't feeling in my power or in my strength." 
Watching the scene, Dynevor admitted she didn't look the way she felt.
'Bridgerton' Season 2 will focus on Daphne Bridgerton's older brother
Bridgerton is already one of Netflix's most-watched shows. It's a hit for the streaming giant and continues to make their list of top 10 most-watched programs.
As for the show's second season, which Netflix greenlighted in early 2021, Daphne will be stepping back from the spotlight. Anthony Bridgerton (Jonathan Bailey), Daphne's older brother, will be the focus of Bridgerton Season 2. Following the structure of Quinn's books, the show's second season will follow The Viscount Who Loved Me, the author's second Bridgerton novel.
Watch Bridgerton Season 1 on Netflix.