BTS' 'Permission to Dance' Reminds ARMYs of 1 Disney Channel Original Movie
BTS doesn't need permission to dance.
This K-pop group released their latest all-English single during 2021. Although it showcased an upbeat and unique sound, some fans compared it to a Disney Channel movie released in 2006.
Here's what fans are saying about this music video, its choreography, and its High School Musical–esque moments.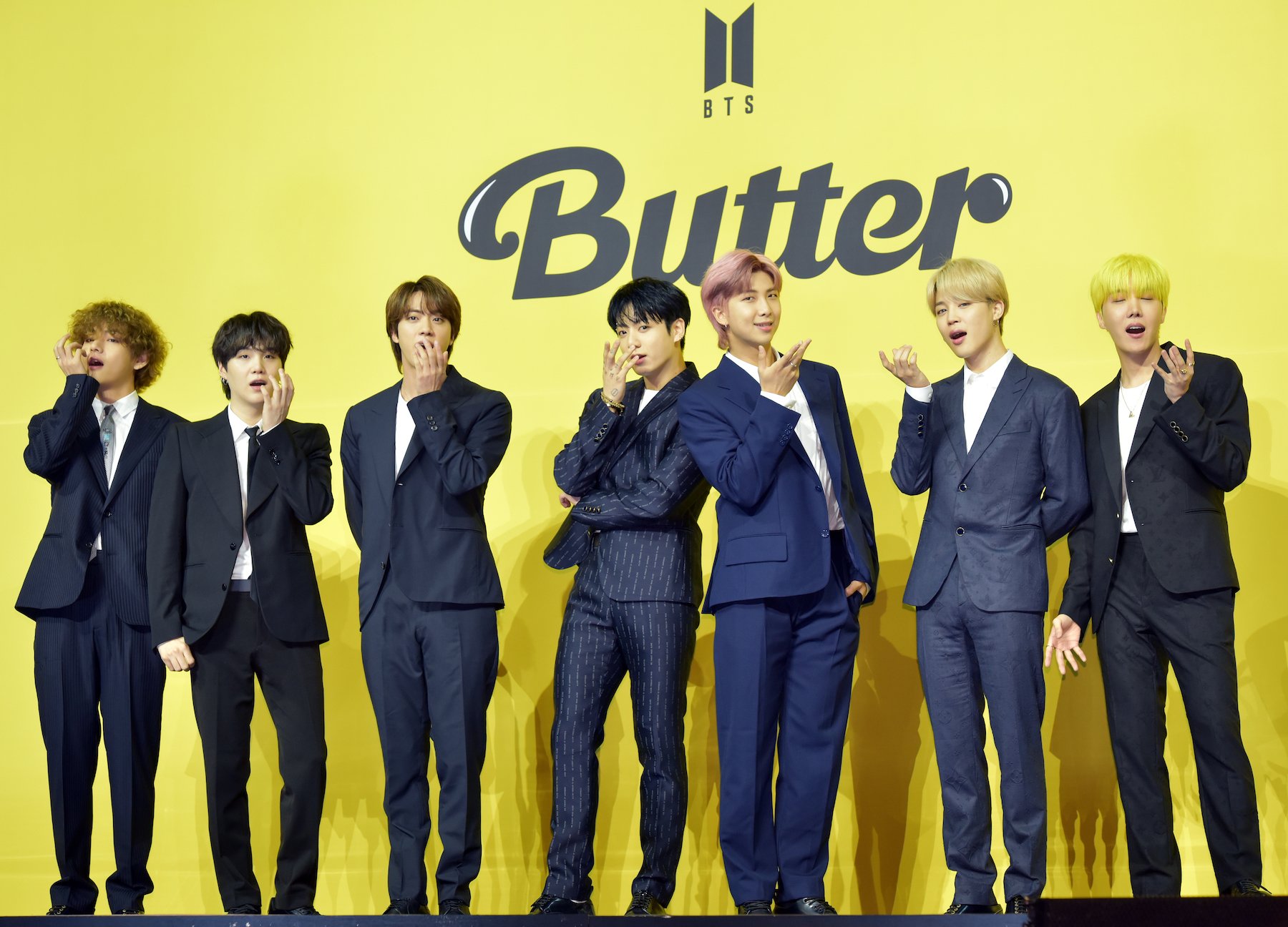 BTS released their music video for 'Permission to Dance'
BTS released "Permission to Dance" as a single and an additional track on a physical CD of "Butter." The song recently debuted at No. 1 on the Billboard Hot 100 and earned millions of plays on Spotify.
In true BTS fashion, this song also came with a colorful and creative music video featuring unique outfits. They sported new dance moves and a group dancing scene with other actors. As a result, some fans compared this YouTube video and its choreography to a Disney Channel original movie.
Some ARMYs compared 'Permission to Dance' to Disney Channel's 'High School Musical'
This K-pop group is known for their record-breaking music videos, including those for "Butter" and "Dynamite." However, when BTS released their YouTube video for their 2021 single "Permission to Dance," fans drew comparisons to the Disney Channel flick, High School Musical.
This movie featured songs like "Bop to the Top" and "Start of Something New." Although there was no budding romance in BTS' "Permission to Dance," there was a love of singing and dancing present.
According to Koreaboo, when the comparisons started, this song and High School Musical trended on Twitter. Even one fan on Quora asked, "does BTS' 'Permission To Dance' music video have 'High School Musical' vibes?"
One scene of the music video featured Jungkook in the laundromat, dancing around and giving serious musical energy. There were also plenty of colorful costumes and background actors and dancers.
The similarities didn't stop there.
Although the choreography was different, some fans noticed a similar vibe between "Permission to Dance" and "We're All in This Together" from the original High School Musical. Could it be the tempo and positive message? Or maybe the clapping hand gestures? The BTS members have not yet commented on the connection.
RELATED: VIDEO: Watch BTS' Jin and J-Hope Make Their Own TikTok Dance to 'Life Goes On'
Could 'Permission to Dance' be a part of an unofficial trilogy of BTS singles?
High School Musical became a trilogy, with movies released on Disney's television network. Some fans consider the BTS releases "Dynamite," "Butter," and "Permission to Dance" a kind of three-part story, bringing positive vibes and upbeat energy throughout the coronavirus (COVID-19) pandemic.
RELATED: Jungkook Noticed One 'Cheesy' Aspect of BTS' Style for the 'Butter' Music Video
BTS has worked with Disney in the past, although they were not directly involved with the Disney+ original series, High School Musical: The Musical: The Series. This K-pop group performed for the Disney Holiday Singalong.
(Cast members of High School Musical appeared in the first Disney Singalong, broadcasted on ABC.) BTS' "Permission to Dance" music video is now available on YouTube.