BTS' RM Thinks He Becomes 'More Honest' When Speaking in English
BTS' RM speaks Korean and English, even switching between the two languages during a V Live. Here's what he said about being bilingual.
RM is fluent in English, even switching between English and Korean in one April 2022 V Live. While discussing his bilingual skills, this BTS member shared that he's more honest while speaking English. 
BTS performed Permission to Dance on Stage concerts in Las Vegas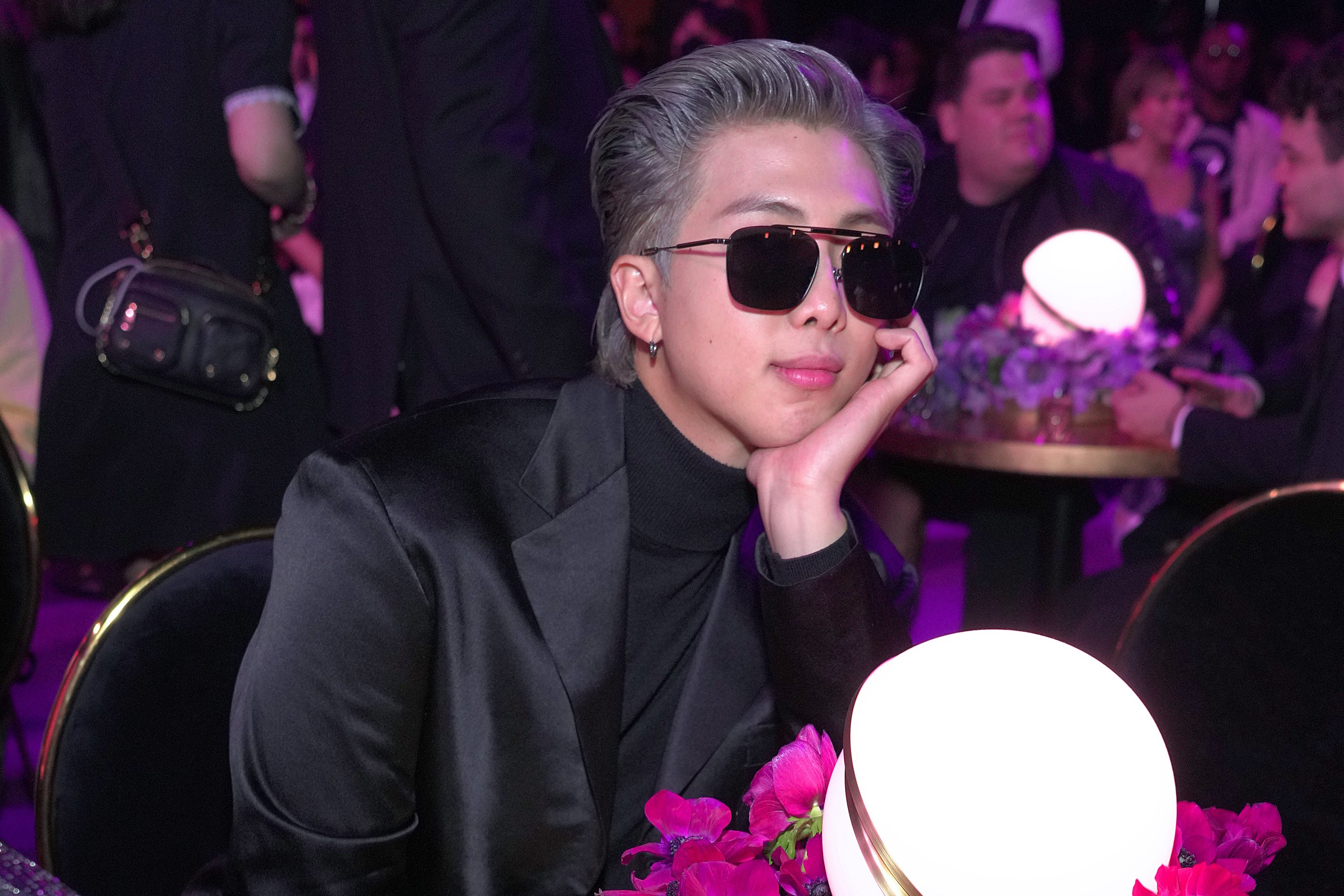 They don't need permission to dance. Although the boy band performed at the 2022 Grammy Awards, RM confirmed that the reason they traveled to Las Vegas was for ARMYs. The chart-topping K-pop group hosted several Permission to Dance on Stage concerts at Allegiant Stadium, selling out the venue each night. 
Even after seeing ARMYs at the concerts, some BTS members took to the video streaming platform, V Live, to chat with fans worldwide. That includes the group's leader, rapper, dancer, and songwriter, RM. 
BTS' RM switches between English and Korean, even if he's more 'honest' while speaking English
Following BTS' Permission to Dance on Stage concert in Las Vegas, RM appeared on a solo live stream. One ARMY asked if RM was tired, to which he said yes but it became a ritual to appear in V Lives after BTS concerts. He switched back to Korean and lowered his head, saying, "I can't speak now."
"What I felt while performing in Las Vegas is that I sometimes feel comfortable speaking in English," RM added. "I didn't study abroad or anything. But, sometimes, I become more honest when speaking in English. When speaking in Korean, I tend to be more cautious."
"When speaking in English," RM said, continuing in English, "You know, it's just 'no, man. It's not a problem.' I'm like this. But when I speak in Korean, I'm like, 'hello. Thank you for joining us today.' Like this difference."
RM switched between English and Korean for the remainder of the V Live, connecting with ARMYs worldwide with his bilingual skills. Of course, RM also speaks in English while in the United States, especially at concerts and during interviews.
Other BTS members chatted with fans on V Live in 2022, including Jimin, V, and J-Hope, who shared a meal together on the video platform.
Which members of BTS can speak English?
Most ARMYs know the story of how RM learned English — the BTS member's mother gifted him Friends on DVD. He first watched the series in Korean with English subtitles, then in English with Korean subtitles, and finally in English. 
However, RM isn't the only BTS member who speak English proficiently. In fact, most members of the K-pop group understand a second (or third) language. During one video, RM shared that Jungkook, Suga, and J-Hope are taking English lessons, while Jimin is learning Netflix to learn English. 
BTS even records Japanese versions of their original songs, publishing these reimagined hits on music platforms like Spotify and Apple Music.