'Call the Midwife' Season 10 Episode 1 Recap: Change Comes to Nonnatus House
Welcome back to Poplar. Call the Midwife Season 10 premiered Sunday, Oct. 3 on PBS.
The new season begins in the spring of 1966, and change is definitely in the air. Sister Julienne (Jenny Agutter) devises a scheme to prevent the closure of Nonnatus House, but not everyone is on board. Meanwhile, Dr. Turner (Stephen McGann) tries to get to the bottom of a troubling medical mystery. With plenty of the heartwarming — and heartbreaking — moments fans have come to expect, this Call the Midwife episode sets things up for another compelling seas​​on. 
[Warning: This article contains spoilers for Call the Midwife Season 10 Episode 1.]
Sister Julienne has a plan to save Nonnatus House in 'Call the Midwife' season premiere
At the end of Call the Midwife Season 9, the future of Nonnatus House was uncertain thanks to a pending slum clearance project and the expansion of maternity services at St. Cuthbert's. 
Fortunately, the ever-resourceful Sister Julienne has devised a plan to get Nonnatus House back on firm financial footing, though it's controversial. She's struck a deal to send some of the nurse midwives to work at a posh private maternity hospital. The money the order takes in from the scheme will be used to support the work they do in Poplar. 
But the idea of the nuns turning into "Robin Hood[s] with wimples" (in the words of Mother Mildred) doesn't sit well with Dr. Turner. He's staunchly in favor of public healthcare, and he has a rare fight with Sister Julienne over the issue. The conflict isn't resolved by the episode's end, and it's likely we'll see this conversation about healthcare privatization bubble up again later in the season. 
Nurse Trixie heads to the Lady Emily Clinic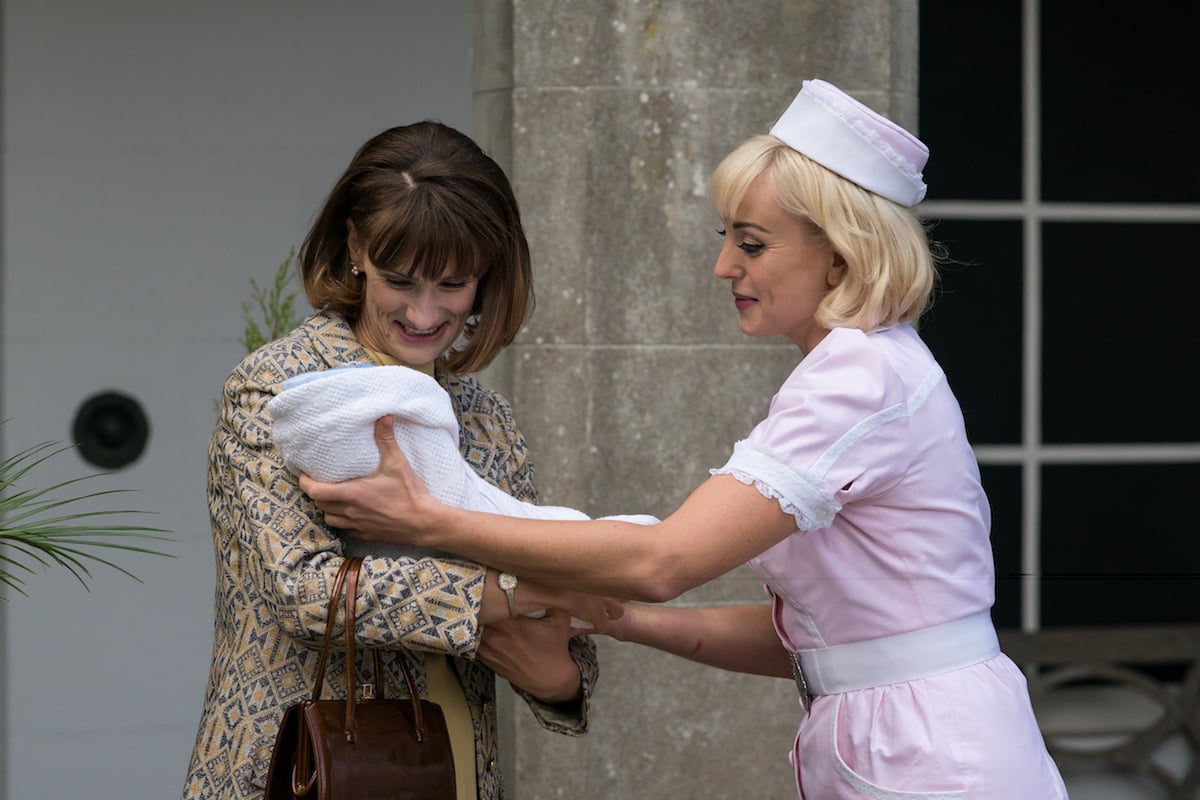 Unlike Dr. Turner, Nurse Trixie (Helen George) is thrilled with Sister Julienne's idea. She can barely hide her excitement at getting the chance to work at the Lady Emily Clinic for six weeks, and in a new frilly pink uniform, no less. The trial period will determine whether the plan to have the nurse midwives work outside of Poplar will move forward. 
The patients at the Lady Emily Clinic have advantages the women in Poplar can only dream of. But they're still hamstrung by limits society placed on women at the time. One woman matter-of-factly explains that she quit her job as soon as her pregnancy started to show, telling Trixie "advertising and motherhood were simply never going to mix." And Dr. Skarisbrick's (Richard Dillane) modern methods aren't exactly focused on what the women giving birth need, as Trixie gently tells him. 
Dr. Turner investigates a devastating birth 
Back in Poplar, Audrey (Kathryn Wilder) and her husband Derek (Jack Colgrave Hirst) are thrilled they're about to become parents after spending five years trying to get pregnant. But in a devastating scene, Audrey gives birth to a baby without fully formed legs who dies shortly after birth. (Cue the tears.)
For Dr. Turner, the case has disturbing echoes of season 5's thalidomide crisis. But that drug isn't to blame for this infant death, he discovers. Derek tells the doctor that he's been experiencing mysterious stomachaches. Plus, one of his army buddies has a daughter born without fingers. With that info in hand, plus the knowledge that both men were involved in Operation Grapple, it doesn't take Dr. Turner long to figure out that radiation exposure during nuclear testing is the likely cause of their babies' birth defects and Derek's health problems. This storyline, like many on Call the Midwife, is inspired by a real public health scandal involving soldiers who fell ill following radiation exposure during H-bomb tests (via RadioTimes).
Dr. Turner knows more men could be at risk. However, he hits a wall when he tries to get more details about the nuclear tests and the soldiers involved. But there's no way he's going to let this go that easily.
Sister Monica Joan's crisis of faith
Elsewhere in this episode, Sister Monica Joan (Judy Parfitt) is still recovering from the broken leg she suffered last season. But more than her body needs healing. The injury and her advancing age have brought on a crisis of faith in the elderly nun — a "dark night of the soul," as she says. She's depressed and questioning the existence of God. Will she be able to overcome her doubts and find her way back to the religion that's been at the heart of her life for so many years? Only time will tell. 
Finally, Cyril (Zephryn Taitte) finds a new place to live above Fred and Violet's store, though the apartment will also serve as a new home for the church. He and Lucille (Leonie Elliott) almost steal a kiss before they're interrupted. We have a feeling that things are soon going to get more serious between these two.
The episode ends with another fashion show, as Violet and the nuns — including a very uncomfortable Sister Frances (Ella Bruccoleri) — model modern, practical habits. It's proof that Nonnatus is changing and, as Vanessa Redgrave says in the voiceover that closes out the episode, "keeping pace with the dance of time itself."
Call the Midwife airs Sundays at 8 p.m. ET on PBS.