'Call the Midwife': Is [Spoiler] Dead After Tragic Accident in Season 11 Episode 7?
The fate of two beloved characters was left up in the air after the latest installment of PBS's Call the Midwife. A devastating accident rocked the Poplar community in the final moments of the May 1 episode, leaving fans to wonder if they could soon be saying goodbye to two familiar faces in the upcoming season 11 finale. 
[Warning: This article contains spoilers for Call the Midwife Season 11 Episode 7.] 
A horrific train accident closes out 'Call the Midwife' Season 11 Episode 7
At first, it seemed like it was business as usual in Sunday's episode of Call the Midwife. Sister Frances (Ella Bruccoleri) tried to help a young teen adjust to motherhood, only to discover she was expecting another baby. Nurse Corrigan (Megan Cusack) struggled to handle her increased responsibilities at Nonnatus House while also finding time to spend with her daughter. Sister Hilda (Fenella Woolgar) cared for an expectant mother dealing with a tough pregnancy. And Doctor Turner (Stephen McGann) clashed with his son Timothy (Max Macmillan), who was home from school. 
Toward the end of the episode, Dr. Turner, Nurse Corrigan, and Sister Julienne (Jenny Agutter) all spent the day at a midwifery conference. But things took an unexpected turn on their journey home. The engineer – who was the husband of Sister Hilda's patient – appeared to suffer a stroke or seizure. As a result, he failed to stop at a red signal. Moments later his speeding train collided with another train. The accident, which occurred on a bridge running over the Poplar neighborhood, left multiple people in the train severely injured. It also caused chaos in the streets below.   
Do Dr. Turner and Sister Julienne die in the 'Call the Midwife' train crash?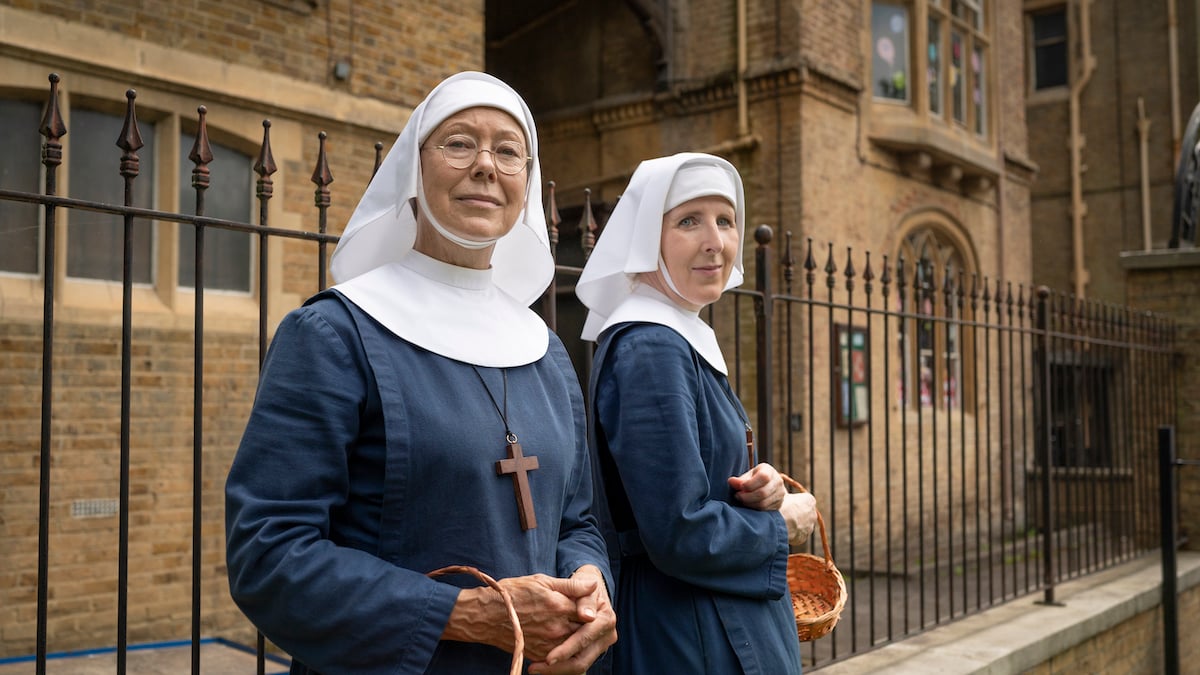 Moments before the accident, Nurse Corrigan moved to another carriage to use the restroom. When the accident happened, she was battered and badly shaken, but otherwise unharmed. Another passenger helped her off the train. An increasingly frantic Nancy tried to go back to check on her friends. However, the good samaritan told her it wasn't safe. 
The episode ended on a major cliffhanger. Both Dr. Turner and Sister Julienne were unconscious in the more severely damaged carriage. It wasn't clear if they'd survived the accident. 
Meanwhile, Matthew (Olly Rix), Fred (Cliff Parisi), Cyril (Zephryn Taitte), and other rushed to helped those who'd been injured – including a woman from Lucille (Leonie Elliott) and Cyril's church, who had a piece of glass in her eye. 
Timothy Turner fears for his father's safety
It did not take long for those on the ground to figure out that three of their own were likely on the train that crashed. But there was little they could do other than worry for their friends while providing help to others injured in the accident. 
"There is sanctuary and comfort here," Sister Monica Joan says as she welcomes people into Nonnatus House. "We must hold fast to hope." 
Next week's Call the Midwife season finale will explore the aftermath of the disaster. While everyone is worried about their friends and colleagues, the news that Dr. Turner was involved was particularly devastating for Timothy, who'd had a serious argument with his father before he went to the conference. 
"Dad and I weren't speaking," he tells his mother Shelagh (Laura Main) in a preview for the May 8 episode. 
"That can't be helped now," she replies. 
Call the Midwife Season 11 Episode 8 airs Sunday, May 8 at 8 p.m. ET on PBS. 
Check out Showbiz Cheat Sheet on Facebook!