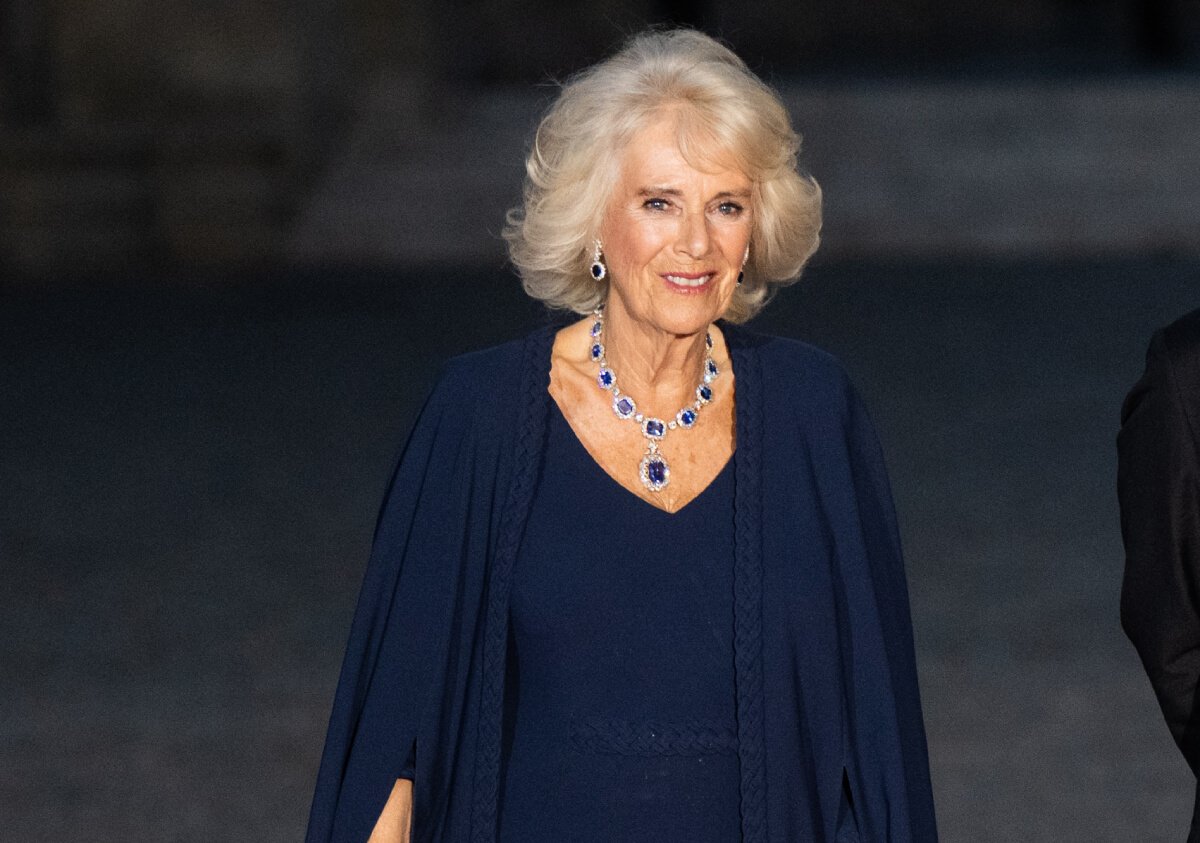 Camilla Parker Bowles Wears a Staggering $6.2 Million Worth of Queen Elizabeth's Sapphires in France
For her first state dinner in France since becoming Queen, Camilla Parker Bowles chose to borrow some extraordinary jewels from Queen Elizabeth,
Camilla Parker Bowles captured the spotlight during her recent trip to France with King Charles. Camilla garnered attention not just for her diplomatic grace but also for the staggering worth of sapphires she wore.
Elegance met opulence as Camilla stepped out in a dark blue gown adorned with these extraordinary sapphires. As it turns out, these weren't ordinary gemstones but part of Queen Elizabeth II's cherished King George VI Victoria Suite.
Camilla Parker Bowles donned Queen Elizabeth's $6.2 Million Sapphire Collection during French visit
During their official tour of France, King Charles and Queen Camilla made a grand appearance at a state dinner held at the illustrious Palace of Versailles.
Earlier that day, Camilla had already captivated onlookers as she descended from the aircraft, donning a rose-hued coat dress and a cherished necklace.
The anticipation was high for what fashion statement she would make later on. True to form, Camilla did not disappoint.
She emerged from the vehicle clad in a dark blue gown, complete with a flowing cape, and adorned with sapphire accessories, including earrings, a bracelet, and a necklace.
These extraordinary sapphires weren't just any gemstones; they belonged to Queen Elizabeth II's prized King George VI Victoria Suite.
The true jaw-dropper? The collective worth of the sapphires Camilla wore for the evening was an astounding $6.2 million, as appraised by jewelry connoisseurs at Steven Stone.
A closer look at Queen Elizabeth's lavish sapphires
Queen Elizabeth's father presented her with the King George VI Victorian Suite as a wedding gift in 1947. The gems hold a significant emotional value among the cherished jewels of the late Queen.
Initially, the sapphire and diamond festoon necklace featured a sequence of 18 sapphires, each varying in size from 8 to 30 carats. In a 1952 redesign, Elizabeth removed four sapphire groupings from the necklace's rear section and refashioned one of the larger front sapphires into an elegant pendant.
Additionally, during the 1960s, Elizabeth ordered a coordinating bracelet to complete the set. To mark her Sapphire Jubilee in 2017, she wore the necklace and matching earrings for her official portrait to mark 65 years on the throne.
Fast-forward to November 2022, and Camilla chose this exquisite collection for a formal event at Buckingham Palace.
The night was momentous, marking not only King Charles's inaugural state banquet but also the United Kingdom's first state visit since he ascended to the throne.
Camilla Parker Bowles and King Charles dazzle during their stay in France
Kicking off their three-day diplomatic sojourn in France earlier this week, King Charles and Queen Camilla were met with enthusiastic receptions. The pinnacle of their visit was undoubtedly the opulent state banquet at the iconic 17th-century Palace of Versailles.
President Macron and his wife warmly greeted the royal couple. Camilla turned heads in an elegant navy Dior ensemble, further embellished with glittering sapphires and diamonds.
The illustrious dinner, held in the Hall of Mirrors, hosted 160 carefully chosen British and French attendees. These guests included notables like actors Hugh Grant and Charlotte Gainsbourg and even ex-football coach Arsène Wenger.
The sumptuous menu featured blue lobster and almond-mint crab cake starters, followed by French poultry accompanied by a mushroom gratin.
The meal rounded off with an array of French and English cheeses and a dessert of rose-flavored macarons paired with lychee cream and fresh raspberries.