Camille Vasquez Slams 'Sexist' Rumors That She Is Dating Johnny Depp
During Johnny Depp's defamation trial against ex-wife Amber Heard, rumors took root claiming the relationship between the Edward Scissorhands actor and one of his attorneys, Camille Vasquez, was something other than professional. Vasquez is an associate at the law firm Depp hired, Brown Rudnick.
Since Depp became the firm's client four years ago, Vasquez claims she has "become close" to Depp, telling Vanity Fair the actor has become her "friend." Now, Vasquez is defending herself in the court of public opinion, calling the rumors of her and Depp's relationship "sexist" in an interview with People.
Camille Vasquez's role in the Johnny Depp's case against Amber Heard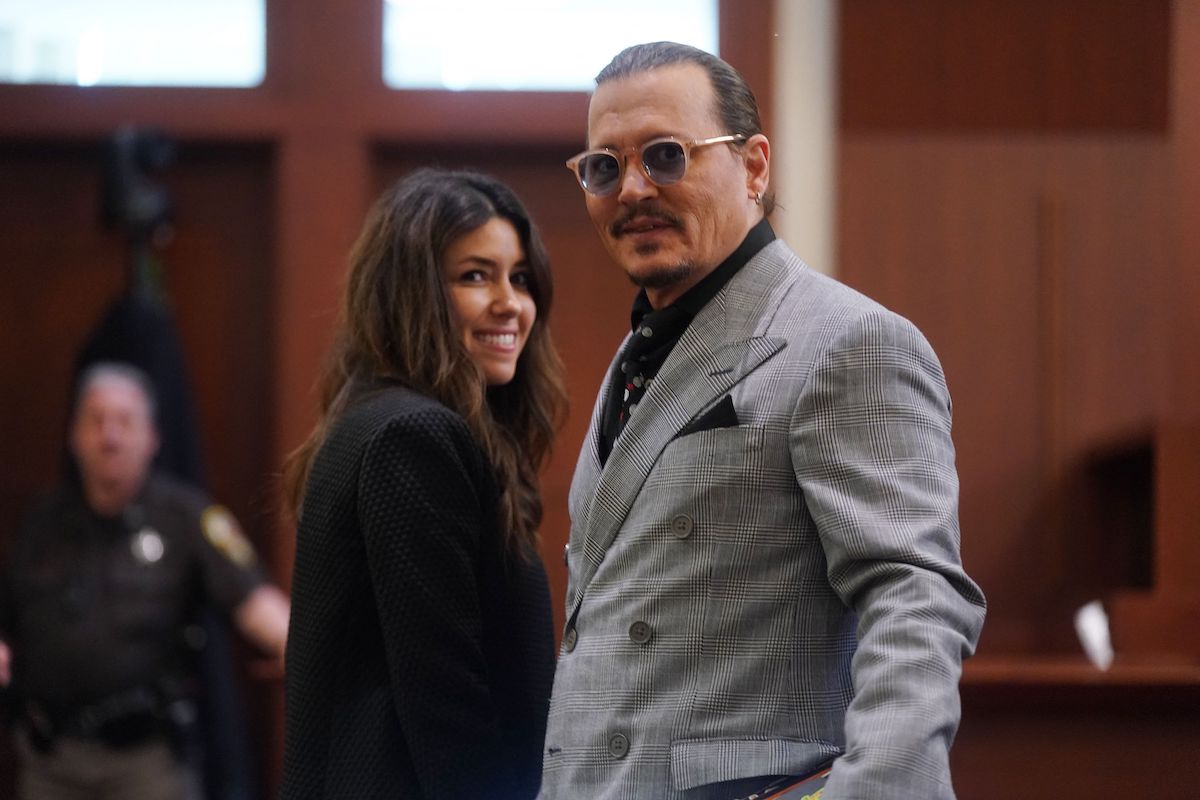 Beginning in April 2022, Johnny Depp's six-week defamation trial against Amber Heard quickly became must-see TV as cameras broadcast every moment from inside a Fairfax, Virginia courtroom. As one of eight lawyers in the case, Vasquez was one of five women defending Depp. However, Vasquez frequently took the lead in the trial and seemed particularly close to Depp during the proceedings.
Following the team's victory in Depp's case, Vasquez swiftly made partner at Brown Rudnick. The firm announced her promotion one week after the trial's end, saying, "Historically, we have reserved this announcement for the end of our fiscal year. But Camille's performance during the Johnny Depp trial proved to the world that she was ready to take this next step now." Brown Rudnick's chair and CEO William Baldiga continued, "We are incredibly proud of her and look forward to what she will accomplish as our newest partner" (via Us Weekly).
Is Camille Vasquez dating Johnny Depp?
Clips of Camille Vasquez and Johnny Depp's frequent physical contact in the courtroom have exploded on social media, fueling rumors that Vasquez and Depp's relationship is something other than professional. In response to the rumors, Vasquez told Vanity Fair: "I care very deeply about my clients, and we have obviously become close. But when I say we, I mean the entire team, and of course that includes Johnny."
Speaking to People, Vasquez slammed the rumors. "It's sexist … This man was fighting for his life, and it broke my heart to see him day in and day out have to sit there and listen to the most horrific allegations being made against him." Referring to her repeated physical contact with the actor during the trial, Vasquez said, "If I could provide any bit of comfort, then, of course, I would do that, whether it's holding his hand or letting him know that we were there and we were going to fight for him because he deserved it."
Vasquez further defended her professionalism to Vanity Fair by pointing to her ethnicity and cultural background. "I'm Cuban and Colombian. I'm tactile. What do you want me to say? I hug everyone. And I'm not ashamed about that," she explained.
Who is the lawyer dating?
Camille Vasquez has claimed to multiple news outlets that she is in a happy relationship. The 37-year-old lawyer is dating WeWork executive Edward Owen.
A Cambridge-educated success story himself, Owen and Vasquez recently began dating after meeting at a pub while Vasquez was overseas. And though a long-distance relationship is never easy (especially with rumors circulating about Hollywood A-list competition), a Daily Mail source claims, "It's long-distance, and they're both high flyers in their respective careers, but they're hoping to make it work."
RELATED: Here's How Celebrities Have Responded to the Johnny Depp vs. Amber Heard Trial