Can You Actually Play Ben Wyatt's Cones of Dunshire Game from 'Parks and Recreation'?
NBC's comedy shows have been really good over the last decade, from The Office to The Good Place. They have a great way of writing witty laughs that also don't dumb down their audience. And Parks and Recreation is one of the best shows to come out of NBC.
It does something a lot of ensemble shows don't, and that's that it gives each character such a great story. One of those is Ben Wyatt, the nerdy auditor who steals Leslie Knope's heart in the end. One of his greatest achievements is the game, Cones of Dunshire. But can fans really play that in real life?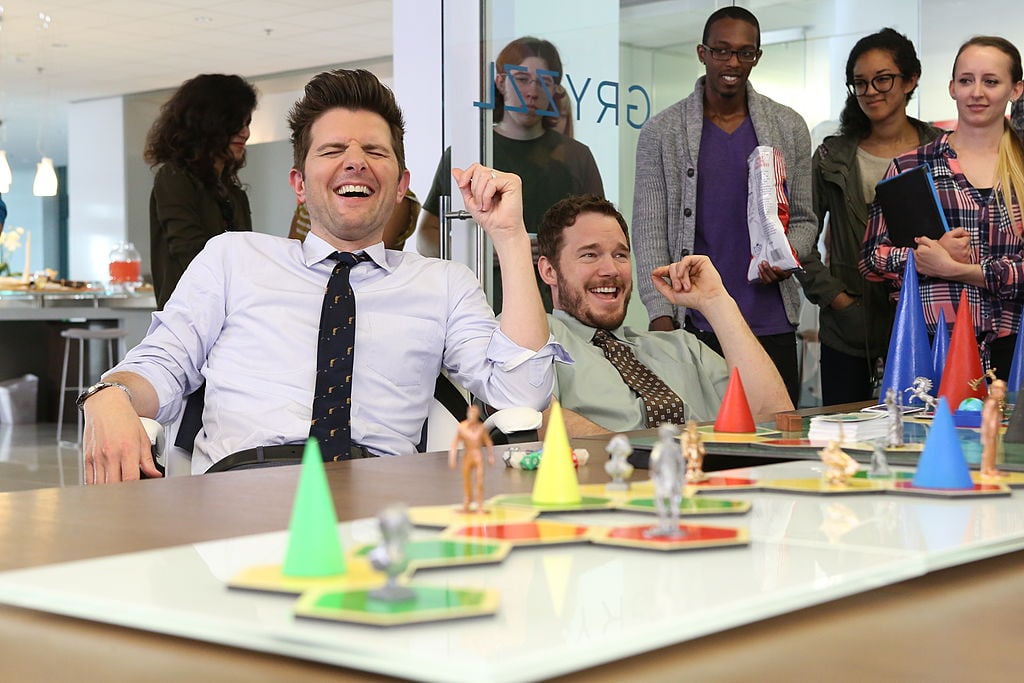 What is the game, Cones of Dunshire?
Ben Wyatt, played by Adam Scott, came onto the scene in Season 2 as a guest star. He became a series regular after that. He's very into numbers and is a bit aloof at first, but he and Leslie go on to become of the cutest couples ever. 
In Season 6, Ben is out of a job and is stuck at home all day. In his boredom, inspiration strikes, and instead of creating another (failed) claymation project, he decides to create one of the most complicated board games ever: the Cones of Dunshire. It's a cross between a lot of things, like Catan, and is very nerdy, just like Ben. 
This actually comes in handy later on, though, when Ben and Andy Dwyer go to a tech company in San Francisco. They want to pitch Pawnee as a city in need of free wifi, which this company is giving away. Ben sees they're playing Cones of Dunshire and places a bet. He wins, gets free wifi for Pawnee, and realizes he needs to copyright the game because it somehow spread on the internet and is pretty popular. 
Vulture did an oral history feature in 2013 about Cones of Dunshire. Dave King, the co-producer of the show, and writer of "The Cones of Dunshire," the first episode where it's featured, explained that they purposely wanted the game designed so it looked like a nerd made it at home one day. 
"I wrote a bunch of rules up that it is probably almost impossible to actually build a real game around, but we wanted something just for Adam to be able to reference at any point," King shared. Apparently Adam Scott ad-libbed too, based on what King had written.
Can you actually play Ben Wyatt's creation in real life?
Unfortunately for fans of Ben Wyatt who want to get their hands on this incredibly complex game, Cones of Dunshire doesn't exist. In 2015, Mayfair games, the company that created Catan and who the Parks and Recreation creators asked to create Cones of Dunshire, started a Kickstarter campaign to do this. But it fell through. 
In 2014, The A.V. Club reported that Mayfair never had plans to create a real version, and didn't even initially plan for it to be as complex as it got.
"At the time, I don't think that there was a plan to produce an actual game, and whatever cohesiveness there was to the content was almost an afterthought," Alex Yeager of Mayfair said. 
But thanks to the Kickstarter, the planned real-life game was meant to "walk a line between something playable, and something still rooted in the crazed imagination of an unemployed geek." However, the Kickstarter "closed up shop" in 2015 without being able to create a real game. Will it ever happen? Who knows. 
However, people have been able to play the game in the past. At Gencon in 2014, Mayfair brought a big version of the game to the convention and auctioned off spots to play. They raised $20,000 for the Gleaners Food Bank of Indiana's BackPacks program and it looked like the type of fun Ben Wyatt would die for. 
The company that made Catan made Cones of Dunshire specifically for 'Parks and Rec'
Essentially, the goal of the game is to "accumulate cones: Four cones wins, but in order to get a cone you have to build a civilization … which is where the Spirit Cards come in," according to Vulture. Coleman Charlton, project director for Mayfair Games, told Vulture that they took a lot of things into consideration to create it. 
"We wanted to make it look like something that somebody who had a bunch of old games put together themselves," he said. "If you look really closely, you could probably recognize which games some of the stuff comes from." Mayfair also noted that they got the cones from the Christmas section at Michaels and even a gourd from a farmer's market. It was very eclectic, which fits Ben's mindset. 
"I hadn't seen the game until we got there to shoot the scene, and it was beyond my wildest expectations," Scott recalled to Vulture. "It was very thorough. Like, this is the work of a madman."
It's definitely a bit of a bummer that there's not even a simplified version for fans to get their hands on. But maybe it will come out one day. But above all else, if you find yourself somehow playing Cones of Dunshire, don't forget the essence of the game: "It's about the cones."