Cher on Dating Val Kilmer: It Was 'Too Intense and Hot'
Cher has been linked to many famous men, although her long-term relationship with Sonny Bono often seizes the spotlight. From Tom Cruise and Greg Allman (frontman for The Allman Brothers) to screenwriter Ron Zimmerman and KISS's Gene Simmons, Cher has many interesting romance stories tucked up her sleeve. She briefly dated Val Kilmer, yet their relationship was "too intense and hot" for the "Gypsies, Tramps, and Thieves" singer to handle, as Instyle reports.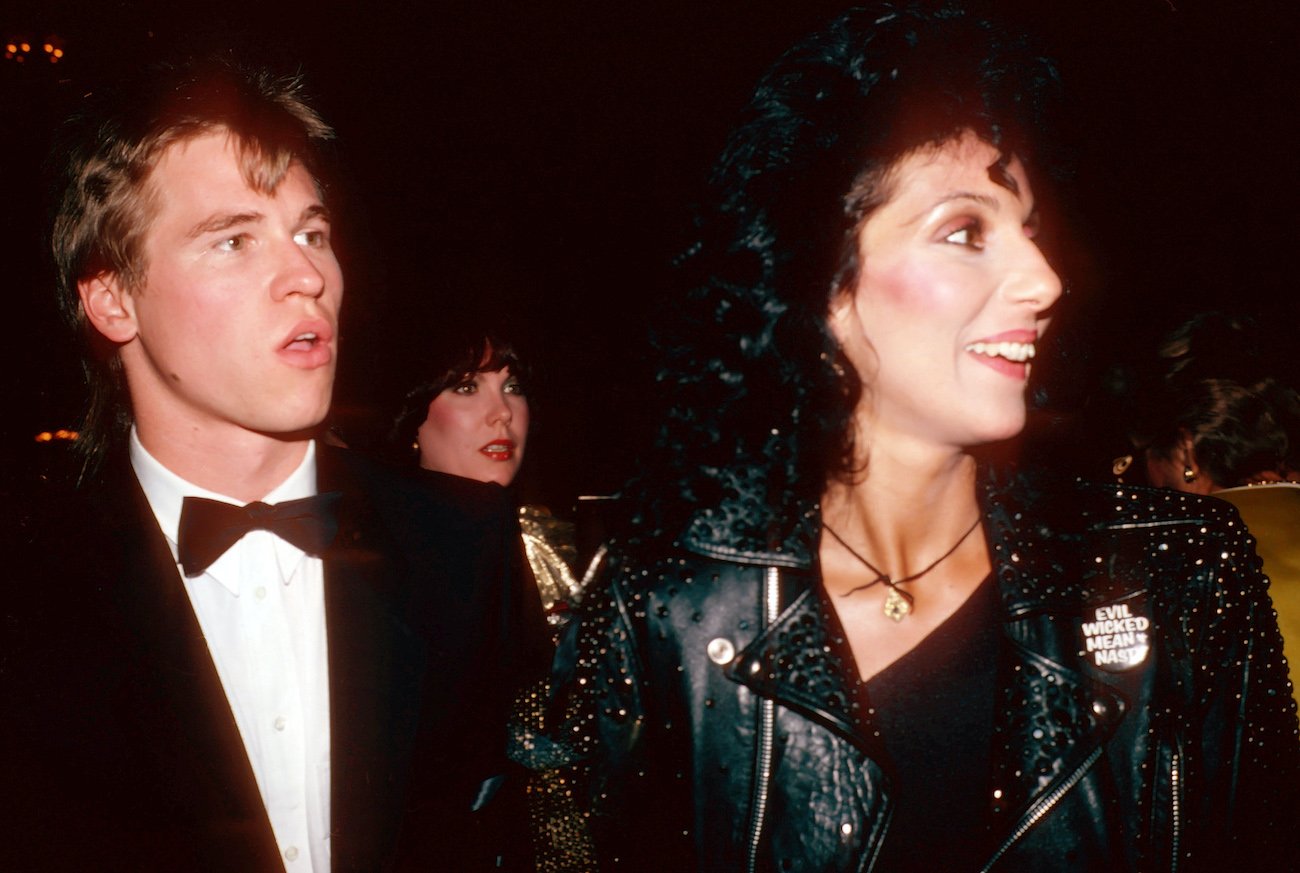 Cher once explained that kissing Val Kilmer was like nothing she had ever experienced — her head "would shoot right off" when their lips met, as InStyle notes. Yet, in the end, their romance was not built to last. 
Cher says her relationship with Val Kilmer came 'the closest to working' 
Cher and Val Kilmer reportedly met in 1981 while Kilmer was eating at a Manhattan restaurant. Kilmer found out that Cher was interested in meeting him, yet he was convinced the two had nothing in common — having seen her name over and over again in the "gossip rags." He initially didn't have an interest in meeting the singer. Yet, he was wrong, and the two had a lot more chemistry than he expected. They wound up dating from about 1982 to 1984. 
Cher explained that her romance with Kilmer was quite successful. Of all her other relationships, her bond with Kilmer came "the closest to working." Cher said that he was "sensitive, artistic" and had a sense of humor, according to InStyle. Cher also never forgot that he was "a great kisser." And, Cher has a motto when it comes to romance: 
"My rule of thumb, and it's never failed me, is if a man's a good kisser he's a great f—"

Cher | as qtd. by InStyle
Cher's son, Elijah Blue Allman, also favored Kilmer; Kilmer bought the boy a "human scalp" for his birthday one year, and that pretty much sealed the deal.
Cher and Kilmer remain loyal friends to this day
While Cher and Kilmer's romantic journey came to an end, they remain close friends. When Kilmer was diagnosed with cancer in 2015, Cher stepped up to the plate to help care for him, which Kilmer explained in his memoir I'm Your Huckleberry: A Memoir. 
Cher has also praised Kilmer as one of the most gifted and inspired artists she has had the opportunity to work with, alongside Meryl Streep (not bad company!). Following her relationship with Kilmer, Cher dated Tom Cruise. Kilmer married Joanne Whalley in 1988, but they divorced in 1996.