'Cherry' Will Feature 6 Chapters, Each With Completely Different Tones and Production Designs, According to Joe Russo
Cherry — releasing in theaters February 26 before debuting globally on Apple TV+ March 12 — stars Tom Holland as an army medic with PTSD who resorts to robbing banks to pay his drug debts. Spider-Man fans expect a tour de force performance from Holland, as the role will mark his most dramatic leading character to date, with Oscar buzz already circling the highly-anticipated film.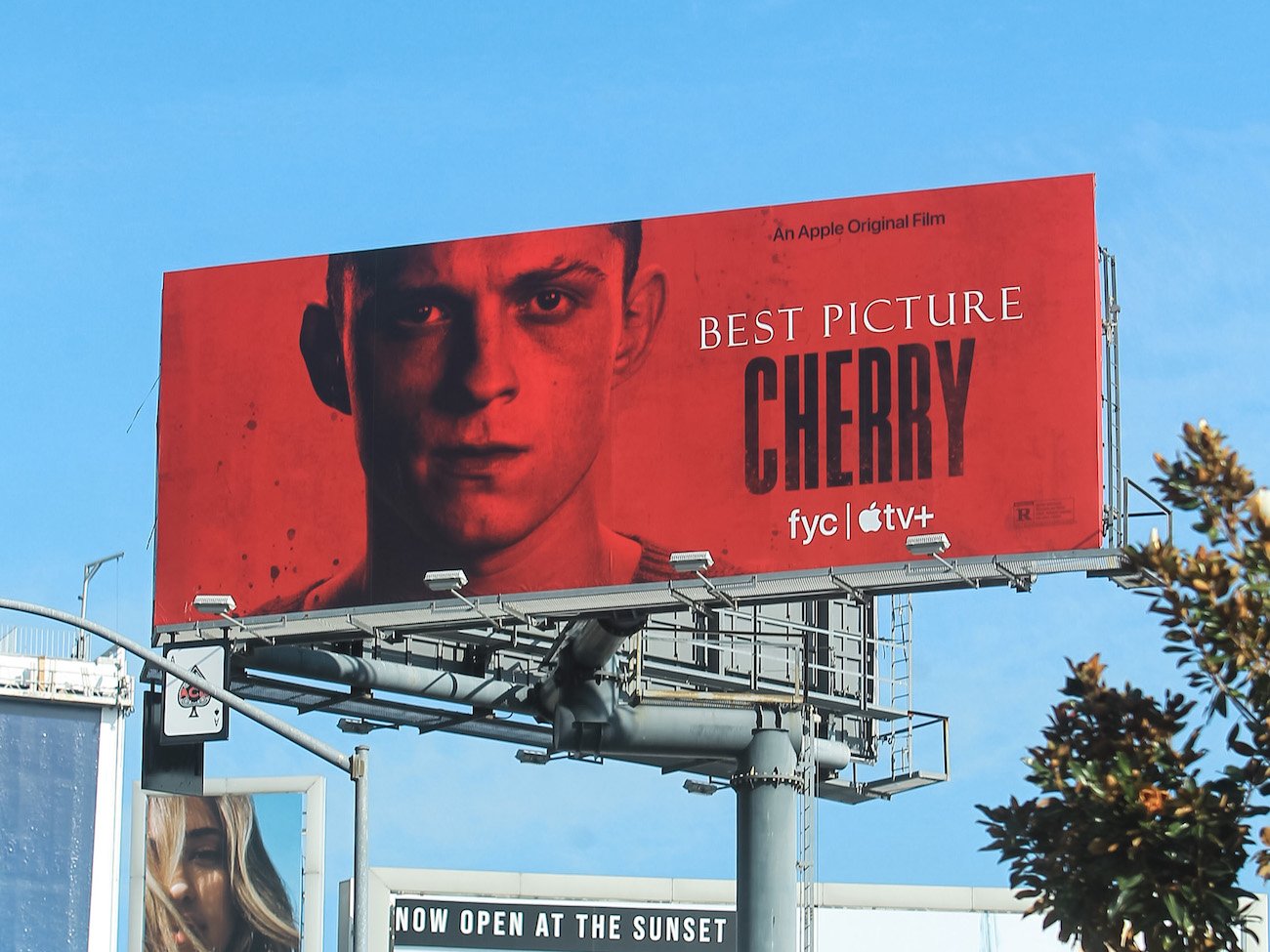 During an interview with VanityFair, director Joe Russo described the upcoming film. He noted how the movie shifts to capture different moments in the leading character's life — pairing the cinematic vibe with the character's journey and related emotional states. 
'Cherry' is 'broken up into six chapters that reflect…different periods'
Russo explained that Cherry will follow one man's 15-year trajectory, and different "lenses" will capture the main character's life during each period. He shared:
"He travels a great distance over a 15-year period…The movie's broken up into six chapters that reflect those different periods, and each one has a different tone. It's shot with different lenses, different production design. One's got magical realism. Another chapter is absurdism. Another is horror…There's a bit of gonzo in it. It's raw in its tone. He's a character in existential crisis."

Joe Russo | Vanity Fair
From magical realism to horror, the movie's entire production design will transform to portray the internal journey one man is on, as well as the external forces that bring him to the brink. 
Based on Russo's words, 'Cherry' may defy some existing expectations concerning the genre 
If the movie contains instances of magical realism, it may not be as grounded in tangibility and factuality as many such war dramas are. Instead, it may opt for unexplainable assets. 
Magical realism often includes a realistic setting plus magical elements — telepathy, talking to dead people, etc. Yet, the magical elements will likely go unexplained; thus, avoiding a "magical takeover" of the human-centric narrative at the helm. 
Magical elements that go unexplained do not distract from the story, but rather add a layer of emotional intensity (when sprinkled with finesse). Movies that fit within this space include Big Fish, Midnight in Paris, and Life of Pi. 
As for absurdism, works that fit within this genre tend to focus on characters who experience situations that leave them struggling to find purpose. Such struggles often lead to poor decision-making skills. Absurdist works can feature dark humor, satire, incongruity, and a lack of objective reasoning. Famous examples include Dr. Strangelove, Synecdoche, and Albert Camus' The Stranger. 
As for the "bit of gonzo," Russo may be alluding to aspects of "gonzo journalism," referring to a type of journalism written without claims of objectivity, often including the reporter as part of the first-person narrative. The term has also come to describe a particular unhinged quality; meaning, the film may feature an unreliable protagonist, tending toward exaggeration, extremity, lack of restraint, and unbridled excitement.