'Death Becomes Her': How the Meryl Streep and Goldie Hawn Cult Classic Made 'Jurassic Park' Possible
The dark comedy Death Becomes Her is one of Meryl Streep and Goldie Hawn's criminally underrated movies. The film, also starring Bruce Willis, came out in 1992 and has gained a cult following in the time since.
While it's rarely listed as any of the three stars' best movies (a mistake), Death Becomes Her was a groundbreaking movie thanks to its special effects. Without it, classics like Jurassic Park—and basically any modern movie with CGI—wouldn't exist.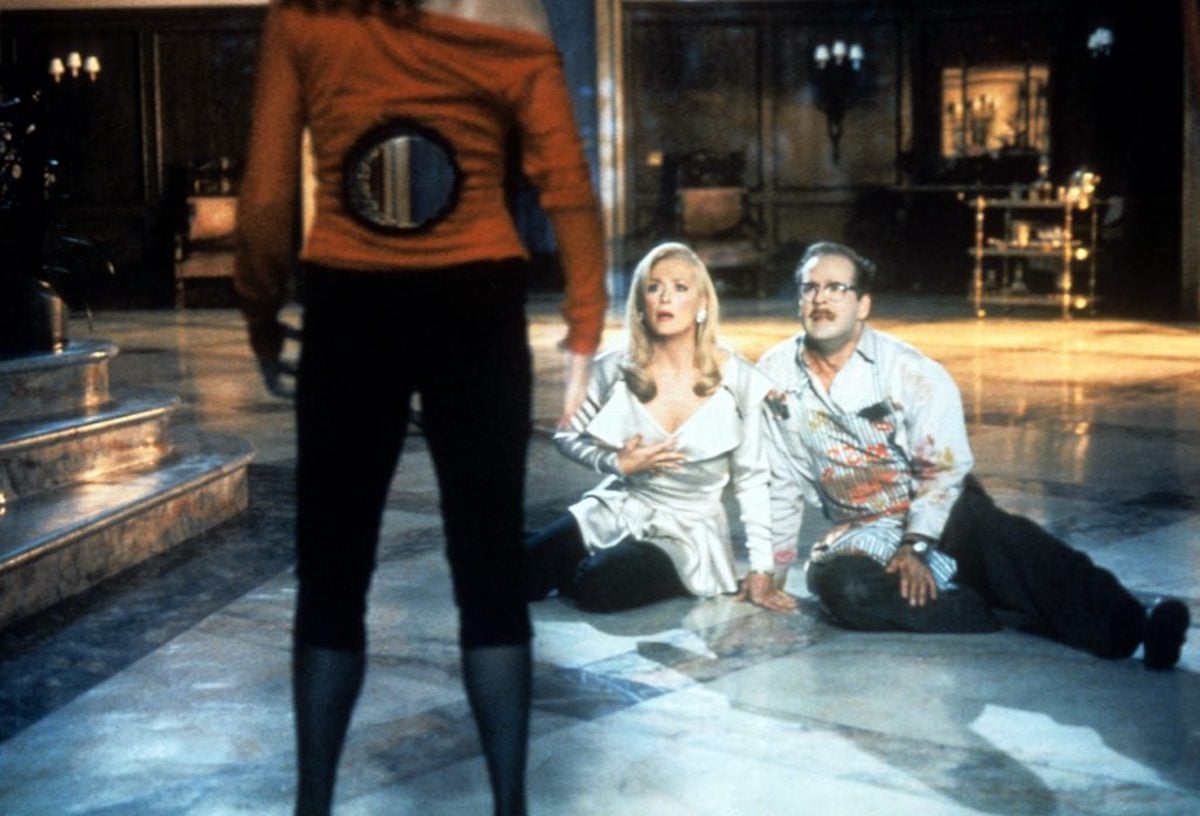 What does CGI stand for?
Streep and Hawn star as Madeline Ashton Melville and Helen Sharp, rivals who—unbeknownst to the other—both drink a magical potion that revives their youth and makes them immortal. So immortal, in fact, that breaking their necks and having a giant hole shot through their stomachs doesn't kill them. Beauty comes at a price for these two.
Willis plays Dr. Ernest Melville, the man Madeline and Helen compete over. And while the film wasn't received with glowing reviews, its use of computer-generated imagery (CGI) is historic.
RELATED: Debbie Reynolds Did an Eerily Accurate Impression of Meryl Streep on 'Larry King Live'
'Death Becomes Her' won an Oscar for its special effects
Death Becomes Her director Robert Zemeckis had a big goal with this film: CGI human skin for the first time in history. And his team accomplished it.
When the film came out in 1992, CGI had only been used to animate machinery, like in Terminator. Applying CGI to people was unheard of.
Death Becomes Her visual effects art director Doug Chiang explained how revolutionary the film's CGI was in a 2017 interview. He told Yahoo Movies:
"Prior to Death Becomes Her, I worked on Terminator 2, and even though [the T-1000] looked kind of organic it was still synthetic: it was still metal, it was still robotic. Computer graphics at that time could do hard surfaces really well, like machinery. But Ken [Ralston, visual effects supervisor] and I knew that Bob Zemeckis wanted to play around with the human body, distorting proportions — breaking Meryl Streep's neck, for instance, and other crazy things like that. In some ways, putting a very toony sensibility to it, but also making it very real and as believable as possible."
The movie won an Oscar for Best Visual Effects in 1993.
RELATED: Meryl Streep Just Got Closer To an EGOT With This Grammy Nomination
How did the CGI in 'Death Becomes Her' work?
Since the technology needed to accomplish scenes like Streep's neck doing a full 180 didn't exist, Chiang, Ralston, and the special effects team had to create it as they went along. Chiang was able to mock up the desired look of Streep's broken neck by using an early version of Photoshop.
Nowadays, shooting a scene with Streep's head facing one way and her body facing another would be handled entirely by computer. But for Death Becomes Her, Streep literally had to wear a blue bag on her head and walk backwards on set. She then would go to Industrial Light & Magic (ILM) studios and film what her head would be doing in the scene in front of a blue screen.
As for Hawn's gaping hole in her stomach near the end of the film, there was a much more gruesome version of that at first. Chiang noted that he originally designed Hawn's wound so her spine and some of her organs could be seen, but they opted to make it less graphic so it didn't veer too much into horror.
ILM was able to take what it learned on Death Becomes Her and apply it to some of the most famous movies in history, like Jurassic Park, and expand its technology. The company is to thank for the special effects in all of the modern Star Wars projects (prequels included), the Marvel movies, the Harry Potter films, the Pirates of the Caribbean series, and more. And it all started with a cult classic comedy.
As Chiang said, "For me the charm of Death Becomes Her was, it was really one of the films that bridged that technology gap."