Debbie Reynolds Did an Eerily Accurate Impression of Meryl Streep on 'Larry King Live'
Broadcast legend Larry King died on Jan. 23. The longtime interviewer spoke with thousands of people on camera in his lifetime, including the late Debbie Reynolds, who in a 1996 interview did impressions of other famous actors on Larry King Live. The best of them all was Reynolds' impression of Meryl Streep, who once played a fictionalized version of her daughter, Carrie Fisher.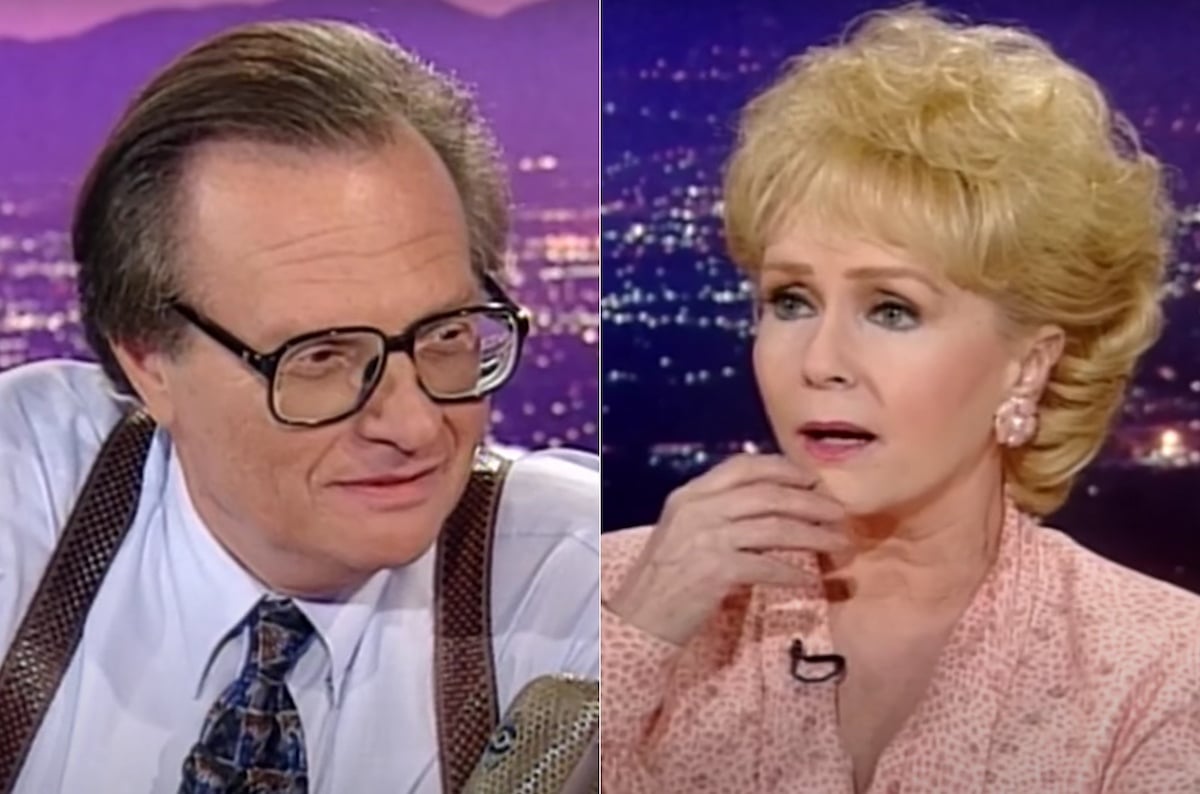 Debbie Reynolds impersonated Meryl Streep, Katharine Hepburn, and Barbra Streisand on 'Larry King Live'
Reynolds and Fisher were two of the funniest women in Hollywood. Their irreverent humor made for hilarious interviews, memoirs, and award show appearances. Among the vast history of Reynolds and Fisher's entertaining, quick-witted interviews were their appearances on Larry King Live.
On July 13, 1996, Reynolds spoke with King live on CNN. The interview was re-released by the network online following Reynolds' death in 2016, giving fans another chance to see the Unsinkable Molly Brown actor's truly spot-on impressions of other Hollywood icons.
RELATED: Debbie Reynolds Once Angrily Called George Lucas About Carrie Fisher's 'Star Wars' Accommodations
Debbie Reynolds worked on her celebrity impressions for months at a time
In the interview, Reynolds revealed she worked on her Barbra Streisand impression for three months.
"The way she sings is so pure, that I have to sing it exactly right, 'cause I would upset myself if I didn't do it exactly right," she told King. "I'm a big fan of hers anyway."
She also showed her finely tuned impressions of Dr. Ruth, Katharine Hepburn, and Bette Davis before slipping into her Streep impression.
RELATED: Carrie Fisher Once Explained What She Admired Most About Her Mother, Debbie Reynolds
Larry King said Debbie Reynolds' Meryl Streep impression was Oscar-worthy
Her impersonation of the Oscar winner really was uncanny. And the most impressive part about it was the fact that Reynolds barely said a word while doing it.
Without a moment's pause, Reynolds went into her impersonation of Streep by daintily touching her face, gently grasping her coffee mug, and looking at King with a million thoughts behind her eyes. And the more she committed to the bit, the harder King laughed.
"This is Oscar," the interviewer exclaimed at one point. And Reynolds kept going.
"Did you say something, darling?" he asked the star.
As she replied in her Streep voice, "All the parts are wonderful and interesting."
The impression was a perfect read of Streep. And no doubt, the Into The Woods star got a kick out of it, considering Streep and Reynolds were pals thanks to her friendship with Fisher.
In fact, Fisher entrusted Streep to play the fictionalized version of herself in 1990's Postcards From The Edge, which was based on Fisher's memoir of the same name. The film is basically a caricature of Fisher and Reynolds' relationship, with Streep playing Fisher post-rehab and Shirley MacLaine playing Reynolds.
If you're going to make a movie about your family, it's probably best to cast your good friends.