Demi Moore and Bruce Willis: Who Has the Higher Net Worth?
Demi Moore and Bruce Willis are two of Hollywood's most amicable exes. They're also some of Tinsel Town's most famous faces. The actors both have lengthy and impressive resumes dating back to the 1980s, and their Hollywood stars only burned brighter during their 13-year marriage from 1987 to 2000.
In recent years, Moore has pursued revenue streams through television and book writing (her memoir, Inside Out, shared revealed private feelings about her public life), and Willis remains one of Hollywood's biggest box office earners. Given the success of their respective careers, who has the higher net worth?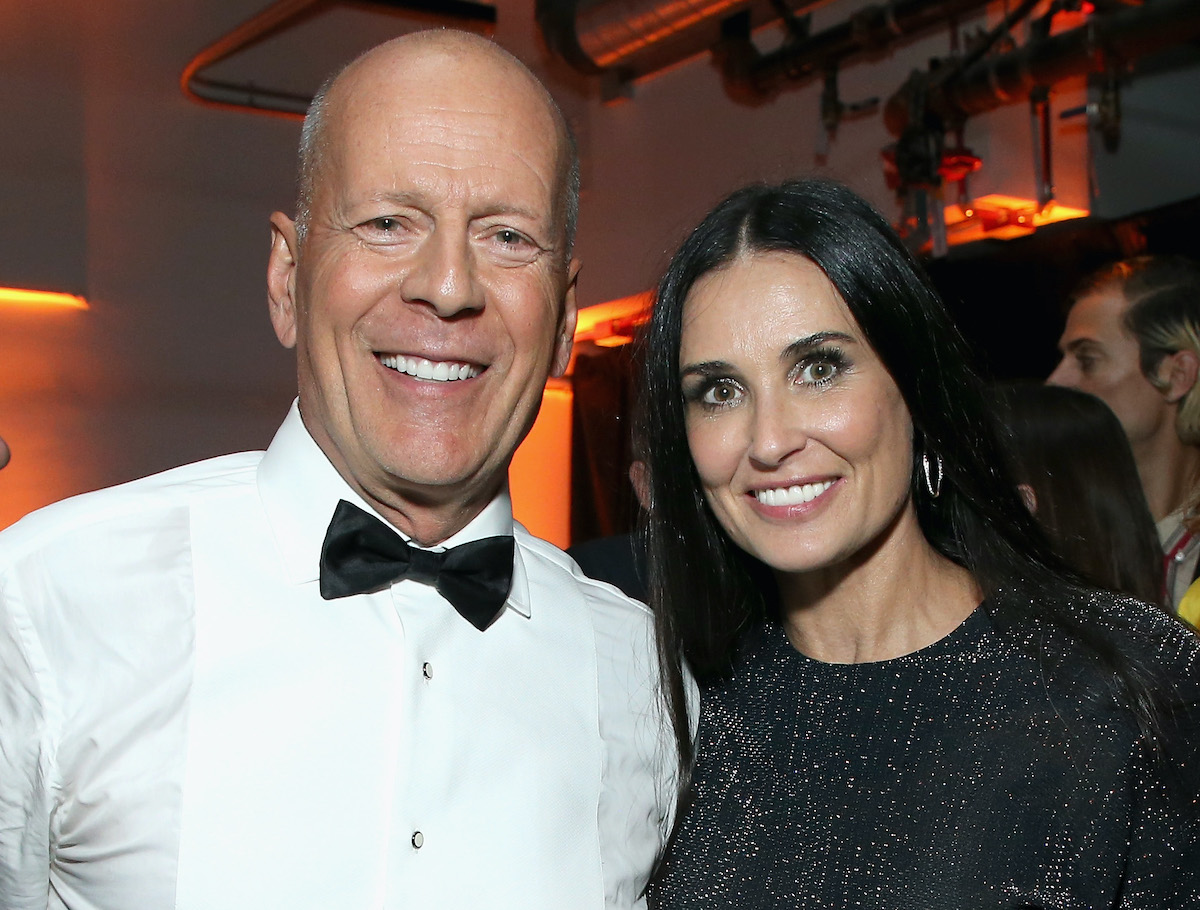 Demi Moore's career timline
Moore's first acting credit was in 1981's Choices. She was 19 years old at the time. In 1982. she starred in the horror/sci-fi flick Parasite. She began her two-year stint on the soap opera General Hospital in 1982 as well, in which she played Jackie Templeton. One of her most famous roles was in 1985's St. Elmo's Fire alongside Judd Nelson, Emilio Esteves, Robe Lowe, and more.
She married Willis in 1987, then she ended up making a cameo on his TV series Moonlighting in 1989. One of Moore's most iconic film roles came when she starred alongside Patrick Swayze in 1990's Ghost.
She went on to star in one popular film after another throughout the '90s with movies like A Few Good Men (1992), Indecent Proposal (1993), Disclosure (1994), The Scarlet Letter (1995), Now and Then (1995), The Hunchback of Notre Dame (1996), and G.I. Jane (1997).
Moore has never really stopped acting. Even if she's taken some time off between projects—and whether the projects have been TV or film—she's consistently worked ever since her career took off in 1981.
In 2019, she released a juicy memoir titled Inside Out giving an intimate look into her life in Hollywood, revealing lots of previously unknown details about her marriage to Ashton Kutcher from 2005 to 2013. The memoir also detailed her experiences with addiction and how it affected her life and the lives of her children, daughters Rumer Willis, 32, Scout Willis, 29, and Tallulah Willis, 26.
Bruce Willis' career timeline
Willis first credited role was in 1984 in Miami Vice, where he played Tony Amato. He then appeared in an episode of The Twilight Zone in 1985 before landing a lead role in the TV series Moonlighting. He played David Addison, Jr. in the series from 1985 to 1989 and won an Emmy for Outstanding Lead Actor in a Drama Series for it in 1987. He would later win another Emmy in 2000 for his supporting role as Paul Stevens in Friends. (Fun fact: he might have won an Emmy for this performance, but he didn't get a paycheck!)
In 1988, Willis starred in what is arguably his most famous film: Die Hard. The film got a sequel in 1990, Die Hard 2, and Willis went on to star in three more installments of the franchise after that: Die Hard with a Vengeance (1995), Live Free or Die Hard (2006), and A Good Day to Die Hard (2013). The first Die Hard made a movie star out of Willis, and there's even rumors of a sixth film.
According to IMDB, Willis has acted in over 131 projects. Some of those include Death Becomes Her, Pulp Fiction, The Sixth Sense, 12 Monkeys, The Expendables, Armageddon, and Sin City. Some of his more recent credits include Moonrise Kingdom, Split, Glass, and Looper.
Demi Moore vs. Bruce Willis' net worth
There's no denying that these two are some of Hollywood's biggest movie stars. If the longevity of their careers doesn't show that, then their net worths do.
Willis has the higher net worth of the two. Celebrity Net Worth estimates his to be $250 million. He's considered to be one of the highest-paid leading men in the industry, bringing in about $20 million per project nowadays. The Sixth Sense was Willis' highest paycheck. He received $14 million for acting in the classic film, plus a percentage of the film's gross income. It was so successful, he earned around $100 million, according to Celebrity Net Worth. He also earned $10 million for both Look Who's Talking movies, for which he only did voice over work.
As for Moore, she doesn't trail too far behind her second husband (she married musician Freddy Moore in 1981 when she was 18 years old, and they divorced in 1985). Celebrity Net Worth estimates her net worth to be $200 million. While the majority of her money likely came from her acting career, Moore's memoir was a New York Times No. 1 best seller and she owns multiple properties in Hailey, Idaho, where she and Willis raised their daughters, and in Beverly Hills.
Willis paid Moore a $90 million divorce settlement, which, according to Celebrity Net Worth, included real estate and cash. Moore has also been involved in a slew of philanthropies, including the DNA Foundation—a nonprofit NGO fighting against child slavery that she founded with Kutcher while they were married.
But perhaps their greatest success is how happily Willis and Moore have been able to co-parent their blended family over the years. The amicable exes quarantined with their adult children during the coronavirus pandemic (matching pajamas and all), Moore was present for Willis' 2009 wedding to wife Emma Heming Willis and their vow renewals in 2019, and their joint families vacation together, commemorate birthdays together, and support each other's work.