'Dick Van Dyke Show' Star Rose Marie on Mary Tyler Moore: 'I'll Admit It, I Was Jealous'
'The Dick Van Dyke Show' star Rose Marie was honest about the rivalry she felt existed between herself and co-star Mary Tyler Moore.
While The Dick Van Dyke Show may have been one of television's best comedies about fictional comedy writer Rob Petrie, there weren't always laughs behind the scenes.
According to Van Dyke, his co-star Rose Marie felt there was too much of a "focus" on castmate Mary Tyler Moore in the show. She spoke up about being relegated to a supporting actor to Moore and made her disappointment known.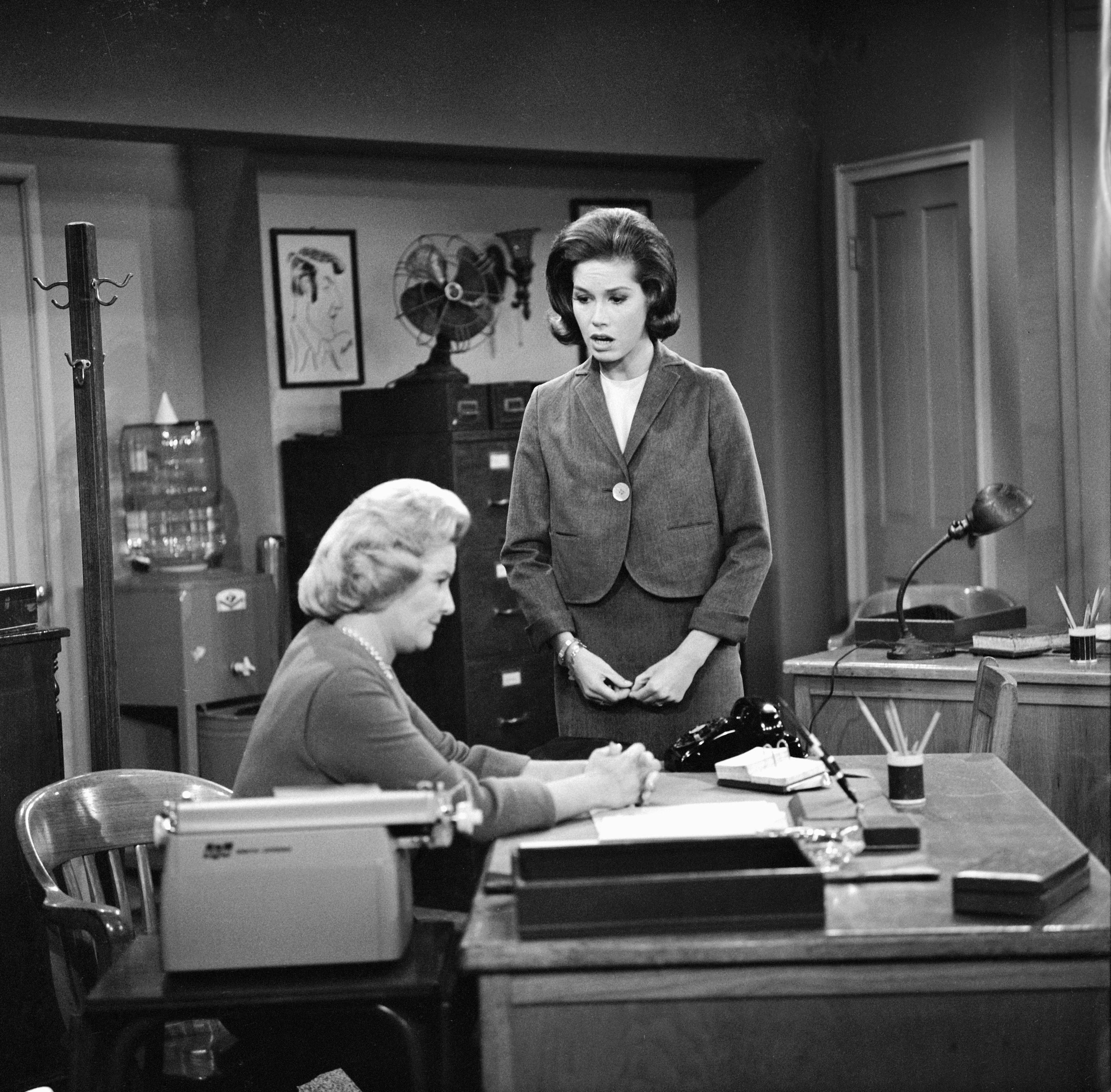 Mary Tyler Moore was an acting newcomer when she was hired for 'The Dick Van Dyke Show'
Van Dyke's co-stars Rose Marie who played Sally Rogers and Morey Amsterdam as Buddy Sorrell were entertainment veterans. Moore, however, was a relative newbie, as Van Dyke revealed in his 2011 book My Lucky Life In and Out of Show Business.
The Mary Tyler Moore Show star, who died in 2017, was "a young actress whose previous work, outside of commercials and dancing, was playing a receptionist on the series Richard Diamond, Private Detective, though her great legs were all that anyone ever saw of her," Van Dyke wrote.
In the detective series, Moore's legs and hands were visible to viewers, and her voice heard. But her face was never seen.
Van Dyke noted that his co-star at first didn't show much promise as a comedian but surprised him with how quickly she "got it."
"I had never seen a transformation like hers, and I still haven't," he added. "She went from black to white. The first time I stood across from her in rehearsal and heard her say, 'Oh, Rob!,' I thought, That's it, we're home."
Moore's co-star admitted she was 'jealous'
Rose Marie wasn't as enamored of Moore's prominence on the comedy as Van Dyke was, mainly because she had been told the show would revolve around the comedy writers' room.
In an essay for The Hollywood Reporter printed just weeks before her 2017 death, Rose Marie wrote: "I'd been told when I was hired that the focus was going to be on the writers room, where my character, Sally Rogers, was a television writer, and I would be co-starring with Dick [Van Dyke]."
The actor added that it wasn't until later on that she noticed how much more attention Rob Petrie's domestic life was getting.
"As time went on, I realized that the focus was actually on the home life and on his TV wife, Mary Tyler Moore," she continued. "I didn't like that. I was disappointed. [I] wanted to work more. The situation was made more difficult because Mary was younger and prettier than me and, I'll admit it, I was jealous of all the attention she was getting."
Moore and Rose Marie remained friends
Rose Marie added in her essay that the show's creator and inspiration Carl Reiner said that Moore's legs were a great draw for the show. She wrote of his remark: "… [Mary and I] both had great legs, but 'they' wanted to look at her legs. I'm not sure who 'they' were. Men in our audience? Women in our audience? Studio execs? Show producers? Advertisers? Whoever it was, I didn't fit their bill."
In the end, The Dick Van Dyke Show ran five seasons and gave Moore the star power to launch her own show.
Although Rose Marie told Vulture that she and Moore "never hit it off quite well," the two did remain friends. Evidence of this is a note sent by Moore to her former co-star in 2000 and shared by Rose Marie's daughter on Twitter (see tweet above), which read in part, "Like it or not – you're my friend. Love, Mary."