Did Kristen Stewart or Robert Pattinson Swear the Most on Set? the 'Twilight' Cast Had To Pay for F-Bombs on 'Breaking Dawn Part 2'
When Mackenzie Foy filmed for 'Twilight: Breaking Dawn Part 2', the cast wasn't used to kids on set. So she brought a swear jar; who swore the most?
Twilight and the movies that followed revolve around Edward Cullen and Bella Swan's love story. There's a love triangle in there too, involving Jacob Black, but also a ton of obstacles that a human and vampire would face if they wanted a relationship together. But the two final movies introduce a wrench in their plans: a baby. Was it a hard adjustment bringing children on set? Just a tad. 
When Mackenzie Foy joined the set, she created a swear jar since she was the only kid around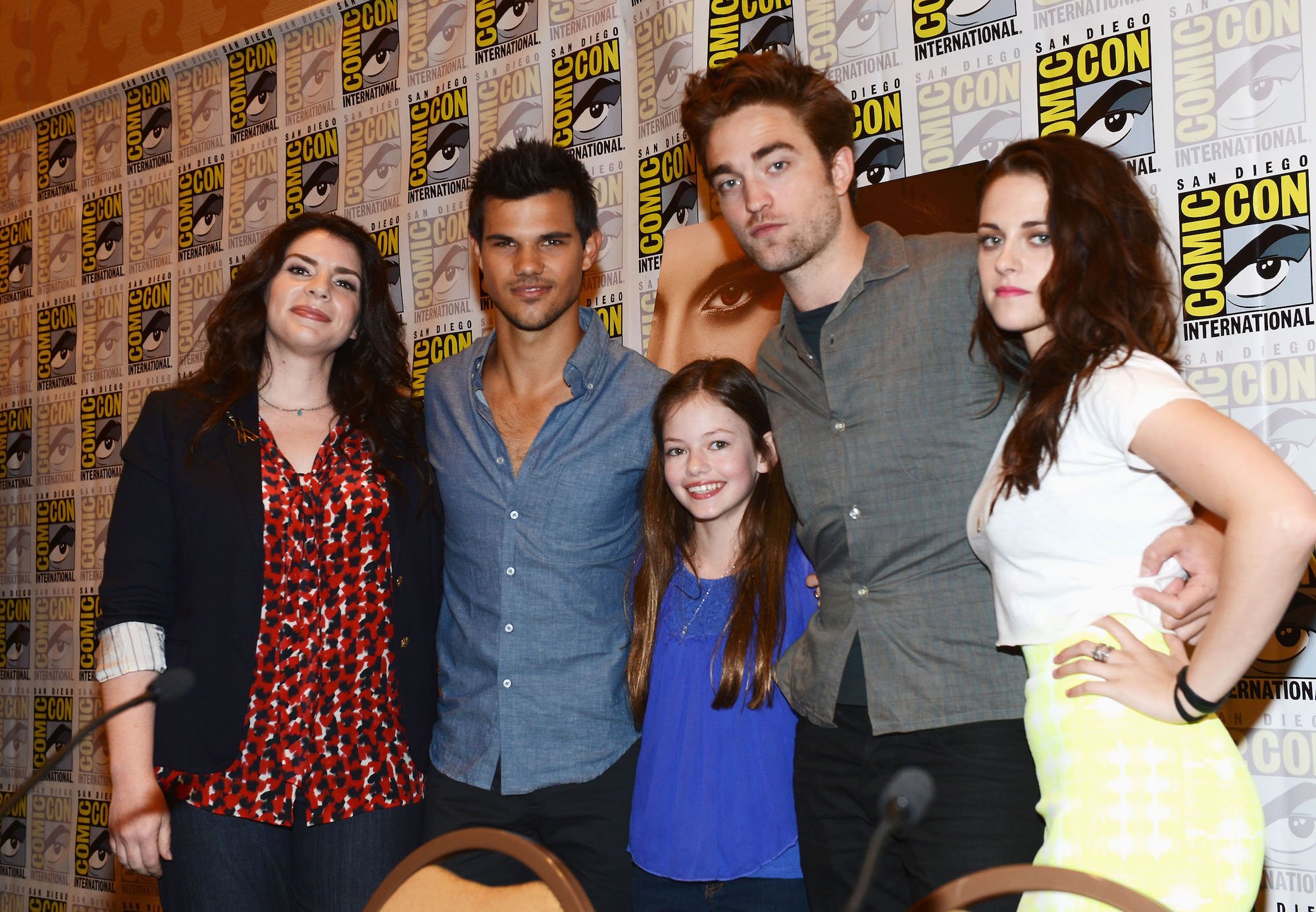 By Breaking Dawn Part 2, Renesmee Cullen was born and growing, meaning for the first time in the saga, a child (or a few) would be on set. That took a little bit of change for the cast, especially some who like to swear a lot. And Mackenzie Foy was prepared with a swear jar. 
Even though an animatronic child was tested out at one point, there really was nothing that could beat a real child in that part. Mostly because Chuckesmee, as they called it, was pretty creepy. So babies, toddlers, and other kids were brought in as body doubles for Foy's character. 
Once Renesmee was old enough for Foy to act the part, she came in with a swear jar after some co-stars suggested it, she told Huffington Post in 2012. The rules were simple: if any of the adults swore, they'd put something in the jar. "Minor" bad words were $2 and worse ones were $3. 
And for a cast that was so used to just being made up of adults, that was a tough adjustment, especially for the two leads. 
The two leads were some of the biggest swear jar-tippers
In an interview with Andrew Freund in 2012, he asked the cast a ton of questions about the upcoming movie. In a "Who's more likely to" format, he asked who was most likely to put money in Foy's swear jar. Taylor Lautner who played Jacob laughed and threw Robert Pattinson under the bus. 
"That would most likely be Roberto."
Elizabeth Reaser, who played Esme Cullen, also said Pattinson right away. But Nikki Reed (Rosalie Hale) said right away that Kristen Stewart was the true culprit. Reaser switched her answer after that. 
 "No she probably does swear more than Rob I think," Reaser said.
Pattinson also said Stewart right away and so did Jackson Rathbone (Jasper). "I don't think she put any money in, but she should have," Pattinson said. 
Ashley Greene, who played Alice, told SABC in an interview that same year that, again, having a kid on set was a new dynamic they had to get used to. 
"You know, we weren't used to having a child on set and so it was hard for us," Greene said. "I think we all got so comfortable with each other that it was okay that everyone had mouths like sailors. And then she came on, there were no peanuts because she was deathly allergic to peanuts and there was no swearing." 
Foy did tell the fansite, Twilight Lexicon, that she wouldn't name who put the most money in, but that Lautner, Greene, and author Stephenie Meyer were a few that didn't have to. 
Kristen Stewart is known to be an F-bomb enthusiast
And as for Stewart herself? She completely surrendered to the fact that it was probably her. But that's not that big of a surprise, especially after seeing her accidentally drop an F-bomb on live television during her first hosting gig on Saturday Night Live in 2017.
She told Jimmy Fallon a couple of years later in 2019 that she was actually warned ahead of time not to do something like that. She was nervous and "kinda stumbling through rehearsal" and, of course, cursing a bit. 
"[The SNL team] were like, 'You can't do that on the show, cannot do that on the show' and uh, I did it on the show," she said. 
And it wasn't a moment of nervousness or blanking-out that made her say "We've got a great show and I totally care that I'm here, 'cause it's the coolest f*cking thing ever—." She did cover her mouth and realized it was a mistake in the moment, although Kate McKinnon was already laughing. 
"I was feeling really present and in the moment and so I didn't blank, I actually was like, really giving her," Stewart told Fallon. 
Well, if Foy was able to make a pretty penny off of Stewart's F-bombs, that's more than SNL did.