'Django Unchained': Jamie Foxx Recalled Quentin Tarantino's 'Tyrant' Direction – 'Do Not F*** My Film Up'
'Django Unchained' star Jamie Foxx once recalled an intense exchange with legendary filmmaker Quentin Tarantino before shooting the Oscar-winning film.
2012's Django Unchained brings Quentin Tarantino's signature style to the western film genre. His hyperviolent, yet highly-witty aesthetic supercharges the movie. However, Django Unchained star Jamie Foxx once recalled some rather ruthless direction from Tarantino. Nevertheless, Foxx is proud that he signed on for the project.
Jamie Foxx stars in the title role in 'Django Unchained'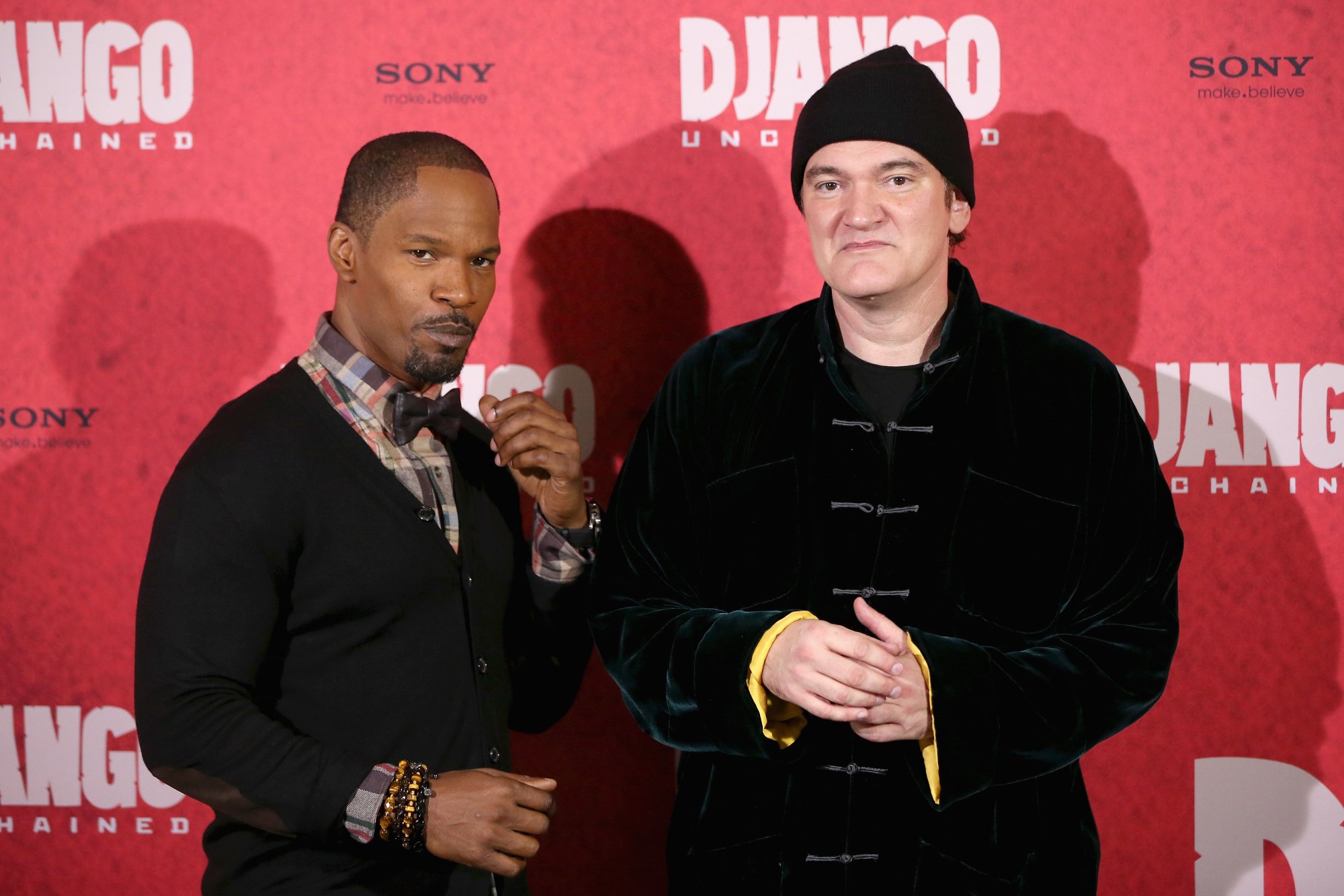 Django Unchained follows Django (Foxx) as a slave. A German bounty hunter named Dr. King Schultz (Christoph Waltz) frees him 2 years before the Civil War would take place. Together, they hunt the South's most vicious criminals. Their adventures take them to a plantation owner named Calvin Candie (Leonardo DiCaprio).
Foxx stars in the lead role of Tarantino's western drama that also has a romantic element to it. Django is intent on facing Calvin because he's holding his wife, Broomhilda von Shaft (Kerry Washington), as a slave. He won't rest until he frees her from the brutal Mississippi plantation owner.
Jamie Foxx recalls Quentin Tarantino's ruthless direction
The Howard Stern Show talked with Foxx about his experience filming Django Unchained with Tarantino. However, the story isn't quite what host Howard Stern expected to hear. Foxx described Tarantino as, "a tyrant, like: 'Do not f*** my film up.'"
"But that's what you want," Foxx said. "You want a director who, even if you're going off the cliff, you know that you're going off the f***ing cliff."
Foxx continued with a particular experience reading lines for the Django Unchained filmmaker.
"The first day of rehearsal I'm reading my lines like [says gibberish] and he said 'Cut, can I talk to you for a second?,'" Foxx recalled. "Closes the door: 'Uhhh, what the f*** is that?!' I said, 'What you mean?' [He said] 'I knew I was going to have this problem."
Foxx continued: "'Listen, all of this shit – you have to be a f***ing slave! OK? He's a slave! He's not cool, he's a f***ing slave! He doesn't know how to read, you come in with your f***ing Louis bag and your f***ing Range Rover and you're just 'I'm so f***ing … you're not Jim Brown! He's a f***ing slave! … And then, and then, he becomes the hero. But lose that s***!' Door swings open, he walks out."
Stern was taken off guard, to which he asked if Foxx would ever work with Tarantino again. He responded, "A thousand times."
'Django Unchained' wins 2 Oscars
Critics and audiences praised Django Unchained for its bold style, violence, and well-written storytelling. This ultimately carried the film into the awards season. The film earned 5 Oscar nominations. It ultimately took home the Oscars for Best Performance by an Actor in a Supporting Role for Waltz and Best Writing, Original Screenplay.
Django Unchained didn't receive a nomination for Foxx's performance. However, it did earn nominations for Best Picture, Best Cinematography, and Best Sound Editing. As a result, Django Unchained goes down as another massive critical success for Tarantino.