Duggar Family Flashback: Rewatching the '19 Kids and Counting' Family's First TV Special
A look back at the Duggar family's first TV special.
These days, the members of the Duggar family are established fixtures on reality TV. But back in 2004, they were unknowns. The world was introduced to this super-sized, super-conservative family in their first-ever TV special, 14 Children and Pregnant Again. This 16-year-old special introduced many of the Duggar family quirks that continue to fascinate — or repulse — people, from mom Michelle Duggar's reliance on the "buddy system," the tricky issue of dating, and their notorious tater tot casserole.   
We meet the Duggar family for the first time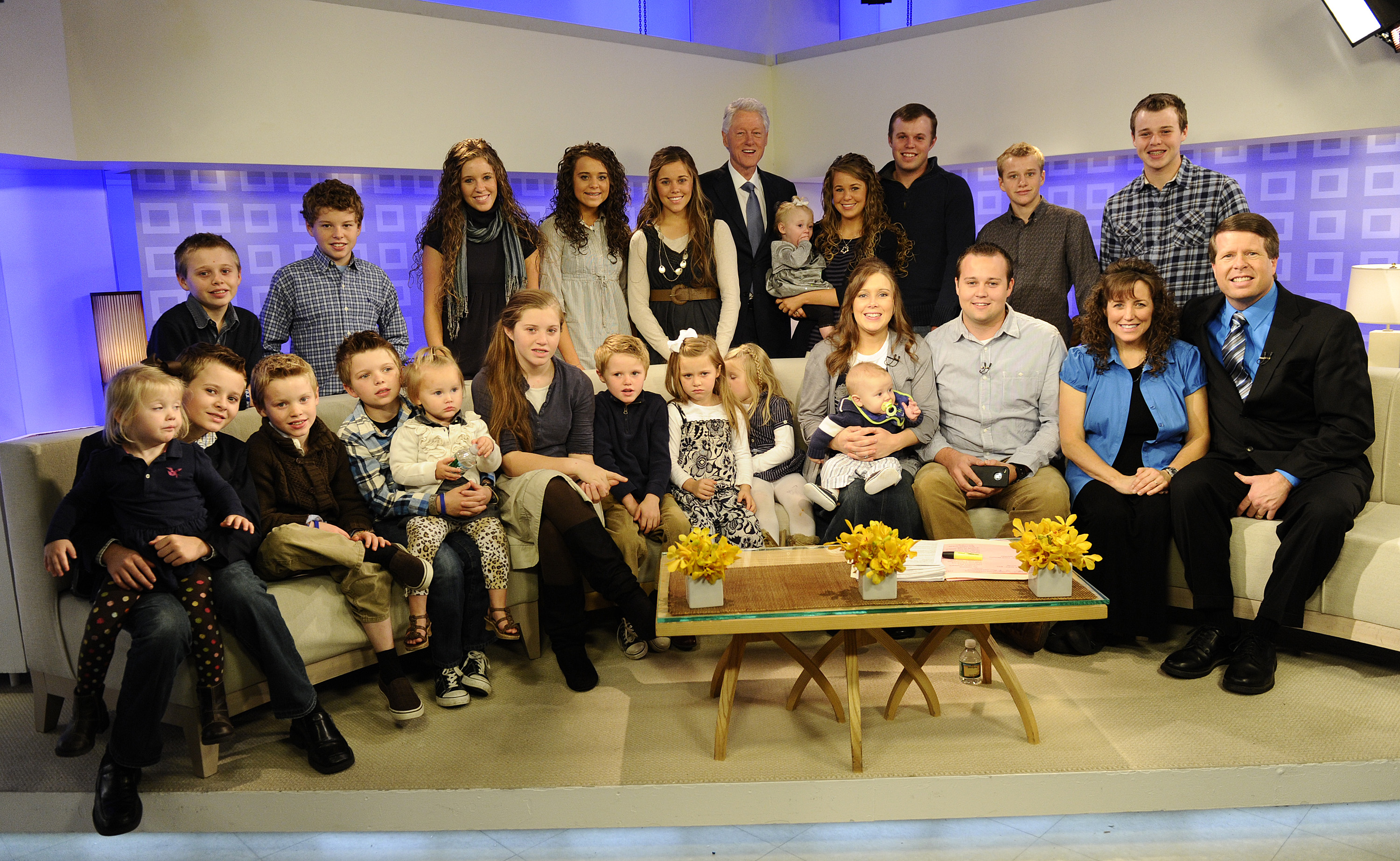 The Duggar family is now at home on TLC, where they currently star in the series Counting On. But their first special aired on the Discovery Health Channel. The episode begins by introducing the Duggars, who were then a family 16 — mom and dad Michelle and Jim Bob Duggar and their 14 children: Josh, John David, Jana, Jill, Jessa, Jinger, Joseph, Josiah, Joy-Anna, Jedidiah, Jeremiah, Jason, James, and Justin. Plus, Michelle is pregnant with baby No. 14. 
Though the narrator compares the Duggars to the family from The Waltons, things weren't exactly perfect in the Duggar house. This special aired not long after Jim Bob and Michelle were made aware that eldest son Josh had sexually abused several of his siblings. That abuse would not come to light until 2015. 
The Duggar family buddy system, explained  
Michelle, Jim Bob, and their big brood attract questions wherever they go. The special goes into how they handle everything from laundry to grocery shopping to child care. Michelle explains the family's controversial buddy system for the first time. 
"My older children help to take care of the younger children," she says, accompanied by footage of the older Duggar daughters helping their siblings get dressed, brush their teeth, and eat breakfast. "When the baby is born, it's my buddy until it's weaned," she adds. "And then from there, it goes to the other buddy, whoever's turn it is to get a buddy."
Michelle and Jim Bob also reflect on how they met and the early days of their marriage, when they hustled to make money any way they could. "We buy used and save the difference," Jim Bob says when explaining how they afford so many kids.
The Duggars go grocery shopping, build a new house 
We also get a peek into the day-to-day life of the Duggars when they go on a massive grocery run. Michelle expects to buy so many groceries, she has the older boys remove both rows of seats from the family van so they can get everything home. At the store, they load up on cases of canned goods, bags of oranges, frozen pizzas, and pasta sauce. Michelle also shows off the family's hyper-organized pantry. Later, the older girls make a now-infamous Duggar family meal: tater tot casserole. 
In this special, the Duggars are still living in their old, much-smaller house. With 16 people sharing two bathrooms, it's obviously time for a bigger home. Jim Bob is in the process of building what is now the family's current home, which is a massive 7,000-square-feet. 
Jackson Duggar arrives and Michelle is pregnant again 
Later, the entire family accompanies Michelle as she gets an ultrasound, which reveals she'll be having a baby boy. Toward the end of the special, Michelle goes into labor with baby No. 15, Jackson Levi. 
We also see the Duggars spend time with the Holt Family, who have eight kids. Michelle makes it clear that boys and girls from different families never spend time alone together, while Josh says he's "looking for a lifelong partner." 
At the end of the special, we check in with the Duggar family about a year after Jackson's birth. Michelle announces she's expecting another baby, a girl, who they decide to name Johannah Faith. 
Check out Showbiz Cheat Sheet on Facebook!